Chick Corea: Tributes paid to jazz 'genius'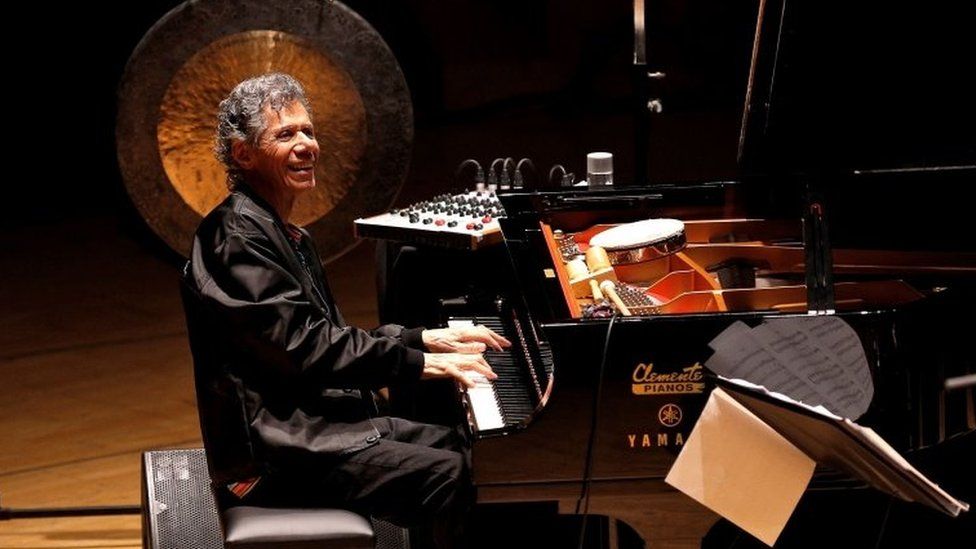 Tributes have been paid to jazz "genius" Chick Corea, who has died at the age of 79.
The Grammy Award-winning musician died on Tuesday from a rare form of cancer that was only recently diagnosed.
The influential American is the fourth most nominated artist in Grammys history with 65 nods and 23 wins.
The Recording Academy, which hosts the Grammys, paid tribute to "undisputedly one of the most incredible jazz innovators of all time".
In a message written before his death and left for his fans, Corea said: "My mission has always been to bring the joy of creating anywhere I could, and to have done so with all the artists that I admire so dearly - this has been the richness of my life."
His career spanned more than five decades and he played with Miles Davis in the late 1960s - including on his acclaimed jazz-rock double album Bitches Brew. His own group, Return to Forever, were at the forefront of the jazz fusion movement.
The late star was also known around the world for his work as a composer with hits like Spain and 500 Miles High.
"Through his body of work and the decades spent touring the world, he touched and inspired the lives of millions," a statement on his website said.
"An extraordinary composer and keyboardist, Chick rewrote the rulebook for jazz in his more than 5-decade long career, receiving mass critical acclaim along the way for his musical excellence."
His influence stretched far and wide, informing many different genres of music. Yusuf aka Cat Stevens described Corea as a "genius" and "one of the most innovative and inspired musicians I ever had the privilege to work with".
God bless @ChickCorea, one of the most innovative and inspired musicians I ever had the privilege to work with. His musical art and genius were an education, not just a performance. He has now truly returned to forever. May peace be his ultimate achievement. pic.twitter.com/tXVSBQk6aV

— Yusuf / Cat Stevens (@YusufCatStevens) February 12, 2021
"Rest well maestro," added US R&B singer-songwriter Anita Baker.
Parliament-Funkadelic bassist Bootsy Collins called Corea "a musical visionary".
And English electronic duo Disclosure posted a picture of Corea alongside a quote detailing his passion for learning.
In an interview with the BBC last November, Corea said he had spent lockdown taking on new projects and was looking forward to playing in front of a live audience again. His last album was released in 2020.
Corea grew up in Massachusetts, and his father was a jazz trumpeter who led a Dixieland band in Boston in the 1930s and 1940s. He introduced his son to the piano and to the bebop of the likes of Dizzy Gillespie from a young age.
Chick Corea... an unparalleled maverick, a master of his craft, a trailblazer in every sense, a gentle giant. The world has lost a vast musical force today, but is endlessly richer for the deep legacy Chick has left behind. How lucky we are. Thank you so much, Chick 💙 pic.twitter.com/njiJQUdZ4T

— Jacob Collier (@jacobcollier) February 12, 2021
Speaking to the National Jazz Archive in 1978, Corea explained that it was his intention at the start of that decade to make "more melodic music".
"I find that every kind of really good jazz that I've ever been interested in - like the music of Charlie Parker, Duke Ellington, John Coltrane or Miles Davis - it's always very lyrical music, you know," he said.
"And it's one of the most attractive elements in the music for me - the melodic line. So it's something that I desire to have in my music as well."
Scientology became a growing influence on his musical direction and personal beliefs during that period too.
Corea is survived by his wife, vocalist and pianist Gayle Moran, his children and his grandchildren.