Christopher Plummer: Hollywood pays tribute to 'one of the greats'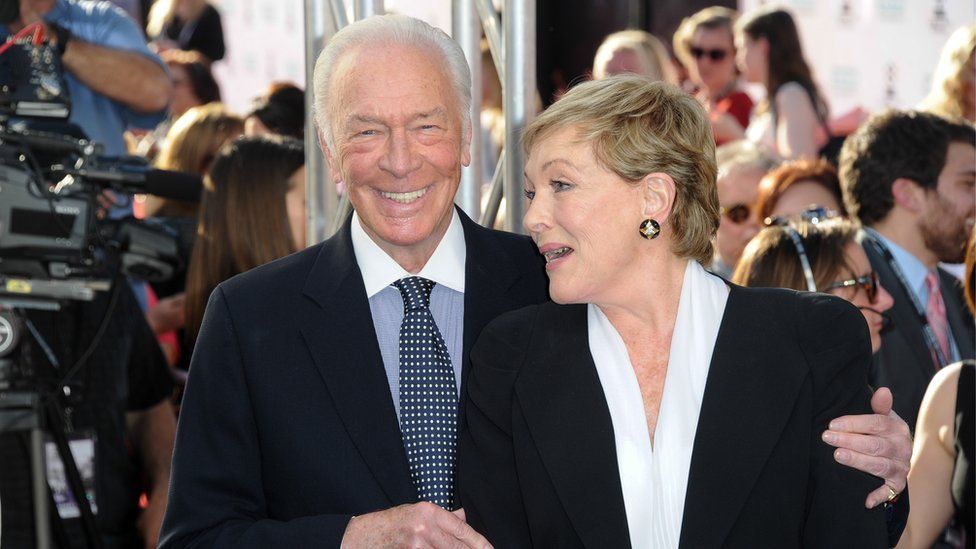 Hollywood stars have paid tribute to Christopher Plummer, the Canadian actor who has died aged 91.
Dame Julie Andrews, who starred alongside Plummer in The Sound of Music, said he was a "consummate actor" and a "cherished friend".
The Oscar winner was also praised as "an extraordinary man" and "completely free, kind and funny".
Plummer was best known as Captain Von Trapp in The Sound of Music, but his career flourished later in life.
He was nominated for numerous awards. He won an Oscar in 2012 for the film Beginners, and was also nominated in 2010 and 2018.
Plummer also won two Tony Awards, a Golden Globe, a Screen Actors Guild Award and a Bafta.
"The world has lost a consummate actor today and I have lost a cherished friend," Dame Julie said in a statement. "I treasure the memories of our work together and all the humour and fun we shared through the years."
We're saddened to hear of Christopher Plummer's passing. His legacy as our Captain will live on in THE SOUND OF MUSIC forever. Our thoughts are with his loved ones during this time.♥️ pic.twitter.com/hDV3q1opzJ

— The Sound of Music (@SoundofMusic) February 5, 2021
Lou Pitt, his long-time friend and manager of 46 years, described Plummer as "an extraordinary man who deeply loved and respected his profession".
"He was a national treasure who deeply relished his Canadian roots," he continued. "He touched all of our hearts and his legendary life will endure for all generations to come."
The actor Joseph Gordon-Levitt described Plummer as "one of the greats".
Some of Plummer's most well-known films include The Insider, The Girl With The Dragon Tattoo, Knives Out, and A Beautiful Mind.
Chris Evans, who starred with Plummer in Knives Out, said: "What an unbelievable loss. Few careers have such longevity and impact.
"One of my favourite memories from Knives Out was playing piano together. He was a lovely man and a legendary talent," he added.
The film's director, Rian Johnson, said Plummer was "a living legend who loved his craft" and "an absolute gentleman".
In an Instagram post, Knives Out star Ana de Armas said "my heart is broken".
"Thank you always for your laughter, your warmth, your talent... the vitamins when I got sick, your patience, your partnership and your company," she wrote alongside a picture of the pair on set.
William Shatner, a long-time friend of Plummer who starred with him in Star Trek VI: The Undiscovered Country, said he was "so sad to lose him".
"I interviewed him at a theatre... we spent the afternoon laughing and rejoicing in our mutual experiences," he wrote on Twitter. "That afternoon defined my friendship with Chris."
"I loved working with Chris on The Insider, he was just impressive," Russell Crowe said in a series of tweets. "It was a travesty that his role didn't receive an Academy Award nomination.
"I appreciated his candour and wisdom," he added. "Good man. Fine actor."
John Cusack said: "[I] was lucky enough to work with him - and all I could think about was I can't believe I'm working with Christopher Plummer. Witty, generous, wildly talented."
"We've lost one of our most iconic and beloved actors," Canadian Prime Minister Justin Trudeau said. "[He] gave life to so many characters we love and cherish."
He added: "On behalf of all Canadians, I extend my deepest condolences to his family, his friends, and his many fans."