How Mercury Prize winner Arlo Parks found her voice
By Mark Savage
BBC music reporter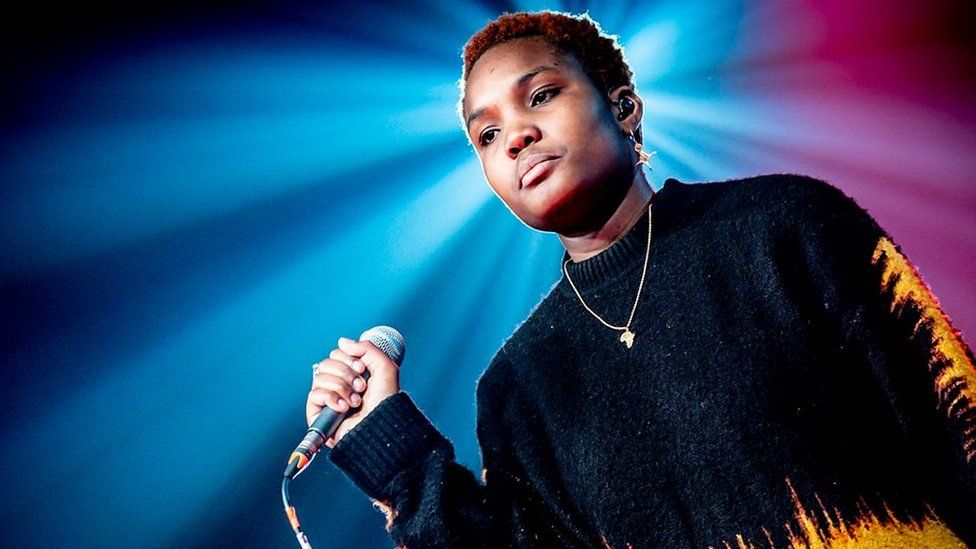 Arlo Parks has won the 2021 Mercury Music Prize for her tender, introspective debut album, Collapsed In Sunbeams. Speaking to the BBC in February, she explained it was a "completely unfiltered" coming of age record, addressing topics she was scared and concerned about as she grew up in West London.
Last year, Arlo Parks decided to escape her home in Hammersmith to seek inspiration for her debut album.
Bu the 20-year-old didn't end up in Hawaii or Berlin or Jamaica. Instead, with lockdown in full swing and international travel a risky prospect, she travelled eight miles to a rented Airbnb in East London.
"I just wanted a homely, comfortable environment that isn't where I actually live," explains the singer.
"I needed to create the album's 'world' and throw myself into it completely, then leave everything there and maybe never revisit it again."
Every day, she'd get up in the morning, put Pink Floyd and Minnie Riperton on the record player and make "weird little pasta dishes" while working on her music.
After two weeks, she'd recorded "60 or 70%" of Collapsed In Sunbeams - a deeply compassionate and musically vivid debut that is set to enter the UK top five at the end of this week.
The cocooned creation of the album was a silver lining in a year that had fallen apart quite spectacularly.
At the start of 2020, Parks felt she was "on the verge of something life-changing". She'd been nominated for the BBC's Sound Of 2020 and won a support slot on tour with Paramore's Hayley Williams. Her diary contained no fewer than 37 festival appearances, and her stirring, soul-searching singles were making the playlists of radio stations around Europe.
Then Covid pulled the rug from under her feet.
"I just felt so lost," she confessed in a recent BBC documentary. "As an emerging artist, I had that fear that I'd be forgotten, or that things would get stagnant. That fear weighed quite heavily on me."
Instead, her songs became a comfort blanket for a weary year. Parks has a talent for writing intimate songs that tackle tough subjects - depression, sexuality, alcoholism, prejudice - with wisdom and tenderness.
The album's first single, Black Dog, is a case in point, with its lyrics painting a moving portrait of a friend's struggle with depression.
"I would do anything to get you out your room / Just take your medicine and eat some food."
"Sometimes it seems like you won't survive this / And honestly it's terrifying."
"It was written for my best friend," explains Parks. "Just witnessing her spiralling and going to these really dark places.
"I was feeling helpless in the face of her pain, which seemed to be coming at her for no reason. And I think it's just a documentation of a minute in time when I was afraid to lose a friend."
In the end, the song brought the friends closer together.
"She was there in the front row the first time I played it live, and it felt like everybody else in the room dissolved," she recalls. "And she's doing so much better now, so it makes me feel hopeful when I listen to it."
It's a sentiment shared by many who've heard the song. On Black Dog's YouTube page, the comments are raw with emotion. "I can't describe how much this song is helping me heal," writes one fan. "It makes me feel like there's someone out there who understands me," adds another.
"Music has done that for me so many times, too," says Parks. "In times of chaos, I've always reached for music as a kind of salve or a healing agent.
"It makes you feel held and understood and it makes you want to go and dance. It can move people in a million different ways, no matter where you're from, or even what language you speak."
Parks has been a writer since she was seven, growing up in the London suburbs.
"There was a lot of stillness, so I had to use my imagination a lot as a kid," she says. "I'd write various stories about running away to Australia and wrestling with snakes - and that wasn't necessarily because I wasn't happy where I was. I was a very happy kid, but I think there was always a sense of wanting something more."
Shy but studious, she discovered poetry after a teacher gave her Sylvia Plath's Ariel - a vertiginous and sensual depiction of an early-morning horse ride towards the rising sun.
Struck by the power of Plath's descriptive imagery, Parks began to explore those qualities in her own writing.
"I'd been writing based on feeling and impulse," she recalls, "and after I'd read those poems, I was like 'OK, this is a craft that needs to be honed'."
Unlike many aspiring writers, Parks never tried to emulate the writers she admired - Zadie Smith, Virginia Woolf, Allen Ginsberg and Plath herself.
"I've always gravitated towards writers with a very specific cutting voice," she says. "So it wasn't like, 'Well, I've read Lady Lazarus and maybe I should do something similar to it.'
"Whenever I wrote for myself, it was always just completely unfiltered - almost this like impulsive explosion that came out of me. I think I've always had that voice within, in some way."
Poetry turned into music in her teens, when she picked up a guitar and taught herself to make beats on GarageBand by typing ​"How To make lo-fi hip-hop" into YouTube.
By the time she was in sixth form, she was collaborating with songwriters and producers in London, eventually striking gold when she met Luca Buccellati backstage at the British Summertime Festival in Hyde Park.
They instantly hit it off, geeking out on "Velvet Underground and guitars" and made tentative plans to try working together. In their first session, they wrote Cola - Parks' debut single - in just half an hour.
"Luca started playing the beat and, honestly, I just Voice Noted the melody straight into my phone - almost the whole song in its entirety as you hear it now," she recalls.
"I remember feeling like 'OK, this is something I'm really proud of'."
The song was released in November 2018, two months after Parks had been due to start an English degree at the University of London. Her parents had allowed her a gap year to see if a musical career would pan out. By Christmas, she had signed to Transgressive Records, the influential indie label that's home to Foals, Flume and Let's Eat Grandma.
Cola was followed up by a debut EP, Super Sad Generation, whose searingly honest lyrics about the UK's disenfranchised and depressed youth, saw Parks labelled the "poet of Generation Z".
It's a moniker that sits uncomfortably on her shoulders. The EP was written about a "specific summer" with her "very small circle of 10 friends," she says, and seeing those narratives "inflated" to claim that "everybody in my generation was sad or somehow suffering" is a misrepresentation.
"That's something that I wanted to dissolve because generations are comprised of individuals, and there's so much hope and love and excitement within my generation. I definitely didn't want it to be interpreted as being, 'everyone is miserable'."
That's why a ray of optimism shines through Parks' debut album, even in its darkest moments. The closing track, Portra 400 (named after a brand of photographic film) even spells it out: she is "making rainbows out of something painful".
It's a lesson she learned from her favourite band, Radiohead. "If you listen to a song like No Surprises, even though the lyrics are melancholy and about alienation and depression there's something that feels soaring and wise and almost bigger than me," she says.
"I think it's healthy to talk about this stuff but not to wallow in it."
And that brings us right back to that Airbnb where the album was recorded last summer. Instead of lockdown derailing her music career, it allowed Parks to thrive.
Her music tessellated with people's emotions in real time, and she won endorsements from Billie Eilish, Michelle Obama and Phoebe Bridgers.
She was one of the only acts to play Glastonbury last summer, playing an eerie-but-beautiful set in front of the skeleton of the Pyramid Stage. And her album, itself almost entirely a product of quarantine, has been welcomed by four and five-star reviews across the board.
Looking back, Parks says the record wouldn't have been possible if the year had gone as planned.
"Of course it was a terrible time but in terms of the art it allowed me to kind of reach new depths," she says.
"I wanted to share all these little fragments of my life - what brings me joy and what has moved me - and I don't think I'd have been able to [do that] by stealing little pockets of time between tours.
"It's definitely very much a piece of myself that's out in the world which feels both terrifying but also super-exciting."
Collapsed in Sunbeams is out now.