Sea shanty: Can viral success make a music career?
By Alex Taylor
Entertainment reporter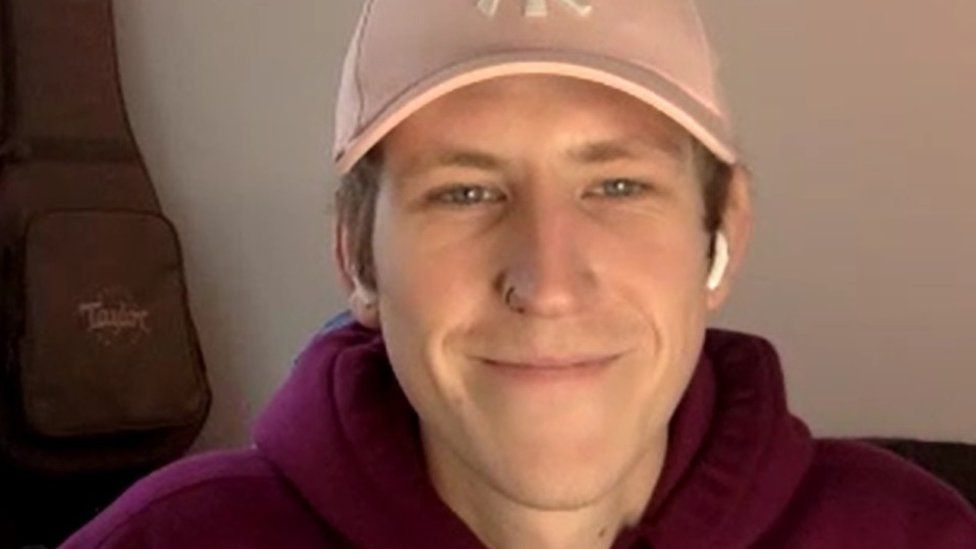 "I was a postman on Friday. Now I have just signed to the biggest record label in... the world".
In the space of just a few weeks, Scottish postie Nathan Evans has quit his Royal Mail job and signed to Polydor records after storming TikTok with centuries-old sailor songs known as sea shanties.
His rendition of The Wellerman sparked a worldwide trend - dubbed ShantyTok - and millions of views, as users rushed to create their own.
Friday marks the track's official release and means the 26-year-old joins a host of viral internet sensations who've unwittingly found unexpected music success.
But can the captain of Sea Shanty TikTok really sail on course for a lasting career?
Looking at how those before him have fared, the journey can be a perilous one, full of choppy waters.
"Going viral on social media is many people's dream, and can be especially intoxicating if it's unexpected," says Maddy Raven of Burstimo, a digital marketing agency that helps artists maximise their online presence.
"However, many often forget that the hard part comes months later, when everyone has forgotten what they went viral for, and they attempt to maintain the momentum."
This is especially difficult to do in today's cluttered media landscape, dominated by an internet culture that encourages ever-shortening loyalty as users are bombarded with a constant stream of new music and content.
One star who has managed to make the transition is perhaps the most unlikely - Danielle Bregoli of "Cash Me Outside" fame.
She first gained public attention as a 13-year-old following an appearance on US TV show Dr Phil, when her confrontational retort to the audience: "cash me outside, how 'bout dah?", went viral.
It became a hugely popular meme, often as a way to humorously express extreme frustration.
Eventually the catchphrase's cultural notoriety landed Danielle merchandising deals, and - ultimately - a multi-million recording deal with Atlantic Records, under the stage name Bhad Bhabie.
Built around her controversial image, her music reached a wide audience online, amassing millions of streams on Spotify and YouTube, where she currently has more than seven million subscribers.
By 2018 she'd scored a Billboard Music Award nomination for top female rap artist alongside Cardi B and Nicki Minaj.
Part of this success was driven by her memeability, even though it wasn't directly tied to her music, says new media expert Chris Stokel-Walker.
"We love sharing common cultural touchstones, and moments that become memes - it's a sure fire way to trigger a symbiotic relationship between music and social media".
But culture writer Thomas Hobbs says that while the marketing strategy of playing to Danielle's controversial attitude worked at the time, he feels the tactic has "reached its saturation point" during the pandemic.
"A big part of her success was a label thinking she's got at attitude we can use, more as an influencer than an artist.
"That worked when we weren't stuck inside, but as Tekashi 6ix9ine, an equally controversy-courting social media rapper has found by his poor album sales, the pandemic has meant that people now want more substance.
"People are looking inwards now," he adds. "They either want colourful escapism or something that speaks about life today".
The danger of not having a brand that can last is one of the main dangers facing viral music sensations.
Take the fortunes of Alex Mann, otherwise known as Alex from Glasto, after a video of him being picked out of the crowd to perform the song 'Thiago Silva' with the rapper Dave at Glastonbury 2019 went viral.
His ability to perform the song under pressure, without warning aged just 16, made him a flashpoint of online interest and landed him a record deal.
However, his rush-released single What Ya Kno Bout That Bro? proved to be the beginning and end of his music career.
"The problem was had no clear brand at the point he went viral," says Raven.
"He found his success performing a cover, so when he tried to release music, it wasn't successful. The scenario itself was the reason Alex from Glasto went viral, and that couldn't be repeated".
So what of Nathan Evans' sea shanty success? Wellerman by The Longest Johns sailed into the Top 40 at Number 37, complete with a dance remix by 220 Kid and Billen Ted.
"With his first official release he's stayed on brand," says Raven.
"This means that even if you don't know his name, you'll recognise the track, which most internet music sensations haven't done successfully after going viral, as they release a brand new original song.
"Long-term, he's also kickstarted a trend global interest in a specific genre, which has meant he's kept everything about the music - the real deciding factor".