Glastonbury 2021: Festival axed 'with great regret'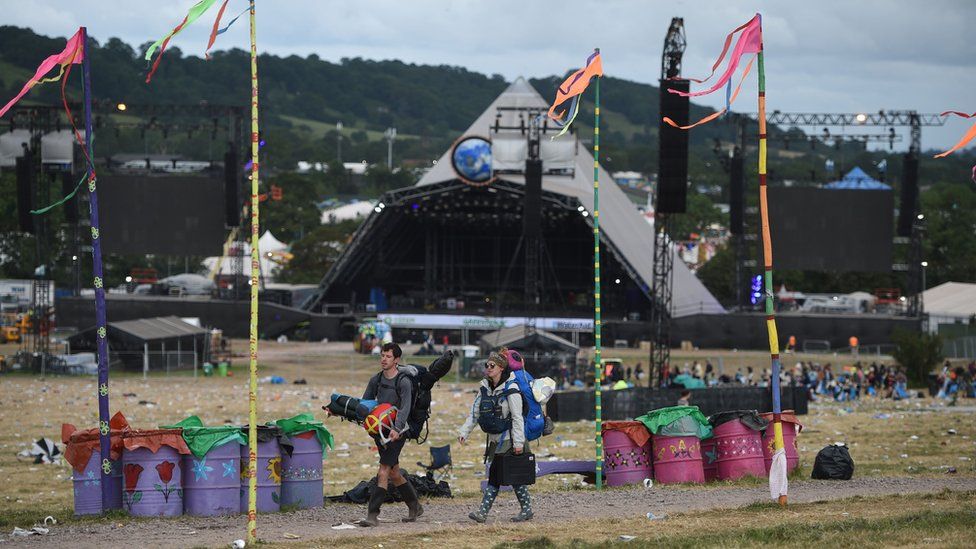 Glastonbury Festival has been cancelled for a second year running due to the impact of the Covid-19 pandemic.
The news was announced on Thursday on the Worthy Farm event's Twitter page.
"With great regret, we must announce that this year's Glastonbury Festival will not take place," said festival organisers Michael and Emily Eavis.
"And that this will be another enforced fallow year for us. Tickets for this year will roll over to next year. Michael & Emily."
With great regret, we must announce that this year's Glastonbury Festival will not take place, and that this will be another enforced fallow year for us. Tickets for this year will roll over to next year. Full statement below and on our website. Michael & Emily pic.twitter.com/SlNdwA2tHd

— Glastonbury Festival (@glastonbury) January 21, 2021
The full statement on the festival website read: "In spite of our efforts to move heaven and earth, it has become clear that we simply will not be able to make the Festival happen this year. We are so sorry to let you all down."
It confirmed that as with last year, anyone with a ticket will now be offered the opportunity to roll their £50 deposit over to next year, when the festival will hopefully resume. It had been due to take place in June 2021.
"We are very appreciative of the faith and trust placed in us by those of you with deposits, and we are very confident we can deliver something really special for us all in 2022!"
'Regrettable but understandable'
"This regrettable but understandable decision is recognition that public health comes first" he posted, "and that right now, getting 200k fans together in just a few months looks very difficult to make safe".
He added: "We continue to help the arts on recovery, including looking at problems around getting insurance. I'm Glastonbury will be back bigger and better next year."
Julian Knight MP, chair of the Digital, Culture, Media and Sport committee, said news of this year's cancellation was "devastating".
"We have repeatedly called for ministers to act to protect our world-renowned festivals like this one with a government-backed insurance scheme. Our plea fell on deaf ears and now the chickens have come home to roost," he said.
"The jewel in the crown will be absent but surely the government cannot ignore the message any longer - it must act now to save this vibrant and vital festivals sector."
The government said: "We know these are challenging times for the live events sector and are working flat out to support it.
"Our £1.57bn Culture Recovery Fund has already seen more than £1bn offered to arts, heritage and performance organisations to support them through the impact of the pandemic, protecting tens of thousands of creative jobs across the UK, including festivals such as Deer Shed Festival, End of the Road and Nozstock."
Last month, organiser Emily Eavis told the BBC she hoped this year's festival could go ahead, despite the "huge uncertainty" surrounding live music in the pandemic.
"We're doing everything we can on our end to plan and prepare," she told the BBC, "but I think we're still quite a long way from being able to say we're confident 2021 will go ahead."
Eavis said Glastonbury lost "millions" in 2020. Her father, Michael, has previously warned the festival "would seriously go bankrupt" if they had to cancel again next year.
But that scenario is unlikely "as long as we can make a firm call either way in advance", Eavis clarified to the BBC.
No line-up details had been confirmed for 2021. But just before Christmas, Sir Paul McCartney told the BBC the event was not in his calendar, as it would be a "superspreader".
At the start of January, MPs were told that some of the UK's biggest music festivals could be called off by the end of this month.
Events are "rapidly approaching the determination point", after which they'll have to pull the plug, said the Association of Independent Festivals.
Organisers will be in "absolutely dire straits" financially if the season is cancelled, added Anna Wade, of Winchester's Boomtown Fair.
They were speaking to MPs examining the plight of music festivals in the UK.