How did debut artist Olivia Rodrigo break chart records?
By Mark Savage
BBC music reporter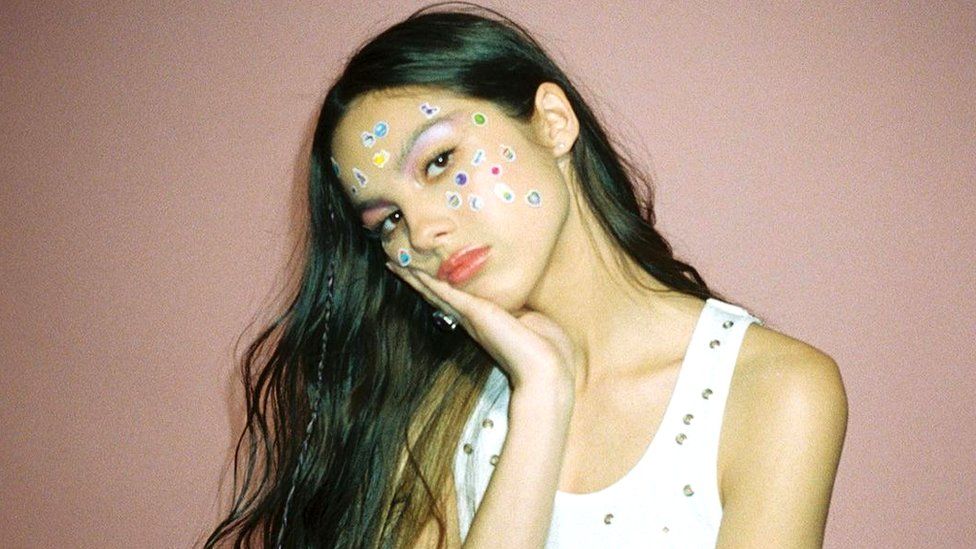 Teenager Olivia Rodrigo has topped the UK charts with her debut single, Driver's License, shattering several chart records in the process.
Her emotional ballad racked up 95,000 chart sales over the last week, including 10.9 million streams.
On Tuesday, UK fans played it 2.4 million times - the most streams in a single day for a non-Christmas song.
It also broke Spotify's record for the most streams in one day, peaking at 17 million streams on 12 January.
That was four times more than the nearest competitor, Bad Bunny's Dákiti, which had 4 million plays.
"I truly do think this is just a lightning-in-a-bottle moment".
Rodrigo's song is also the biggest-selling debut number one in five years - since Zayn Malik's Pillowtalk - which sold 112,000 in February 2016.
The singer is basically a Disney graduate, in the mould of Britney Spears and Selena Gomez.
She was cast in Disney sitcom Bizaardvark at the age of 13 before starring as Nini Salazar-Roberts in High School Musical: The Musical: The Series, which debuted on Disney + last year.
Based on the hit movie trilogy, the mockumentary-style show follows the on- and off-stage drama as a group of students put on their own production of High School Musical.
When the show's creators discovered Rodrigo was a budding musician, they encouraged her to write songs for the series - "which is this really unorthodox thing for a producer to say to an actor," Rodrigo noted. "Specifically because I'm 16 years old and have no experience."
One of her songs, a windswept ballad called All I Want, gained millions of streams after premiering on the TV series, and entered the lower reaches of the Billboard charts.
Despite her Disney background, Rodgrigo says she's a singer first and an actress second.
"Actually, the reason that I got into acting is because I was so expressive when I sang," she told Genius. "So people told me, 'Hey, maybe you should get into acting. Maybe this will be something that you'll like,' and I loved it, and here we are now."
What's the story behind Driver's License?
The lyrics detail Rodrigo's heartbreak at finally passing her driving test, after months of dreaming of being able to drive to her boyfriend's house - only to find herself betrayed and single.
"Guess you didn't mean what you wrote in that song about me," she sings over a mournful piano. "'Cause you said forever, now I drive alone past your street."
Speaking to Apple Music earlier this week, she said writing the song was a hugely emotional process.
"I was driving around my neighbourhood, actually listening to really sad songs and crying in the car, and I got home, and I was like, 'Maybe I'll write a song about this, crying in the car. So I just sat down at my piano and plucked out some chords that I liked."
She continued, "It kind of happened that way but it was really like natural and organic, like, very much me writing in the depth of my emotion and I think that's apparent."
OK, but what's the real story?
Rodrigo didn't reveal who had made her cry - but fans have theorised she was writing about her High School Musical love interest Joshua Barrett.
Although the actors never officially confirmed their relationship, they were rumoured to be dating last summer, until Barrett was photographed having lunch with 21-year-old singer Sabrina Carpenter.
Breaking down the story behind Driver's License, TikTok user Kaiya Olsen suggested that Carpenter was the "blonde girl [who's] so much older than me" referenced in the lyrics.
Another internet sleuth discovered that Rodrigo first practised driving in Bassett's car; while several fans have speculated that "that song you wrote about me" refers to Bassett's 2020 single Anyone Else.
Of course, none of this could be true - but the intrigue certainly helped spark interest in Rodrigo's debut single.
Why has the song done so well?
First of all, and perhaps most importantly, Driver's License is a great song - musically, structurally and lyrically.
Rodrigo is a self-described "huge Swiftie" and massive Lorde fan, and you can hear both singer's flair for storytelling in the song's bruising narrative and splintered piano chords.
But overnight success is never quite that simple.
The singer already had a hugely engaged fanbase before Drivers License dropped last week. A post announcing the song's existence gained 7 million views on TikTok alone. And Rodrigo continued to post teasers in the week leading up to its release, sharing acoustic snippets and handwritten lyrics of the track on her Instagram channel.
Once the song came out, she got a further boost from Taylor Swift, who endorsed the song on Instagram.
It came after Rodrigo shared a photo of her song nestling beneath Swift's Right Where You Left Me on the iTunes chart - to which the star replied: "I say that's my baby and I'm really proud" (the quote is something Swift's mother once said about her, fact fans).
What does Olivia have to say about her success?
"It's quite insane," the singer told Zane Lowe. "Drivers License is my first single [and] I didn't really expect it to chart or do anything, I was just so happy with it.
"So the fact that it's number one in the world right now is absolutely mind-blowing. I can't believe any of it."
The 17-year-old was also presented with a Number One Award by the UK's Official Charts company on Friday, and sent a video message to everyone who bought and streamed the song.
"I just want to say thank you guys so much. It means the world to me that you guys are listening to and loving Drivers License."