WandaVision: Critics welcome 'delightful' Disney+ series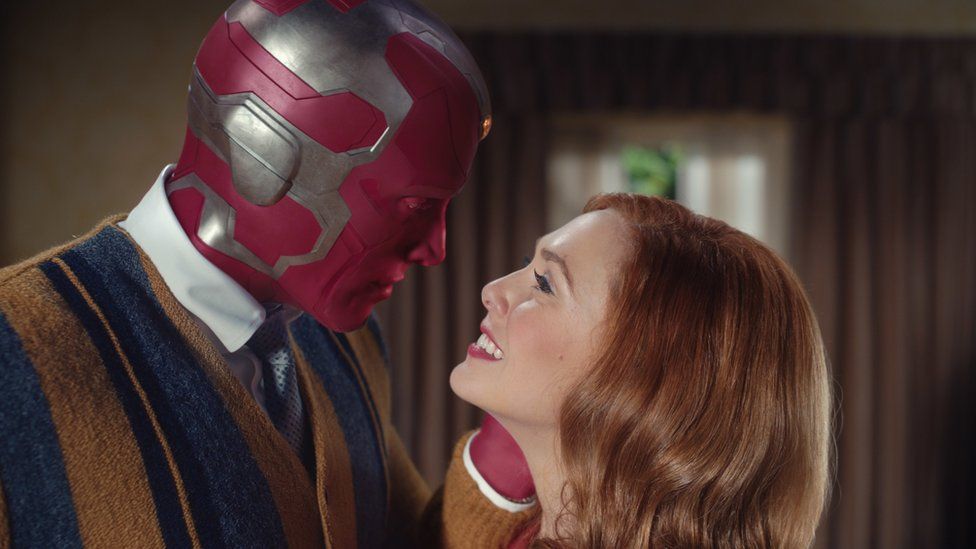 WandaVision, the new Disney+ series set in the Marvel Cinematic Universe, has been warmly welcomed by TV critics.
The first two episodes of the nine-part series were released on Friday, with the remaining instalments set to be released weekly.
The majority of reviews awarded the show four stars out of five, including those from Digital Spy, The Telegraph, The Guardian and The Independent.
The first two episodes of WandaVision are set in the 1950s and 60s and presented in black and white. The series will move into colour in later episodes.
The show centres on the characters of Wanda Maximoff and Vision, who are living a domestic suburban lifestyle in the town of Westview, trying to conceal their powers.
WandaVision takes place after the events of 2019's Avengers: Endgame and sees Elizabeth Olson and Paul Bettany reprise their roles as the two main characters.
The series sees the couple travel through the decades, parodying many classic TV shows in the process.
It's understood every 30-minute episode will resemble a vintage US sitcom, although only the first three were made available for critics to watch.
"Each episode is a pitch-perfect - from script, to delivery, to lighting, to cinematography, to aspect ratio - but loving parody of classic sitcoms," said The Guardian's Lucy Mangan.
"The jokes are great, the performances are wonderful, and it has the glorious air of something shaped by people who know exactly what they're doing, where they want to go and how they're going to get there."
"As a loving pastiche of creaky American sitcoms, WandaVision is endearing," he said. "And Olsen and Bettany are clearly having a hoot in their retro frocks and dad sweaters."
"Coming out from Iron Man and Captain America's shadows, she offers a self-assured performance that escalates from dainty housewife to overbearing control freak at the click of her magical fingers."
But, he added: "Bettany's performance is less successful. He nails the sincere moments but struggles with the comedy. He drunk walks, shrieks 'what the dickens' and spends much of the series with either a puzzled face or Cheshire cat grin that wears thin after the first episode."
Several critics welcomed the fact that Marvel Studios boss Kevin Feige is an executive producer of WandaVision.
Feige is now in charge of all of the studio's projects across film and TV, unlike previous Marvel TV shows such as Jessica Jones and Agents of Shield, which were made by a separate division of the company.
Den of Geek's Don Kaye said the show "is a loving tribute to the kinds of 'wholesome,' squarely middle class, conservative family comedies that began to proliferate on TV around the mid-1950s".
He added: "WandaVision is a welcome return for the MCU that gets its next phase off on unexpected footing but pays off both in entertainment value and the promise of developments to come."
Marvel fans will recognise Wanda Maximoff, also known as Scarlet Witch, as the telekinetic Avenger who is haunted by the death of her twin brother, Pietro. Her lover Vision is a non-human "synthezoid" who can phase through walls.
"However, both characters are near-unrecognisable here: peppy, charismatic and sugar-sweetly co-dependent, with seemingly no memory of their former selves," noted The Independent's Louis Chilton. "Why exactly this is, is a mystery the show is in no hurry to explain."
He concluded: "In aesthetic, structure and tone, WandaVision is a welcome aberration for a franchise whose fatal flaw has long been its stifling adherence to formula.... It's the most purely intriguing thing the MCU has ever made."
"WandaVision starts out demanding as much affection for television from its audience as from its creative team," he said. "If you don't instinctively smile at the sight of Vision using his powers to phase through an inconveniently-placed chair, or recognise that one episode takes place in a mirror image of the Brady family's house, you may grow impatient for the actual story to reveal itself."
Digital Spy's Laura Jane Turner agreed: "Any invested Marvel fans that are hoping for a swift injection of some action, may come away from the first few episodes slightly disappointed. But WandaVision has a charm that deserves to be fully embraced, and there is a lingering promise that there's a whole lot more to be discovered.
"The feel and tone of the show is a bold choice, but one that absolutely pays off. With a seemingly endless list of Disney spin-offs and re-imaginings of existing franchises, WandaVision has set the bar sky-high, and shows that there can still be room for creative flair and original storytelling."
In her review for Empire, O'Hara wrote: "Above all, it's delightful to watch superhero characters in a big-budget outing and not have a clue what's going to happen next.
"There is likely to be more formulaic stuff to come - we know there's a big role planned for Teyonah Parris' Monica Rambeau, and appearances due from Kat Denning's Darcy and Randall Park's FBI Agent Woo - but in the meantime, we get a bizarre trip back through beloved TV tropes that is a world away from the usual superhero punch-ups."