Swae Lee and Mike Will Made-It survive horrific car crash
By Mark Savage
BBC music reporter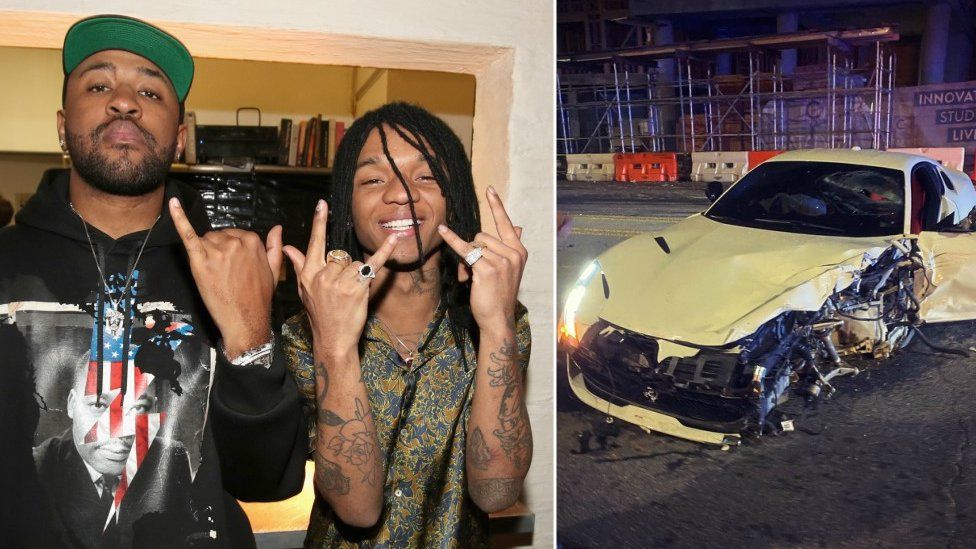 Rappers Swae Lee and Mike Will Made-It say they are lucky to be alive after being involved in a serious car accident.
Mike Will, real name Michael Williams III, posted photos of a badly damaged Ferrari on Instagram, saying he escaped with minor injuries.
"We could have been dead easily, but we made it out with a couple of bruises," he wrote. "We here for a reason."
Details about the car crash - including where it took place and whether other drivers suffered any injuries - were not available at the time of writing.
'A stick of dynamite inside a coke can'
Mike Will Made-It is one of the most respected producers in hip-hop, with credits on tracks by Jay-Z, Eminem, Kendrick Lamar, Gucci Mane, Rihanna and Miley Cyrus, in addition to his solo discography.
Swae Lee, meanwhile, rose to fame as half of the duo Rae Sremmurd, who scored a number one hit with Black Beatles (also produced by Mike Will) in 2016.
Both stars said they were "blessed and favoured" to have survived their accident.
In another photo gallery featuring pics of his crushed Ferrari, the producer gave further details about the wreck.
"Anything defeated should be celebrated," wrote Mike Will, who also posted a photo of himself posing on top of the totalled car. "Thank you God, I'm paying attention to the signs".
He also shared a safety message for fellow owners of the £260,000 Ferrari 812 Superfast.
"PS you have to heat up the tires on the 'Rari before driving it in the cold for the traction to work properly," he advised. "Otherwise The 812 is like a stick of dynamite inside of a coke can on ice skates while driving in the cold.
"God said it wasn't time tho. Thank you for watching over us."