MF Doom: Hip-hop star dies aged 49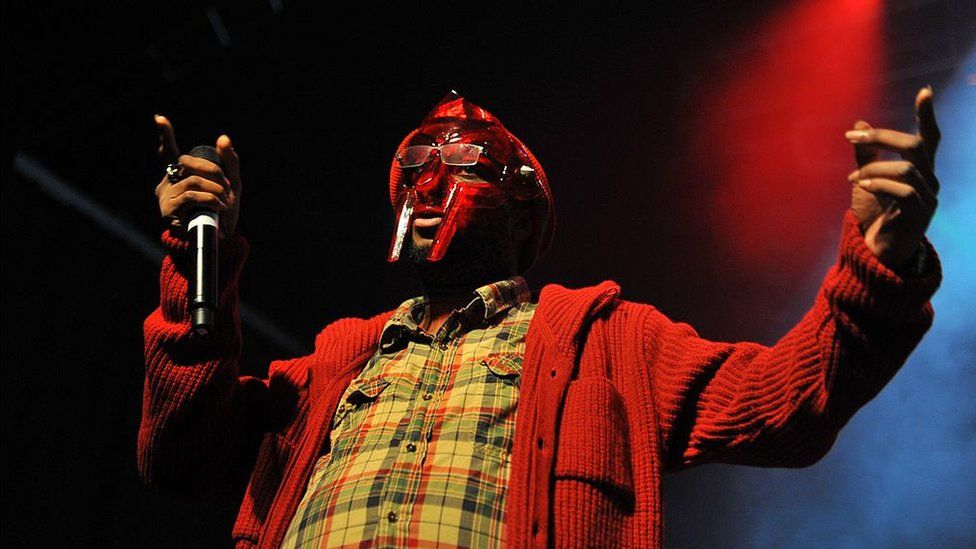 Hip-hop star MF Doom has died at the age of 49, his family confirmed on social media.
The London-born musician, real name Daniel Dumile, was known for his sharp, intricate rhymes and his signature mask, which he never removed in public.
In a post on the rapper's Instagram account on Thursday, his wife Jasmine confirmed that he died on 31 October.
A number of artists have paid tribute to MF Doom including Run The Jewels and Tyler, The Creator.
In a note addressed to the rapper, his wife paid tribute to "the greatest husband, father, teacher, student, business partner, lover and friend I could ever ask for".
MF Doom was born in London but moved to New York as a child.
As a teenager he performed in hip-hop group KMD. Following the loss of his younger brother and bandmate DJ Subroc, he disappeared from music becoming, in his own words, "damn near homeless".
But in 1997, he remerged at open mic events in Manhattan, wearing tights over his face. He protected his anonymity for the rest of his career, adopting a mask based on the Marvel villain Doctor Doom for all his public appearances.
His debut as MF Doom, Operation: Doomsday, was released in 1999, and he followed it up with an almost non-stop outpouring of music.
As well as six solo albums, he produced a wealth of bootlegs, compilations, collaborations, mixtapes and instrumental albums - including the influential, 10-part Special Herbs series.
He may be best known for 2004's Madvillainy, which was recorded with crate-digging producer Madlib under the moniker Madvillain, and gave the rapper his first entry on the US album chart.
Another of his high-profile collaborations was Danger Doom alongside DJ Danger Mouse, and he appeared with Damon Albarn's Gorillaz on their UK number one album Demon Days. Other collaborators included Ghostface Killah, Flying Lotus, The Avalanches and Radiohead.
Many of them lined up to pay tribute after news of his death broke on New Year's Eve.
"RIP to another Giant, your favourite MC's MC... MF DOOM," wrote A Tribe Called Quest's Q-Tip on Twitter. "Crushing news."
"He was a writer's writer," added El-P of Run The Jewels. "Grateful I got to know you a little, king. Proud to be your fan. Thank you for keeping it weird and raw always. You inspired us all and always will."
"All u ever needed in hip-hop was this record," Flying Lotus tweeted alongside the album cover to Madvillainy. "My soul is crushed."
Apple Music presenter Zane Lowe said: "Rest In Peace to the great MF Doom. A true artist who gifted us with eternal innovation and creativity."
Tyler, The Creator wrote on Twitter: "Safe travels villain".
While the Sleaford Mods said: "RIP MF DOOM. Sleep well mate."