The best albums and songs of 2020: Fiona Apple, Cardi B, Bob Dylan and Dua Lipa
By Mark Savage
BBC music reporter
Fiona Apple's fearless and experimental Fetch The Bolt Cutters has been named music critics' favourite album of 2020.
The urgent, rhythmically complex songs on the US singer-songwriter's first record in eight years topped a "poll of polls" compiled by BBC News.
Phoebe Bridgers' sombre and sardonic Punisher came second, with Taylor Swift's Folklore taking third place.
Cardi B and Megan Thee Stallion's bass-heavy rap anthem WAP was named the year's best song.
The track, which topped the charts on both sides of the Atlantic, had the most Googled lyrics of the year thanks to its gleefully explicit (and creative) attitude to sexual liberation.
Megan Thee Stallion also scored the second most popular song of the year with her breakout track Savage. The song, which features fellow Houston native Beyoncé, has earned the rapper four nominations at January's Grammys.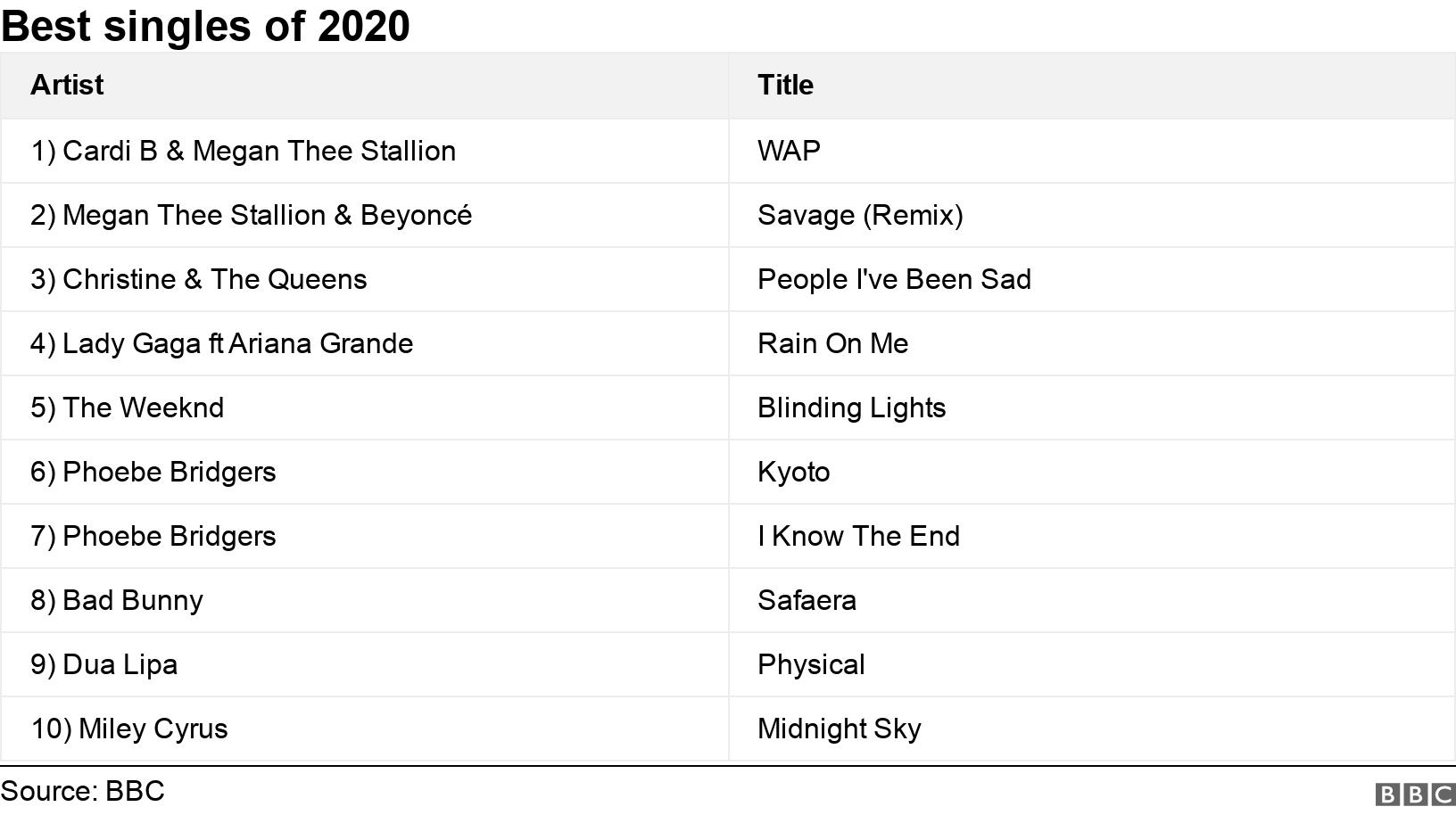 The BBC's charts were compiled from 35 end-of-year lists published by the world's most influential music magazines, blogs, newspapers and broadcasters.
The include the NME (New Musical Express), Rolling Stone, BBC 6 Music, Australia's Double J and Denmark's Gaffa magazine.
Records were assigned points based on their position in each list, with the number one album getting 20 points, the number two album receiving 19 points and so on.
In total critics named 204 albums among their favourites, from Rina Sawyama's self-titled debut record to Bob Dylan's 39th, Rough And Rowdy Ways.
Fetch The Bolt Cutters soared above the competition, earning 519 points out of a possible 700 and scoring top marks from The Guardian, Pitchfork and Consequence Of Sound.
Its title was inspired by an episode of BBC crime drama The Fall, in which Gillian Anderson plays a police investigator on the trail of a serial killer.
In one scene, believing there is a young victim trapped behind a door, Anderson's character declares: "Fetch the bolt cutters."
For Apple, the phrase represented an opportunity to unleash suppressed rage at school bullies, unfaithful boyfriends and sexual abusers, liberating herself in the process.
The resulting album is musically complex, anchored by dense polyrhythms and lyrics that vacillate between laugh-out-loud and scream-into-your-pillow. Apple sums it all up in one neat phrase: "I'm pissed off, funny and warm."
"Like the very best music it contains multitudes," wrote Loud and Quiet magazine in its 10 out of 10 review. "It's a rallying cry for those without a voice, a deep lesson in empathy, a dive into a singular mind [and] a damn good pop record."
Pitchfork agreed, calling it "a wild symphony of the everyday" and "an unyielding masterpiece" before concluding: "No music has ever sounded quite like it."
Read more about the albums that made the top 10 below.
10) Chloe x Halle - Ungodly Hour
Sisters Chloe and Halle Bailey were talent-spotted on YouTube by Beyoncé, who quickly snapped them up for her Parkwood record label and featured them on her visual album Lemonade.
You can certainly hear the influence of Destiny's Child in the syncopated clatter of tracks like Baby Girl and Do It, but there's a maturity and innovation to their songwriting that's all their own.
Witness the fluttering, interweaving harmonies of Busy Boy or the casually savage Tipsy, in which the Baileys warn their boyfriends that they'll meet a sticky end if they ever mess around.
"I'll hunt down your family / Let 'em know about the tragedy," the sisters declare. "Who did it? A mystery. But you know... it was me."
9) Bob Dylan - Rough And Rowdy Ways
Dylan's first album of original song in almost a decade, and his first since reluctantly accepting a Nobel Prize in 2016, came with a weight of expectation the songwriter either shrugged off or ignored completely.
A lyrical tour de force, it's often mischievous ("Go home to your wife, stop visiting mine," he growls on Black Rider) and full of playful self-mythologising. ("I paint landscapes, and I paint nudes," notes the opening track. "I contain multitudes.")
But there's a sombre undertow - most notably on the 17-minute epic Murder Most Foul, where Dylan juxtaposes the idealism of John F Kennedy and Martin Luther King with the political gangsterism of 2020.
The music, played by Dylan's touring band, deftly sketches around his words, allowing them to take centre stage. And for once Dylan wants to be understood. "The lyrics are the real thing, tangible," he told the New York Times. "They're not metaphors."
8) Haim - Women In Music Pt. III
Since starting out in a covers band with their parents, sister act Haim have always been accomplished musicians. But their studio perfectionism sometimes got in the way of the songs.
On this, their third album, they deliberately kept things messy. "We wanted it to feel like you're just standing next to us," lead singer Danielle told BBC News.
The result is their most compelling - and diverse - album to date, encompassing late-night funk (3 AM), foot-stomping rock (The Steps), introspective pop (Now I'm In It) and even a lovestruck update of Lou Reed's Walk On The Wild Side (Summer Girl).
The title was part of an "evil plan" to stop journalists asking the dreaded question: "What's it like to be a woman in music?" To which Haim's stock answer can now be: "When you're nominated for album of the year at the Grammys, it's pretty sweet."
7) Perfume Genius - Set My Heart On Fire Immediately
Before recording his fifth album Mike Hadreas, aka Perfume Genius, collaborated with choreographer Kate Wallich on a project called The Sun Still Burns Here. He didn't just write the music, but performed in it as well.
The experience changed his writing. Where his earlier albums were floaty and fragile, Set My Heart On Fire Immediately is a much more physical record, full of insistent rhythms and tangible sexuality.
There's a sense of liberation throughout, as the musician sheds the traumas of substance abuse, homophobic bullying and Crohn's disease. But there's no trite happy ending - just a sense of acceptance.
"I thought the sea would make some pattern known / And swim us safely home," he sings on closing track Borrowed Light. "But there's no secret / Just an undertow."
6) Waxahatchee - Saint Cloud
In 2018, after "a few crazy nights" at Spain's Primavera Sound festival, Katie Crutchfield (who performs as Waxahatchee) decided she had to get sober.
A heavy drinker since her teens, she called up her manager and cleared her schedule to focus on recovery.
When she emerged on the other side, she was a different person. "If you're getting sober, you're facing all of this stuff that has been shoved deep down and covered in booze for years," she told The Guardian.
On Saint Cloud, her fifth album, she is honest and clear-eyed about those internal conflicts - addiction, co-dependency, self-sabotage - and how she moved beyond them.
"I'm wiser and slow and attuned / And I am down on my knees, I'm a bird in the trees," she sings on Fire. "I can learn to see with a partial view."
The result is a quieter, calmer record than her earlier work, informed by "country powerhouse women" like Linda Ronstadt and Emmylou Harris and steeped in beautiful, timeless melodies.
5) Run The Jewels - RTJ4
"A perfectly timed punch to the face." That was Complex magazine's verdict on Run The Jewels' fourth album: an unflinching portrayal of police brutality, white supremacy and the complicit/complacent media outlets that allow them to thrive.
Recorded before the death of George Floyd, rappers El-P and Killer Mike nonetheless anticipated his final moments with horrifying prescience.
"You so numb you watch the cops choke out a man like me / Until my voice goes from a shriek to whisper 'I can't breathe'," rapped Killer Mike on Walking In The Snow. "And you sit there in house on couch and watch it on TV / The most you give is a Twitter rant and call it a tragedy."
Unsurprisingly, the album became a soundtrack for the Black Lives Matter protests. "It's a little bit of a bittersweet reality," El-P told NPR. "I'm very honoured that the people are connecting to our music in this way, and I'm saddened that the music that we make is as relevant as it is."
4) Dua Lipa - Future Nostalgia
"I've time-travelled quite a lot on this record," said Dua Lipa of her second album, which distils '70s disco, '80s synth-pop and '90s club jams into a dynamic party record that provides the ultimate antidote to 2020.
Sleek, cool and remarkably cohesive, it's crammed with addictively catchy tracks - from the intergalactic disco of Levitating to the full-body workout of Physical, capped off by the smash hit single Don't Start Now which spent an entire year in the UK's Top 100.
Dua initially worried about releasing it during a pandemic - fearing an album so specifically targeted at the dance floor would be in bad taste "when so many people are suffering". In the end she decided, correctly, that what the world needed most was a ray of light in the darkness.
After the album topped the charts in April she continued her imperial phase with hyperactive remix album Club Future Nostalgia, a series of one-off singles featuring Miley Cyrus and French star Angèle, and the live-stream extravaganza Studio 2054, which was watched by more than five million people worldwide.
3) Taylor Swift - Folklore
Taylor Swift was supposed to spend 2020 on tour. Instead she locked herself in a woodland cabin and dreamed up some of the most magical, tragi-romantic songs of her career.
Folklore steps away from the elaborately produced pop of her previous three records, trading stadium-sized choruses for more intricate melodies that curled around muted pianos and hushed, finger-picked guitars.
She found new dimensions to her lyrics as well, telling evocative, nostalgic stories about wartime soldiers, high society eccentrics and star-crossed lovers. The highlight was a three-song cycle (Cardigan, August and Betty) in which Swift explored a teenage love triangle "from all three people's perspectives at different times of their lives".
Hailed by critics as her best album, it spent eight consecutive weeks at the top of the US charts. It also spawned a sister album called Evermore, late in December, that added further depth to Swift's latest masterpiece.
2) Phoebe Bridgers - Punisher
Life, death, Elvis and nautical-themed birthday parties: LA songwriter Phoebe Bridgers tackles all the big topics on her second album as a solo artist.
It's a misleadingly beautiful record, with Bridgers' murmured, multi-tracked vocals disguising the chilling pathos of her lyrics.
Her skill is in picking out the small details that drop you right into the emotion of a scene. "After a while you went quiet / And I got mean," she sings on I Know The End.
Portraying her estranged father's attempts to connect with her brother on Kyoto, she observes: "You called on his birthday / You were off by like 10 days / But you get a few points for trying."
It's an immensely quotable record - but those lyrics also stick with you, percolating away until you're pulled back for another listen. A rich, rewarding album that somehow feels hopeful, despite its despair.
1) Fiona Apple - Fetch The Bolt Cutters
Five albums into her career, Fiona Apple has had enough. "Kick me under the table all you want / I won't shut up," she seethes on Under The Table. Later, on Heavy Balloon, she adds: "I've been sucking it in so long / That I'm bursting at the seams."
The songs also feel fit to burst, abruptly changing time signatures and teasing out notes beyond the point of comfort. It seems the entire record is permanently in danger of falling apart, but that's also what makes it so compelling. You never know what's coming next.
Apple's vocals were recorded in her house with no edits, so you hear everything from the chairs creaking to her dogs barking. It gives the album a raw, unfiltered quality as she traces her past, from the school friend who told she "had potential" (Shameika) to making friends with her partner's mistresses (Ladies).
The abuse of women by men is a key theme. One song, Relay, was written in a fury after Brett Kavanaugh was appointed to the US Supreme Court, despite multiple allegations of sexual assault. Its lyrics allude to the self-perpetuating cycle of abuse: "Evil is a relay sport / When the one who's burnt on / Turns to pass the torch."
It's an uncompromising, risk-taking album, and one some listeners may find hard to stomach. But for those willing to persevere, the rewards are plentiful.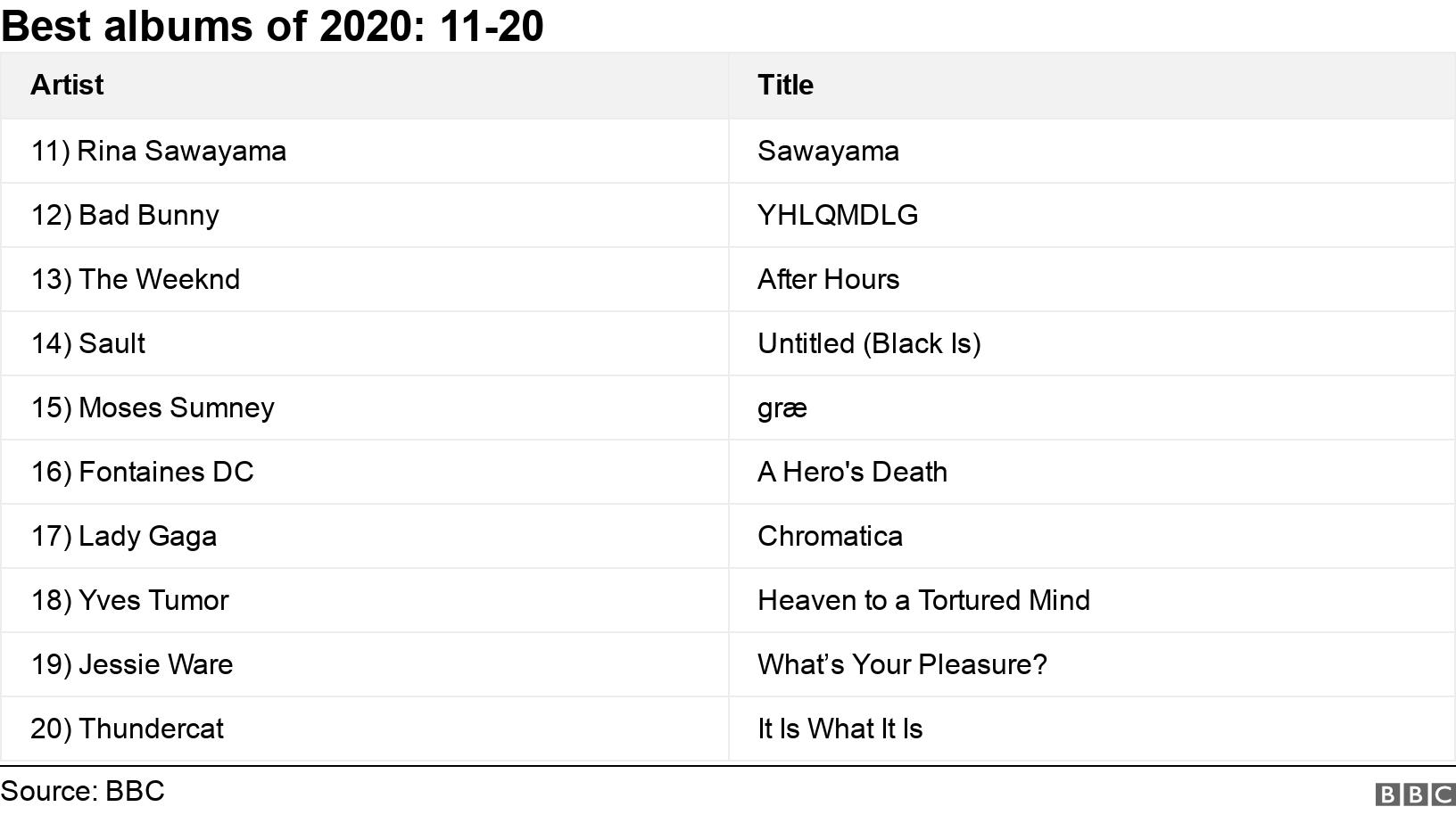 The 35 "best of" lists appeared in: Associated Press, AV Club, BBC 6 Music, Billboard, Clash, DIY, Consequence Of Sound, Entertainment Weekly, The Forty-Five, Gaffa, The Guardian, Insider, LA Times, Line Of Best Fit, Loud & Quiet, Mojo, NME, NPR, Paste, People, Pitchfork, Pop Matters, Popsugar, Rolling Stone, Slant Magazine, Spin, Stereogum, The Sydney Morning Herald, The Times, Time Magazine, Double J, Uncut, Uproxxx, US Weekly and Vice.