Mariah Carey's All I Want For Christmas tops the UK charts after 26 years
By Mark Savage
BBC music reporter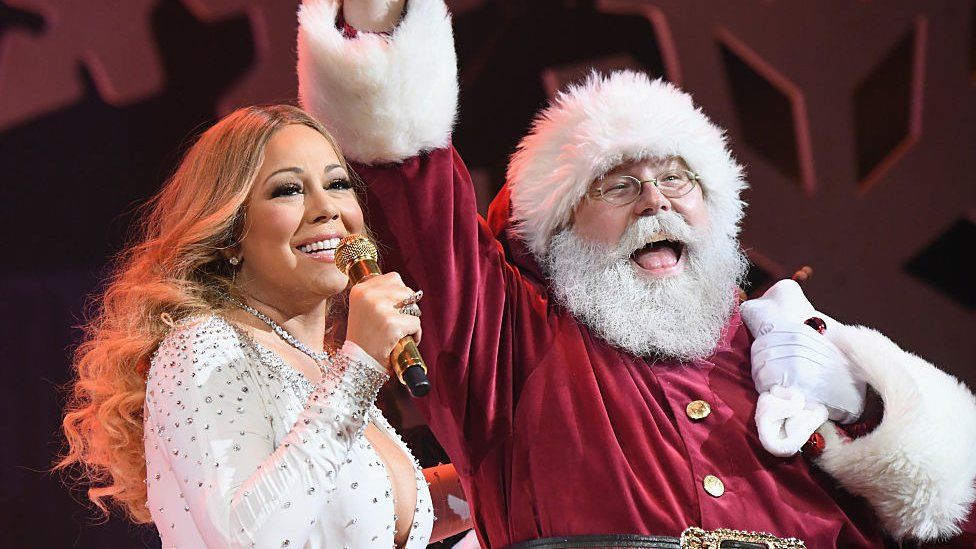 Completing a journey 26 years in the making, Mariah Carey's All I Want for Christmas Is You has reached number one in the UK singles chart.
Taken from Carey's album 1994 Merry Christmas, the modern classic was originally held off the top spot by East 17's Stay Another Day.
However, it finally climbed to the summit this week, after being streamed 10.8 million times.
"Happy Christmas UK! We finally made it!" said Carey on hearing the news.
"We are keeping the Christmas spirit alive together despite how dismal the year's been.
"Love you always! ♥️ Joy to the world 🌎😇🎄!!!!"
"Truly one of the greatest songs never to be number one has finally reached the top spot," said Radio 1's Scott Mills, who revealed the countdown on Friday. "Hopefully it can hold on until Christmas Day!"
Carey knocked Ariana Grande's Positions off the top of the charts, as Christmas songs continue their annual takeover of the top 40.
Festive songs account for 22 of the week's biggest-selling records, with six in the top 10 - including Wham's Last Christmas at number two, and The Pogues and Kirsty MacColl's Fairytale Of New York at four.

While most of the songs are Christmas classics, there are also entries for Jess Glynne's cover of Donnie Hathaway's This Christmas and Justin Bieber's version of Brenda Lee's of Rockin' Around The Christmas Tree.
Both are exclusive to Christmas playlists on Amazon's music streaming service, highlighting the power of the company's smart speakers to boost a song into the charts.
How Mariah wrote a classic
All I Want For Christmas Is You is the gift that keeps on giving.
First released in 1994, it's an upbeat, catchy tribute to the Christmas hits of Motown and Phil Spector. A top three hit on both sides of the Atlantic, it quickly became a standard, with the New Yorker calling it "one of the few worthy modern additions to the holiday canon".
Carey started writing the song while living in upstate New York in the summer of 1994, while playing the movie It's A Wonderful Life for inspiration.
She quickly stumbled on a chord progression and melody, which she captured on a mini tape recorder and brought to her longtime collaborator Walter Afanasieff.
He originally worried it was too basic. But that's exactly the quality that has made it such an enduring hit.
"The oversimplified melody made it easily palatable for the whole world to go, 'Oh, I can't get that out of my head!" he said in an interview with ASCAP.
In her recent memoir, Carey said the song's opening chimes are meant to evoke the "little wooden toy pianos, like the one Schroeder had on Peanuts".
"I actually did bang out most of the song on a cheap little Casio keyboard," she added. "But it's the feeling I wanted to capture. There's a sweetness, a clarity and a purity to it."
Although she was unhappy at the time, dealing with the pressures of fame and a tempestuous relationship with her future husband Tommy Mottola, she wanted to "write a song that would me me happy and make me feel like a loved, carefree young girl at Christmas".
"I wanted to sing it in a way that would capture joy for everyone and crystallise it forever," she added. "Yes, I was going for vintage Christmas happiness."
'Finally able to enjoy it'
The song has since earned her more than $60m (£45m) in royalties; and has cumulatively spent 70 weeks in the UK's top 100.
Last year, it topped the charts in America for the first time, making Carey the first artist to score a number one single in four different decades.
Speaking to the New York Times, however, the singer said she wasn't competitive about such matters.
"I don't need something else to validate the existence of this song," she said.
"I used to pick it apart whenever I listened to it, but at this point, I feel like I'm finally able to enjoy it."