Gorillaz always had 'a touch of the apocalypse'
By Paul Glynn
Entertainment & arts reporter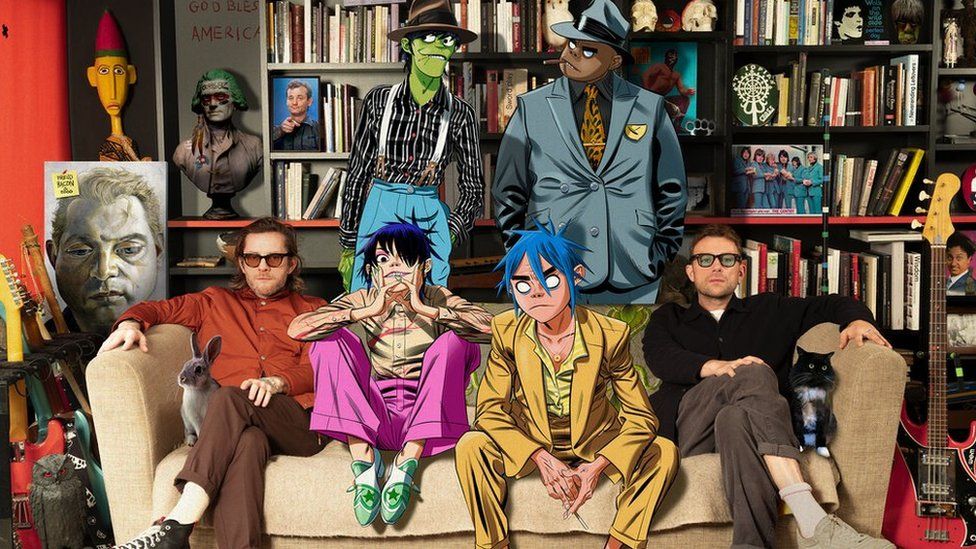 When Gorillaz opened the 2006 Grammy Awards, performing on-stage with Madonna and a host of holograms, it didn't go precisely to plan.
Not that you would have noticed on the telly, those of you in the UK that stayed up late.
But inside the star-studded Staples Center in Los Angeles, Damon Albarn and Jamie Hewlett were learning all about the problems - both practical and financial - of bringing their virtual band vision to life.
"There was an invisible screen," recalls Gorillaz artist-in-residence, Hewlett. "Like a big piece of cellophane in front of the stage that you fire the holograms up and then they come back down so they're standing on the stage.
"But the moment you start to turn the bass up or hit the drums too loud, the screen vibrates and the holograms fall to pieces. So we opened the Grammys like that. On the TV in America it looked great! But in the auditorium it was really quiet."
As Albarn, chief singer-songwriter, remembers it, they "didn't even know the bloody thing had started".
"We were sitting down there, our big moment, and literally everyone was just talking because they couldn't hear what's going on and so it didn't even look like anything was happening," he adds.
"Then as soon as Madonna moved from being a hologram with us to being the real Madonna, and the volume turned up, everyone thought that was the beginning of the Grammys."
The main takeaway from the experience, Albarn concludes, is that you "don't get a medal for being first".
"Don't be the first," laughs Hewlett. "Be the latest."
Now, 14 years older and wiser, the pair will once again attempt "to create something that hasn't been done before," Albarn says, with a streamed concert mini-series this weekend, which blends live music with on-screen animation.
Song Machine Live will see him perform indie-electro-hip-hop tracks from the band's new album alongside a 14-piece band and special guests including Beck, Slaves, Georgia and Peter Hook. Simultaneously, and with the help of creative director Stephen Gallagher, Hewlett will mix in animations of Gorillaz' alter-egos, Murdoc, Russel, 2D and Noodle.
(The characters often give the interviews themselves, so we count ourselves lucky here to be speaking to the men behind them).
The concerts, set at the band's fictional Kong Studios, are intended to be like gigs wrapped inside a TV show and will be live-streamed around the world.
"It is a bit of an experiment what we're doing," Hewlett says.
"In a way I hope it isn't too successful," Albarn admits. "It will just encourage everyone not to travel or do anything anymore."
Hewlett shakes his head. "People will always want to see live music and be part of an audience enjoying the experience together."
"You know what I mean," continues Albarn, who'd prefer to play to fans "in a field together getting drunk".
"It's like we we're in a very delicate transitional moment culturally, where there is the potential for so much withdrawal and introspection. I think we've got to be really careful."
Gorillaz' music-cartoon project initially emerged in 2001, with their eponymous hit debut record.
The follow-up, Demon Days, gave them a number one (and their own festival) before their characters made their way to the environmentally-concerned Plastic Beach in 2010. The enduring conceptual album location will be revisited next year for a Netflix animated film.
While their work has often imagined the future, could the 52-year-olds ever have foreseen a time in which big virtual performances would be not only desirable, but necessary, as they are right now?
"There has always been a touch of the apocalypse about Gorillaz," says Albarn. "It was ever thus really. Our sense of humour is towards the dark."
"It's a very 1970s sense of humour," agrees Hewlett, noting how the threat of "nuclear destruction quickly followed by Aids" had permeated the psyches of their generation.
"I don't know why it gravitated towards that kind of imagery but from the outset it was very much our signature," Albarn continues. "So something like [coronavirus], even though it was not something anyone would wish on anybody, it's kind of natural fit to to our kind of world."
Song Machine, Season One: Strange Timez - to give their new album its full title (season two is due next year) - was largely written in Lockdown 1.0 by Albarn at his Devon farmhouse.
Hewlett's animations were then added, and the tracks were released as episodic videos online.
It resulted in collaborations - often carried out over email or down the phone - with the likes of Robert Smith, Octavian and Sir Elton John.
'Ecstatic highs and profound lows'
The Rocketman was pleased, they think, with how his Gorillaz audio-visual experience turned out for the track, The Pink Phantom - featuring US rapper 6LACK.
"He was cool," says Hewlett. "He just didn't want to be in the video because he's done so many videos, he's tired of doing videos and he was keen to be animated.
"I sent some drawings and he was very happy with them. It was the easiest collaboration for me."
Albarn agrees: "He's so lovely. He's seen and done it basically. He's a man who's experienced ecstatic highs and profound lows in his life. He's such a totem of positivity and boundless energy."
The 73-year-old, as it turns out, will indeed appear as an animation at their three-gig virtual world tour.
During rehearsals, Damon has been cooped up in a Covid secure bubble with his team of musicians, including producer Remi Kabaka. Hewlett, meanwhile, has been beavering away at his home in Paris.
The pair used to live together in London in the late 90s - when their virtual band idea was first conceived - and they confess that had they been locked down together back then they would've simply "stayed in and got trashed probably," according to Hewlett.
"Drug-taking is definitely a young man's game" warns Albarn - already a Britpop icon by then with his other band, Blur.
That particular mainstream movement emphasised British culture, which he believes is currently being eroded by an "unsympathetic" government.
In July, culture secretary Oliver Dowden announced a £1.57bn cultural recovery fund, acknowledging it would not be enough to save every job and venue.
Downing Street later criticised a government-backed advert suggesting a ballet dancer should retrain in cyber security. The ad sent "a cold shiver down your spine" Albarn opines.
"If you're an artist in France, you're really taken care of," says Hewlett.
"Strict" UK Covid protocols, Albarn suggests, will make their latest ambitious project tricky to pull off, but he hopes it will at least transport fans momentarily from whatever tier they are in, to the "Gorillaz fantasy world".
"The health of the human spirit," he suggests, is "as important as any of the scientific reasons" for doing things.
"We made the decision to do it like this early on in the year, realising that there was no other opportunity to play, and that it was really important for musicians to keep playing together, because no one else is encouraging that," says the singer, who has also made music with the Africa Express and The Good, the Bad & the Queen.
"There has to come a point where we start to become more militant as musicians, because we are the custodians of a tradition that goes back right to the beginning of cultural man.
"If we let it die, it will be gone forever, and that will be a tragedy."
Gorillaz Song Machine Live takes place online on 12 and 13 December.