China gives musical talent show a virtual makeover
By Lu-Hai Liang
BBC News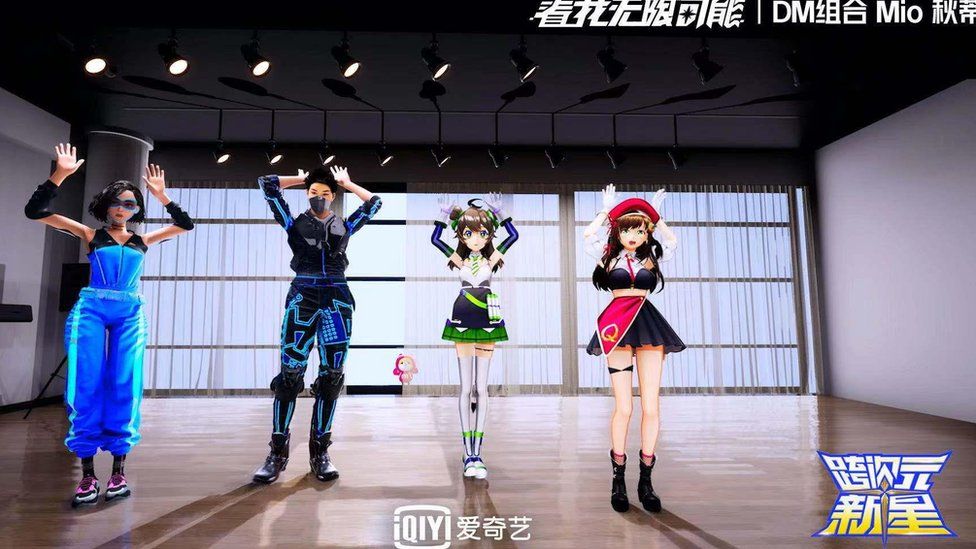 At first glance, there's nothing very remarkable about yet another singing competition in talent show-obsessed China, but Dimension Nova is different - this time, all the contestants are virtual.
This "virtual idol variety show", from Chinese streaming platform iQIYI, features three celebrity judges hoping to find the next big star.
Yet while the concept is familiar, the execution is like nothing we've seen before.
Contestants walk out into a capacious hall, complete with a looming T-Rex skeleton hanging from the high ceiling, and perform to the judging panel in real-time.
But these hopefuls are not your familiar pub-gigging wannabes, instead they are digital creations, drawn and styled like Japanese anime figures.
iQIYI, best known for popular talent shows such as The Rap of China, are exploring futuristic territory with their latest TV foray.
Among the 31 virtual contenders, there's an anthropomorphic five-tailed fox dressed in a suit and a cutesy monosyllabic seal, both auditioning for a spot on the judges' teams.
"It seems like I stepped into a video game," says Angelababy, one of the show's judges, in the first episode. The model-turned-actress is ubiquitous in China, her image dominating screens and billboards.
Virtual celebrities, however, are not entirely new.
On Instagram, the virtual influencer and music artist Lil Miquela has some 2.8m followers; closer to home, UK indie band Gorillaz consists solely of cartoon members.
Talent shows have become big business in China, with Western-influenced singing competitions such as The Voice of China a huge hit with homegrown audiences.
In 2018, Britain's Jessie J enrolled as a contestant - and won - the Chinese talent show Singer, significantly boosting her international fanbase.
But in recent years, these talent shows have become increasingly like their Japanese and South Korean counterparts and, arguably, formulaic.
Shows like Produce 101 and Youth With You, which are popular among China's youth demographic, "follow the trainee system used for Korean idols" explains Ina Yang, a Chinese pop-culture podcast host, and have adopted the glamorous - and gruelling - group idol culture popularised by K-pop.
But this latest talent show is breaking new ground.
"We started from zero with Dimension Nova, as variety shows featuring virtual idols had never been done before," executive producer Liu Jiachao told the BBC.
He says the virtual reality (VR) technology involved has proved very demanding, adding, "that's why we only chose 31 contestants out of the 150 or more candidates that we screened".
The makers of Dimension Nova are keen to show viewers the technology behind the scenes and frequently intercut the virtual performances with shots of a dark studio humming with computers.
In fact, it was a computer game spin-off that sparked the idea that would evolve into Dimension Nova.
"The original idea came to us in September 2019, when we saw League of Legend's game character Akali perform 'offline' as a virtual idol," says Liu.
Watching Akali on screen convinced Liu that technology had progressed to a level where it could produce sophisticated VR performances.
What followed was about a year's research and development to get the show off the ground. And there were many challenges along the way.
"The production procedure of traditional reality shows does not apply in the case of Dimension Nova - so there was no standard practice to refer to," says Liu.
The show auditioned more than 150 virtual idols from studios who produce such creations and chose candidates that met the technological requirements of their production.
"We then worked together with the companies that designed these idols to create the performances that ended up on the show."
Subsequently, the producers worked with Norwegian visual production company Vizrt, and videogame software Unreal Engine 4, as well as nine augmented reality cameras to bring the virtual characters 'to life'.
"The cameras and monitors on set had to be re-positioned and re-adjusted repeatedly to capture the natural interaction between the show's judges and virtual idol contestants," says Liu.
The creation of virtual idols and influencers is a burgeoning market.
Tanya Van Gastel, a Chinese technology analyst who follows the industry, believes virtual influencers (VI) are the ultimate marketing tool.
Unlike their flesh-and-bone counterparts, VIs can work all hours and can be created with different niches in mind. Moreover, they appeal to the younger, online-savvy generation, Gastel explains.
Virtual influencers offer tantalising commercial opportunities too, and brands such as KFC, Prada, Calvin Klein, and Vogue China are among those using them in their marketing.
China's Gen Z - often defined as those born after 1995 - are a lucrative demographic and more open to these non-physical influencers. They number almost 170 million and are even more lavish spenders than their predecessors, Chinese millennials.
Many among China's Gen Z are fans of ACG (anime, comics, games), observes Ina Yang, and there is considerable overlap between these three genres. Dimension Nova, which combines anime-styled contestants with the narrative elements inherent to all talent shows, has targeted this audience.
"Virtual idol is not a foreign concept to Gen-Zers," says executive producer Liu.
"In China and overseas, there are successful cases of virtual idols building and maintaining large fanbases, such as Hatsune Miku and Luo Tianyi, for example."
Establishing a virtual idol is a committed process, notes Van Gastel, but can be very creative. Storylines are written and social media accounts created for each idol.
Talent shows in China have high levels of audience participation, with social media leveraged to a greater degree than their Western counterparts. On Weibo, China's Twitter-like social media platform, Dimension Nova has already generated 690 million reads and 6.9 million comments and posts.
The show is at once a talent contest, a technological showcase, and a commercial vehicle - with the stated aim of introducing the concept and culture of virtual idols to a wider audience.
"So far, the Chinese market of virtual idol remains untapped," says Liu.
"The goal of Dimension Nova is to expand the market influence of this industry and drive the growth of companies from all parts of the industrial chain.
"This growth will eventually unleash the potential of the whole industry and allow the market to thrive."