Clare Balding: 'Animals have shaped me more than people'
By Rebecca Thomas
Arts and entertainment reporter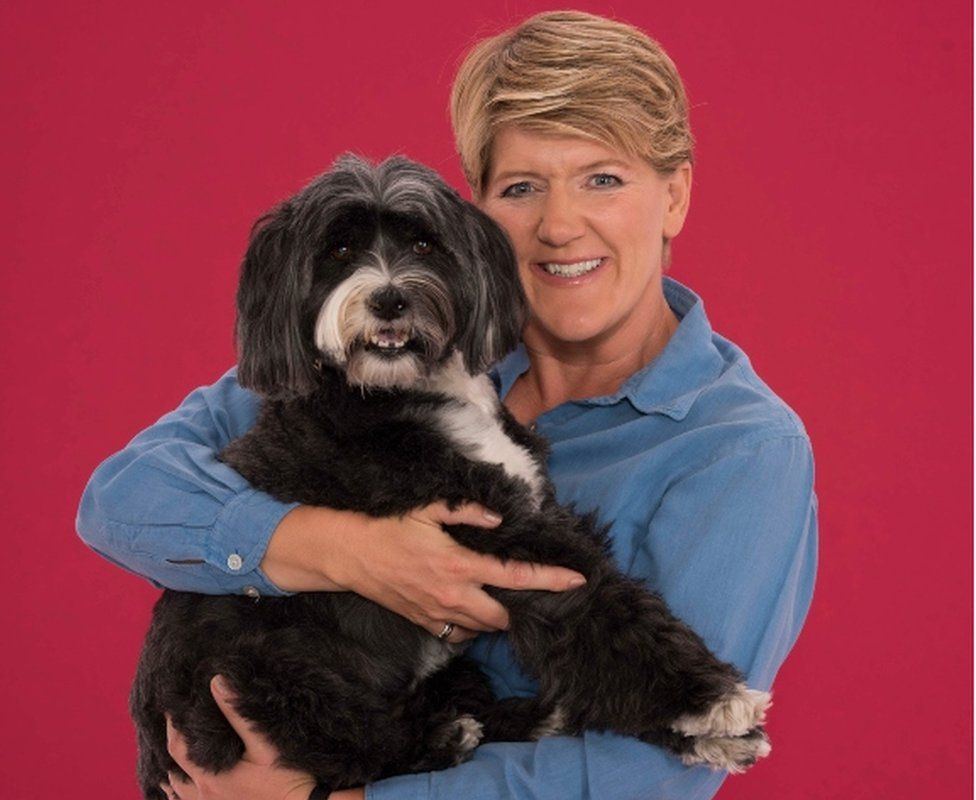 In the UK alone, there are an estimated 12 million households (that's around 44%) with a pet. Expand that to a global scale and there's an extraordinary number of furry, scaled, four- or even six-legged creatures co-habiting with humans.
Regardless of geography or type, these animals are to their owners much more than an animate object who shares their life. Be they a confidant, comforter, an enabler to life, a worker, or simply a source of boundless fun, they are their owner's personal hero, without whom life would be so much the poorer.
Someone who embraces this special bond is the broadcaster Clare Balding, who grew up surrounded by dogs, horses and ponies and has never really known a time without animals in her life.
Both personally and professionally, as the host of coverage of shows such as Royal Ascot and Crufts dog show, Balding lives and breathes the love of animals. She says she has been "shaped more by the animals in my life than the people".
"They've made me kinder, more patient and more responsible. I think a lot of people feel the same although maybe not a lot say it. But then not many people say they love their pet more than their partner, and I think in some cases that's definitely true."
So in tribute, Balding has written a book of 100 short factual stories taken from across centuries and cultures showing animals' contribution to human life, through astounding deeds and immense loyalty, and our attitude towards them.
And Balding says she thought 2020 was just the right time to pay homage.
"It's a celebration of animals that will hopefully also lift people's spirits and highlight the contribution they have made, and continue to make to our lives, especially in a year when most people's worlds have been turned upside down [because of the pandemic]. I think they have understood what their own animals bring them," she says.
"They really have given them so much joy and a reason to have a structure to their lives and bring in a lot of laughter when there's not a lot of that going on.
"We've needed them and they've needed us and I think people have really benefitted from having more time with their pets."
All sorts of creatures feature, from giraffes and rhinos to rats, dolphins and of course cats and dogs. And Balding includes Attenborough-like information on the factors that make certain species unique. Dogs, for example, have 300 million olfactory receptors compared to our six million.
Some stories are awe-inspiring, some are moving, while others are simply laugh-out-load funny. And, says Balding, it doesn't matter if the heroic actions of an animal are just innate to their species.
"I would rather appreciate and praise them, recognise and thank them for actions that may have been instinctive but which saved so many lives."
Balding was well aware of the tales about race horses, including that of Aldaniti, who with jockey Bob Champion won the heart of the nation when they galloped to victory at the 1981 Grand National, having both recovered from life-threatening conditions.
But for the others, she and a researcher had to delve deep and stretch wide.
"I certainly didn't know about Miracle Mike, the headless chicken in Colorada [who survived around 18 months after being decapitated by his poultry farmer owner].
"Overall, I wanted a good cross-section. You want it to be entertaining but also a way of learning."
Think of the ingenious runaways, the Tamworth Two pigs in 1998 - no one was having their bacon. And then, there's Stoffel the escapologist honey badger who has provided much mirth, with more than 244 million views of his antics online.
But it's often taken the worst of human behaviour towards animals to eventually bring out the best, which is something Balding starkly acknowledges.
"Thandi the rhino was mutilated by horn poachers in South Africa, and has now become a symbol of hope and positivity through her survival and in the work that's now being done in conservation. But she's also a stark reminder of the brutality of human beings towards animals," explains Balding.
"In most cases, that's a behaviour pattern that has changed and is reflective of developing nations' greater understanding, maturity and moral responsibility. The way we treat our animals should almost be a rating for any nation."
Animals nonetheless keep on giving, as is evident in the work of therapy, which sees a wide range people with various conditions and problems, including dementia and addiction, gaining comfort and hope through animals.
Matthew Robinson from the charity Pets As Therapy says: "Dogs and cats, instinctively 'know' when we feel down and often position themselves next to you on the sofa or by gently brushing against your leg as if to say 'everything's OK'.
"The effect these interactions have on us can be incredibly powerful. Stress and anxiety are reduced and we often feel calmer around a dog or cat. The benefits this can have on both mental and physical well-being is something that is now subject to research."
And Balding attests to seeing beneficial work in action, in particular horses at a centre in North London helping teenage boys who have been excluded from school because they can't deal with discipline.
"Horses are so kind. When you think how big and strong they are they don't have to do what we want but if you ask them in the right way they will. They help people find a way of working in a team, teach the art of persuasion and how to deal with structure."
As for herself, Balding says animals have given her huge support. "If I fluff up on air and come home, it's straight back to them and their being pleased to see you. It's the same for everyone.
"Their pets are their escape from the pressures of work and make them feel better. Look at the popularity of videos of kittens or puppies online, particularly this year, that is not an accident and should not be dismissed as a frippery. Look at advertising and how much it uses puppies and kittens, the makers aren't idiots, they know."
Balding's much-loved family dog Archie sadly died over the summer. "He was our family, the central part of our life," says Balding. "He had lots of faults and I'm quite honest about them but we loved him very much."
Now Balding is focusing on her British Blue cat Buttons, who has recently had five kittens, one of which she has kept with the others given to friends, many of whom have been made made through having animals.
Balding says she knows she was very lucky to have been always around animals as a child "but what I thought was normal was that they were higher on the pecking order than us kids. I took it for granted and didn't realise that's not how everyone lives".
And, she adds, the benefits of the experience will stay with her always.
"Animals make me happy and that is infectious as it makes other people happy and it means you end up being a very warm person I hope because you're used to giving warmth from your pet and they give it back.
"It's reciprocal. There's lots of things I've learned from having animals and I'm still learning."
Heroic Animals: 100 Amazing Creatures Great and Small is out now.