Coronavirus: Emergency money for culture 'won't save every job'
A £1.57bn emergency support package to help protect the future of theatres, galleries and museums will not be enough to save every job, the culture secretary says.
Oliver Dowden said grants and loans would aim to preserve "crown jewels" in the arts sector, and many local venues.
It follows several weeks of pressure, with industry leaders warning that many venues were on the brink of collapse.
Independent cinemas, heritage sites and music venues will also be eligible.
Mr Dowden said the grants and loans were all "new money" and were "designed to last through this financial year".
He said the two broad aims of the package were to preserve "crown jewel" venues such as the Royal Albert Hall and national galleries, while also helping local institutions across the UK.
The culture secretary said institutions would have to apply through industry bodies and would be asked to prove how they contributed to wider economic growth.
He said the government was confident the emergency package would protect the majority of jobs in the culture sector - but not all.
"Sadly, not everyone is going to be able to survive and not every job is going to be protected and sadly, I will have to be honest with you, of course we will see further redundancies."
A string of theatres have announced plans to make staff redundant in recent weeks, after being closed since the coronavirus pandemic took hold earlier this year.
Adrian Vinken, the chief executive of the Theatre Royal in Plymouth, told BBC Radio 4's Today programme it was "impossible to say" if the announcement would be enough to prevent up to 100 job losses there until more detail was released.
The announcement of the new funding comes just two days after theatres across the UK were covered in colourful messages of support.
Guidance for a phased return of the performing arts, starting with performances behind closed doors and rehearsals, is expected to be published by the government shortly.
The rescue package has been warmly welcomed by many arts leaders, some of whom said they thought it to be at the upper end of what had been hoped for. Culture Secretary Oliver Dowden, who has been under pressure from the arts and heritage sector to deliver a meaningful funding solution to a crisis brought about by Covid-19, feels vindicated that his behind-closed-doors approach to negotiations with the Treasury has paid off.
As always, the devil will be in the detail. The government has not specified how the money will be divided between competing art forms or regions, nor how the application process will work. There will be winners and losers.
And then there's the elephant in the auditorium: when will the rules around social distancing in performing arts venues be relaxed to allow the show to go on?
Many theatre producers are baffled by what they see as 'one rule for them, and one rule for us', approach by government, particularly when it comes to travel. Why is it OK for people to sit side-by-side on a train or plane for hours but not in a theatre, which they argue is a much more controllable environment? As far as they are concerned, that is the billion dollar question.
How will the money be spent?
The £1.15bn support pot for cultural organisations in England is made up of £880m in grants and £270m of repayable loans. The government said the loans would be "issued on generous terms".
Funding will also go to the devolved administrations - £33m to Northern Ireland, £97m to Scotland and £59m to Wales.
A further £100m will be earmarked for national cultural institutions in England and the English Heritage Trust.
There will also be £120m to restart construction on cultural infrastructure and for heritage construction projects in England that were paused due to the pandemic.
The government said decisions on who will get the funding would be made "alongside expert independent figures from the sector".
What else has the government said?
Prime Minister Boris Johnson said the money "will help safeguard the sector for future generations, ensuring arts groups and venues across the UK can stay afloat".
The government described the package as "the biggest ever one-off investment in UK culture".
Asked if pantomimes will be performed at theatres later this year, Mr Dowden told the Today programme the performances present unique challenges.
"First of all you've got from granny to grandchild - you've got kids screaming [he's behind you] - and all the things we love doing," he said. "It's highly interactive."
"If we can do it we will - but it looks challenging."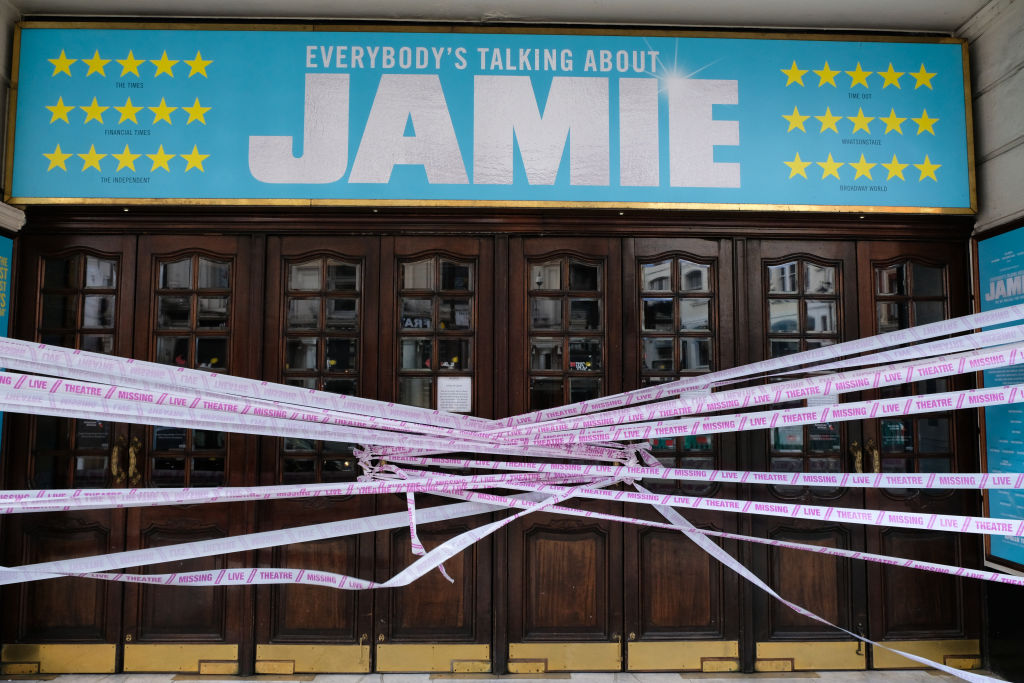 GETTY
How much do theatres contribute?
£1.28bnAnnual ticket revenue
290,000Workers employed

34mAnnual visitors

£133mAnnual VAT payments

70%Jobs at risk
Source: UK Theatre, SOLT, ONS, Latest figures for 2018
He also pointed out the latest funding adds to government schemes including the furlough scheme to safeguard the jobs of workers and VAT deferral and business rate relief to help those running venues.
Julian Knight, Conservative chairman of the House of Commons culture select committee, said more action would be needed "possibly involving more generous tax breaks".
Labour's shadow culture secretary Jo Stevens said while she welcomed the "much-needed" package, it was "too little, too late" for many and urged the government to act quickly to help struggling organisations.
What has the industry reaction been?
Arts Council England, the Royal Opera House, the Music Venue Trust, the Society of London Theatre and UK Theatre were among those to welcome the funding.
Arts Council chairman Sir Nicholas Serota told BBC News the funding was "a very good result".
He said: "Now it's up to the arts organisations and the Arts Council to make best use of this money and bring the arts back into communities across the county. This announcement gives us the tools to help build a recovery."
Music Venue Trust chief executive Mark Davyd said it "warmly welcomes this unprecedented intervention into Britain's world class live music scene".
He added: "This fund provides the opportunity to stabilise and protect our vibrant and vital network of venues and gives us the time we need to create a plan to safely reopen live music."
Julian Bird, chief executive of the Society of London Theatre and UK Theatre, said it "hugely welcomed" the funding.
The chief executives of the National Theatre, Rufus Norris and Lisa Burger, said they "feel very positive that this major investment will reach and sustain the vital talent and infrastructure".
Simon Rattle, director of the London Symphony Orchestra, called for the money to be "distributed as fast as possible".
Philippa Childs, head of the Bectu union which supports workers across the media and entertainment industry, said the support package was overdue.
She added: "At long last the government have woken up to our warnings and those of the whole creative sector, that without support, we stood to lose a huge amount of our world-beating creative industries.
"We will now be scrutinising the details of this package to make sure it lives up to the real needs of our sector."
Julia Fawcett, chief executive of the Lowry in Salford, said: "The announcement of £1.57bn of emergency investment in the UK's culture sector is welcome news, but we are fast running out of time.
"This lifeline will come too late for some organisations who have already been forced to close their doors for good or made valued employees redundant."
Some comedians have said the government funding had not taken into account the small comedy clubs on which they rely for their performances.
"I don't think there will be an industry to go back to. The people giving this money don't understand how this industry works," said comedian Kiri Pritchard-McClean on BBC Breakfast,
"We have one of the best comedy circuits in the world because we have so many brilliant clubs and you can gig several nights and get good at what you do. But these institutions are not being helped."