Eurovision: Abba's Waterloo voted best song of all time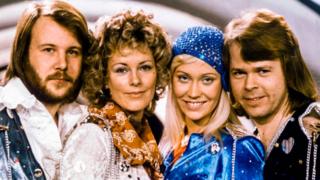 Abba's Waterloo has been named the greatest Eurovision song of all time by BBC viewers.
Eurovision: Come Together saw the public vote for their favourites, on the night that this year's song contest was due to take place.
The 2020 competition was cancelled in March amid the coronavirus pandemic.
The Swedish foursome won it in 1974 in Brighton. The track, which topped the UK charts and set them on their way to fame, went on to sell nearly 6m copies.
Speaking later on the night, Bjorn Ulvaeus from the band said he found it "hard to believe" that was where it began for them all those years ago.
The shortlist for the programme included Eurovision classics from the likes of Netta, Bucks Fizz, Conchita Wurst and Gina G.
But it was Agnetha, Anni-Frid, Benny and Bjorn who ultimately triumphed, with their musical metaphor about the joys of surrendering to love.
The 19-strong song list was compiled by Eurovision experts and broadcasters, including Rylan Clark-Neal, Scott Mills, Ken Bruce, Adele Roberts and Mel Giedroyc, as well as former UK acts SuRie and Nicki French.
Presenter Graham Norton upheld the tradition of raising a glass to the late Sir Terry Wogan, who hosted the contest for nearly 30 years.
"We couldn't deny you your Eurovision fix," he declared.
The programme also showcased what would have been the UK entry this year - James Newman's My Last Breath - and Norton spoke to the singer via video link.
Newman said he was "pretty gutted" and "had to have a few minutes to myself" when he found out the contest had been cancelled.
He said the staging had already been planned and showed an image of an underwater scene leading down from some steps.
Newman added that his favourite Eurovision entry this year was Iceland's - it was one of the favourites to win had the competition gone ahead, according to recent Spotify streaming figures.
Later on on Saturday evening, the BBC also joined with other European broadcasters for Eurovision: Europe Shine A Light, to honour all 41 songs which would have competed this year.
Some of this year's songs would have been eliminated at the semi-finals, where the entrants are normally whittled down to 26 but the semis were also cancelled.
The event was hosted from the Dutch city of Hilversum - an hour away from where the contest was due to take place in Rotterdam - while Norton popped up again as the UK's commentator, and acts appeared in various forms from across the continent.
Eight highlights from Eurovision: Europe Shine A Light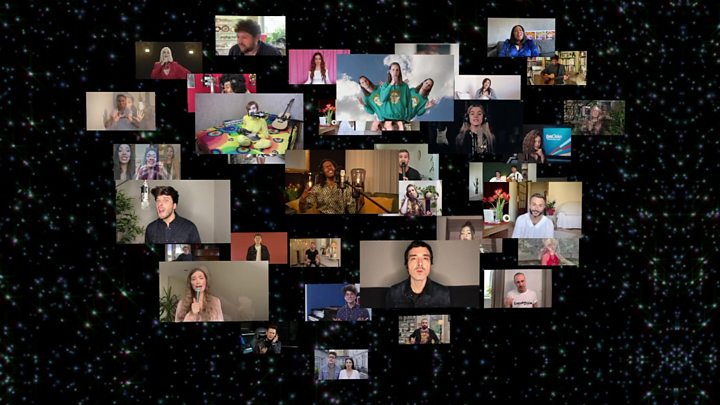 1. Another Swedish act's tribute
Måns Zelmerlöw sang an acoustic version of Heroes, his winning song from 2015, in homage to health workers during the coronavirus pandemic.
2. Fans answered Ireland's (video) call
Double Eurovision winner, Ireland's Johnny Logan, was joined by scores of fans via video-link for a rendition of his most relevantly-titled track, What's Another Year.
3. Love shone its light, not once but twice
The Rotterdam Philharmonic Orchestra combined (again, via the wonders of modern technology) to perform an instrumental version of the UK's 1997-winning Love Shine a Light, by Katrina and the Waves, as the broadcasters showed images of iconic music venues around the world lighting up.
This was certainly a high point for another former UK contestant SuRie, who said she had been left "broken" by the performance… in a good way.
The track got another airing for the show's finale, but this time with the lyrics too, as performers from all countries sang along in unison.
4. There were FIVE Daði Freyr Péturssons
Iceland's eccentric performer urged us all to "stay healthy" and "stay fabulous" with the help of a barbershop quartet, comprised of different digital versions of himself, all wearing the same sweater bearing an image of, yep, you guessed it... him again.
TV critic Scott Bryan, for one, enjoyed it.
5. A socially-distanced 'mass' gathering took place
Michael Schulte, Germany's entrant in 2018, and 2014 Dutch act The Common Linnets came together for a socially-distanced and fairly biblical looking grand church service-style rendition of Nicole's 1982 winning song Ein Bisschen Frieden.
6. Conchita went commando
The Austrian singer and drag act Conchita Wurst, who won in 2014, confessed that the "most beautiful" part of the coronavirus lockdown was the fact, "I hardly wear any underwear and I love it so much".
7. Graham Norton got delayed
The UK broadcaster admitted, "there's no denying this is a very odd programme" - referring to the lack of an actual competition this year, for the first time since the contest began in 1956.
It got even odder as he had to take part in a live two-way chat with the Dutch hosts, with a bit of a delay. "That was awkward," he joked, but he also said the show as a whole had "real emotion".
8. Bjorn was 'happy' to forget about you know what for a wee while
Abba were the winners who took it all in the earlier BBC poll, and there was a rare TV appearance from the aforementioned Bjorn in the Shine A Light show.
After recounting a sweet tale about the time his grandson Albert first realised his grandad was a Eurovision pop star, he described the contest as one of the most "genuinely joyous events of the TV year" which "allows you to escape and be happy and even forget about the coronavirus for a little while".
The show featured messages of love and support from all of the acts who would have featured in the competition. Some viewers though, it seems, would have preferred more action and less well-wishing.
"I miss when Eurovision was fun," wrote one Twitter user. "A chance to escape everything else. Yes the world is in a terrible place but the title is Shine a Light, not doom."
"They have badly judged what we all wanted," offered another. "We wanted a party, even a Zoom party would have done, but this is a bit depressing.
Fifty Shades of Grey author EL James, however, thought the show's producers hit all the right notes.
"Don't know about anyone else but I'm pretty emotional watching this," she posted.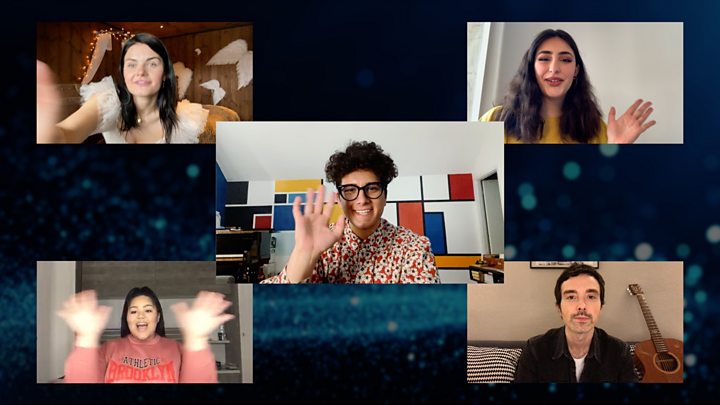 None of the 2020 songs will be carried over to next year. Instead, countries will select new entrants for the 2021 contest.
Several countries - including Greece, Spain and Bulgaria - have confirmed they will send the same acts next year to give the artists a second chance, but they will have to perform different songs.
Currently, there's no word on whether the UK's 2020 entrant James Newman will be chosen for the 2021 contest, although he has said he "absolutely" wants to represent his country again.
It was confirmed that Rotterdam, which missed out this year, would indeed be allowed to host the show in 2021 instead.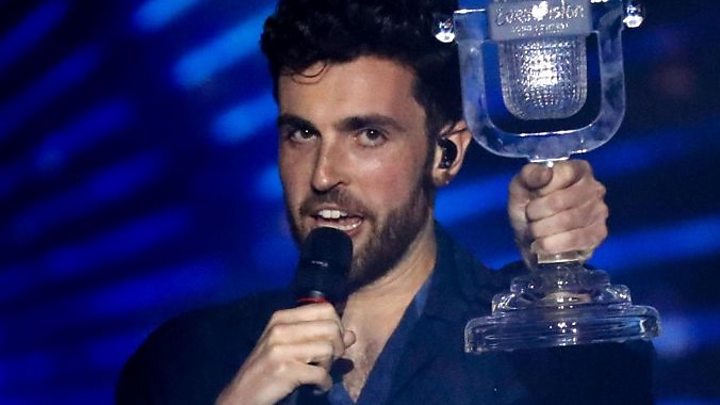 Follow us on Facebook, or on Twitter @BBCNewsEnts. If you have a story suggestion email entertainment.news@bbc.co.uk.