Joe Lycett: Comedian changes his name to Hugo Boss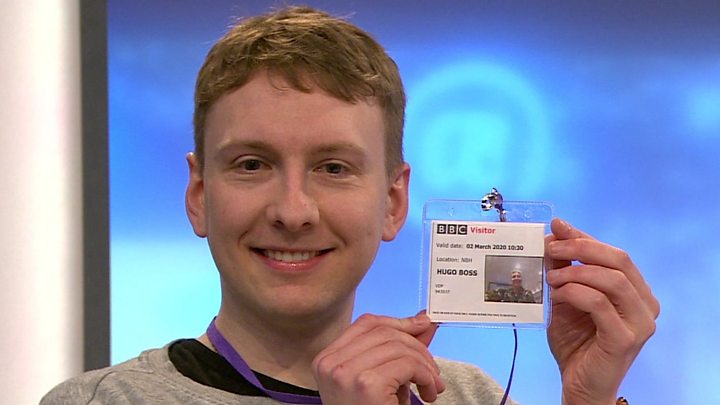 Comedian Joe Lycett has legally changed his name to Hugo Boss, in a protest against the German fashion brand.
The company have been sending cease-and-desist letters to small businesses and charities who are also using the word "boss" in their names.
"It's clear that Hugo Boss hates people using their name," Lycett tweeted.
Hugo Boss told the BBC: "As an open-minded company we would like to clarify that we do not oppose the free use of language in any way.
"We accept the generic term 'boss' and its various and frequent uses in different languages."
The company, who often style themselves as simply "Boss", added: "We welcome the comedian formerly known as Joe Lycett as a member of the Hugo Boss family."
In his original tweet, Lycett posted photographic evidence of his name change and said: "This week I legally changed my name by deed poll and I am now officially known as Hugo Boss."
The comic, who has appeared on the BBC's Live at the Apollo, posted that the fashion house has cost small businesses "thousands in legal fees and rebranding".
One of the most high-profile cases of recent years involved Swansea brewery company Boss Brewing.
The fashion brand specifically objected to two types of beer the Welsh brewery produced - named Boss Boss and Boss Black - but did not request the company change their overall name.
In their statement, Hugo Boss confirmed it had approached Boss Brewing "to prevent potential misunderstanding".
"Both parties worked constructively to find a solution, which allows Boss Brewing the continued use of its name and all of its products, other than two beers where a slight change of the name was agreed upon."
According to the i newspaper in 2018, a charity called DarkGirlBoss also received a legal letter from Hugo Boss when it tried to trademark the name.
On Monday morning, the artist formerly known as Joe Lycett told the BBC's Victoria Derbyshire: "I would like them to stop doing this, because no-one is confusing these two things.
"Also I'd really like them to give them their money back really and promise to stop - and an apology would be nice," he added.
Lycett, who is 31 and from Birmingham, claimed he'll be "launching a brand new product as Hugo Boss" on his Channel 4 consumer rights show, Joe Lycett's Got Your Back.
Last year on the show he impersonated an RBS boss in order to help a scammed customer get their £8,000 back.
Fellow comedian David Baddiel applauded his "extraordinary and brilliant commitment", this time around, while another stand-up, Rhys James, was quick to suggest taking Lycett's old name.
Lycett's name has also now been changed to Hugo Boss on his Wikipedia page.
Kate Swaine, intellectual property partner at Gowling WLG, said: "Joe Lycett's actions shine a light on the potential negative PR implications when undertaking a brand enforcement program.
"Even where a brand is legitimately enforced, brand owners must be alive to where issues may arise in relation to smaller businesses or individual use."
Anyone over the age of 16 in the UK can legally change their name.
German label Hugo Boss was founded in 1924 in Metzingen, Germany, and famously supplied uniforms for the Nazi party.
In 2011, the firm apologised for its maltreatment of forced workers during World War 2.
---
Follow us on Facebook or on Twitter @BBCNewsEnts. If you have a story suggestion email entertainment.news@bbc.co.uk.