BritBox: ITV and BBC set out plans for new streaming service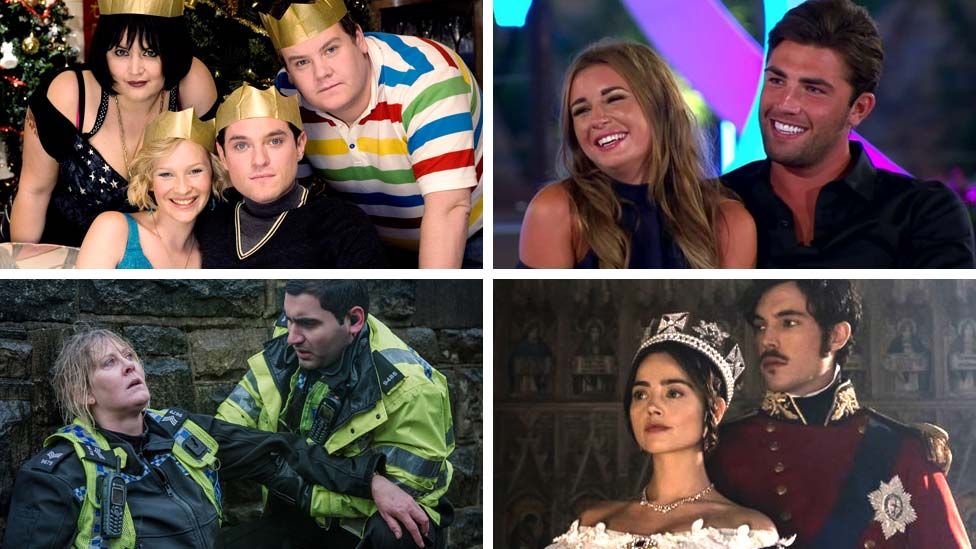 Shows like Love Island, Gavin & Stacey, Gentleman Jack and Broadchurch will be on ITV and the BBC's streaming service BritBox when it launches this year.
The broadcasters are joining forces to set up the subscription service in the UK as a rival to the likes of Netflix.
It will cost £5.99 per month in HD, launching between October and the end of December.
New programmes will also be made specially for BritBox, with the first arriving next year.
Other existing series to be made available will include Victoria, Happy Valley, Les Miserables, The Office and Benidorm.
The monthly fee will cover multiple screens and devices, "which is less than other streaming services", a statement said.
Many ITV and BBC programmes will move on to BritBox after they have been broadcast on TV and fallen off the broadcasters' own catch-up services - BBC iPlayer and ITV Hub. The BBC is soon expected to get permission from regulator Ofcom to keep shows on iPlayer for a year as standard.
As well as recent shows, it will also be the home of thousands of hours of classic British comedies, dramas and documentaries.
Not all BBC and ITV programmes will automatically go on BritBox, though.
Many are made by independent production companies, who own the rights and might instead sell them to a service like Netflix after their TV broadcasts, as has previously happened with hits like Peaky Blinders. Some BBC and ITV shows that are already on Netflix, such as Happy Valley, will move to Britbox - but, again, it will depend on who owns the rights.
The BBC and Netflix will also carry on co-producing programmes together as a way of sharing costs, especially for big-budget dramas. But BBC director general Tony Hall said BritBox was "the prime place in which we want our material to end up".
How does the price compare with other services?
BritBox - £5.99 for HD viewing and multi-screen viewing
Netflix - £5.99 for basic package rising to £8.99 for a standard plan, including HD on two-screens. Ultra HD and four screen simultaneous viewing is £11.99.
Amazon Prime - £5.99 on up to three screens simultaneously.
Now TV - £7.99 for entertainment pass, with optional extras - Cinema Pass (£11.99), Sports (£33.99), Kids (£3.99)
YouTube Premium - £11.99
Haven't viewers paid for classic BBC programmes once?
Asked why viewers should pay an extra charge to watch shows originally funded by the licence fee, Lord Hall compared BritBox with releasing a programme on DVD.
"That was the BBC saying, there's a secondary market - you pay for content after we've shown it," he said. "This is just a modern-day version of that, and an even better version of that, because it used to be infuriating when you'd seen a programme on the BBC and you couldn't get hold of the DVD."
Any money the corporation makes will be put back in to programme-making, he said. "I think this is wins all round for the licence fee payers."
Why are the BBC and ITV doing this?
Normally rivals, the two broadcasters want to get a foothold in a fiercely competitive commercial streaming world against the likes of Netflix, Amazon and NowTV, while Disney+ and AppleTV+ are launching soon.
The BBC and ITV tried to launch something similar a decade ago, but were blocked by regulators. Now they are trying to catch up with their heavyweight competitors.
Netflix has more than 150 million subscribers worldwide - but saw its share price plummet this week, after adding fewer viewers than expected in the last three months, with price rises blamed.
The BBC and ITV launched BritBox in North America in 2017, showing programmes like Midsomer Murders, Poirot and Only Fools and Horses. It now has 650,000 subscribers, which ITV chief executive Dame Carolyn McCall said was "exceeding its targets".
The bottom line is that BritBox is another way to attract eyeballs and to make money from the broadcasters' back catalogues. Dame Carolyn said the agreement to launch BritBox in the UK was "a milestone moment".
She said: "Subscription video on demand is increasingly popular with consumers who love being able to watch what they want, when they want to watch it. They are also happy to pay for this ease of access to quality content and so BritBox is tapping into this, and a new revenue stream for UK public service broadcasters."
ITV will own 90% of the new BritBox service and the BBC's initial 10% stake could rise to 25% in the future.
Lord Hall insisted that this was not the first step toward changing the BBC from a licence fee-funded organisation to a subscription model. "The fundamental funding for the future must be through the licence fee," he said.
Will people want to sign up?
Friday's press release said "viewers will want to subscribe to BritBox because it is uniquely British", and that there is "growing consumer demand in the UK for streaming services".
Five million homes have more than one subscription TV service - a growth of 34% per year.
Former BBC executive Ashley Highfield said he thought the monthly price was "about right", and that BritBox would end up with subscriber numbers in the "low millions".
He told BBC News: "I don't think they think it's something that's going to take over from Netflix. It's probably going to rub alongside."
TV critic Emma Bullimore said she thought asking viewers to pay for mainly old content would be "quite tough". She told the BBC: "I think in the long term it's going to be a success. In the short term I think it's going to be a bit of a struggle."
She added: "It is bad news for TV fans in that we're going to have to pay for loads of individual subscriptions. Now, most people have their TV, maybe they have Sky and Netflix - whereas if you have to pay for Netflix, Amazon, Disney, BritBox… it's going to get quite expensive."
Broadcasting analyst Tom Harrington from Enders Analysis said there is "certainly a market for great British content", but that BritBox might be a tough sell.
"You're going to get a lot of content that you've seen before, content that you think you might have paid for before, and content that's been free for possibly a year on iPlayer," he said. "Why people sign up for services is usually for new, original content, and there will be a paucity of that on this service."
Its budget for original programming and technology will not rival those of the US streaming giants, he added. "It's not going to be a Netflix killer. It won't take over Amazon in any way. What it will be is an almost niche service alongside those two, at best."
Related Internet Links
The BBC is not responsible for the content of external sites.