Question Time: Praise for Fiona Bruce's first episode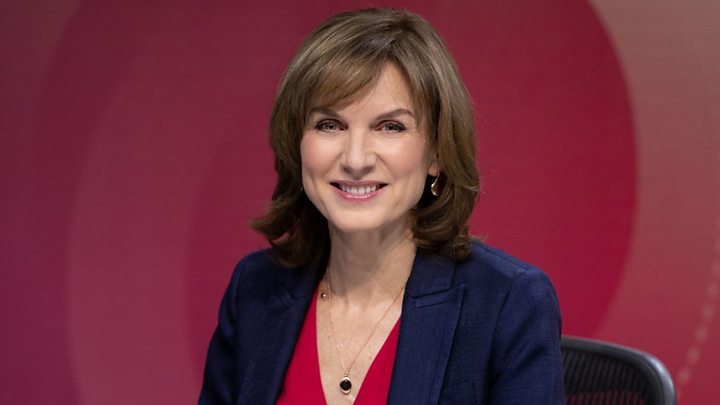 Viewers have reacted warmly to Fiona Bruce's first edition of Question Time.
Thursday evening's episode was the first to be broadcast since David Dimbleby's departure last month.
"It's lovely to be here," Bruce told the audience in Islington in North London as the show began.
Brexit dominated more than half the programme, with the safety of London's streets among the other issues raised by the audience after the stabbing of Jayden Moodie.
The panel for Bruce's first programme included Conservative MP James Cleverly, shadow foreign secretary Emily Thornberry for Labour, Jo Swinson from the Liberal Democrats, journalist Melanie Phillips and comedian and presenter of satirical show The Mash Report, Nish Kumar.
Jonathan Ross was among the first to praise Bruce's hosting, tweeting that she was doing an "amazing job".
Politicians also voiced their support, with former energy secretary Ed Davey describing Bruce as a "breath of fresh air".
However, The Daily Express picked up on several viewers who suggested Bruce needed to project her voice better.
Some complained that she was mumbling or speaking too quietly for them to properly hear her questions.
The Guardian's commentator Mark Lawson said whilst Bruce "felt fresh and effective" the show's format needed a "shake up", something the BBC should have taken advantage of after the end of Dimbleby's reign.
The Herald Scotland generally praised Bruce, but added "she has yet to settle on a QT tone of her own".
"At times, head cocked and smiling broadly, she could have been admiring a Victorian teapot on the Antiques Roadshow rather than extracting answers from politicians on a no deal Brexit," Alison Rowat wrote in her review.
"Occasionally, when trying to impose control, Bruce tipped over into head girl territory. She will have to watch that. What plays well in Middle England is likely to grate elsewhere."
Michael Hogan at the Telegraph was also impressed with Bruce and said she gave panellists a harder time than Dimbleby, something that came as a surprise.
"She has a reputation as one the BBC's safest pairs of hands and repaid the faith of those who trusted her with one the corporation's most high-profile gigs," he said.
"Unafraid to call out politicians or kick a little butt, she might even make them raise their game."
The Independent wrote there wasn't a particular interest in who was hosting, because of the format of the show.
Tom Peck wrote: "The BBC made deliberate editorial choices 20-odd years ago to turn their Question Time format into bear pit.
"And people don't go to bear pits through any great interest in who is refereeing the contest, which makes appraising the performance of its new host, Fiona Bruce, somewhat difficult."
While reaction to Bruce from viewers was positive, some said Dimbleby will "always be missed" with one in particular referring to the former host's fashion, joking: "I miss Dimbleby's ties already!"
Dimbleby stepped down last month after 25 years fronting the political show.
He received a standing ovation from the audience during his last episode, which was broadcast on 13 December.
"There is nothing like [Question Time] on TV," Bruce told The Telegraph ahead of her first edition, which was broadcast on BBC One.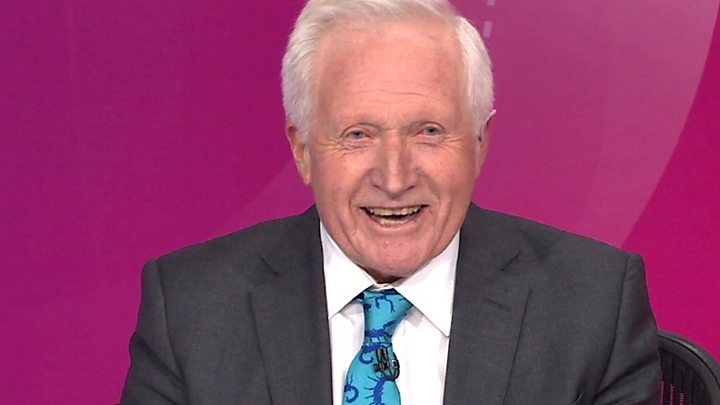 She added: "I have not felt this nervous in a long time, but I know that if I am nervous, that isn't helpful. If people think you are nervous that isn't a comfortable watch."
Bruce currently hosts BBC One's Six and Ten news bulletins as well as the Antiques Roadshow. She has also previously presented Crimewatch and Panorama.
---
Follow us on Facebook, on Twitter @BBCNewsEnts, or on Instagram at bbcnewsents. If you have a story suggestion email entertainment.news@bbc.co.uk.