Lord Sugar hires his Apprentice for 2018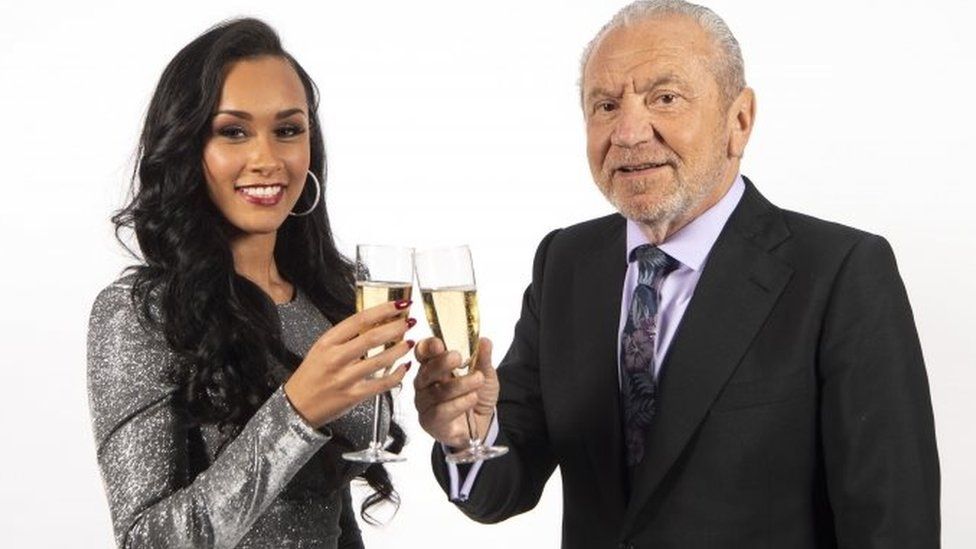 Swimwear designer Sian Gabbidon has been chosen as the winner of The Apprentice 2018 by Lord Sugar.
The 26-year-old, from Leeds, beat nut milk entrepreneur Camilla Ainsworth, 22, to win a £250,000 investment from Lord Sugar in her swimwear firm.
She said she was "absolutely over the Moon" and that the possibilities of their partnership were "endless".
Lord Sugar said although it was a "crowded market" Gabbidon was "an expert" in her field.
It is Lord Sugar's first investment in a fashion business in the show's history.
Gabbidon said on Instagram that it had been a "rollercoaster" and she was "overwhelmed" but "very excited".
She had predicted her victory in her audition, saying: "When Lord Sugar picks me as his business partner, we're gonna be in there like swimwear and we're gonna make a massive splash in the business".
"I love what I do, I love fashion, and he's all about business - so to put us together is just going to be ridiculous, the possibilities are endless," she said.
Runner-up Ainsworth said she would have loved to win, but had to give herself credit for being the youngest finalist in the history of the show.
In the final, Ainsworth and Gabbidon were joined by their former Apprentice colleagues in an intensive three-day challenge where they had to create a new brand for their company, produce an advert for the London Underground and edit a television advert.
After bringing their business plans to life, the finalists had to pitch it to a room full of industry experts and Lord Sugar at London's City Hall.
Afterwards, they all met in the boardroom where Gabbidon was crowned the winner.
"I think we do have the best two, there's no question of it," said Lord Sugar before making his decision.
"I find you a big risk, a very, very big risk," he told Ainsworth, while acknowledging she had chosen a "growing market".
Announcing Gabbidon as the winner, he said she had "a great aptitude and a talent for design".
Following the final, previous Apprentice winners tweeted their congratulations to the swimwear designer.
Huge well done to @siangabbidon a very worthy winner! I am so excited about your business and wish you every success! xx

— Dr Leah (@DrLeahTotton) December 16, 2018
Viewers on Twitter also sent their congratulations, but some were divided on who they wanted to see crowned the winner.
So glad Sian won #TheApprentice fully deserved, great concept as I struggle with swimwear. Great to see an actual strong candidate from the beginning win too 👍🏼

— Lois Zane (@ReshmaMarisa) December 16, 2018
Camilla 100% should have won #TheApprentice tonight, her nut milk looks insane and will definitely sell now and long term!

— Tanya Marie (@TanyaMS_) December 16, 2018
Almost eight million people tuned into last year's final of The Apprentice where Sugar pulled out the ultimate plot-twist by partnering up with both finalists, Sarah Lynn and James White.