Watership Down: Critics welcome 'toned-down' version of Richard Adams novel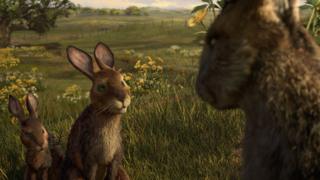 Critics have welcomed a "toned-down" new version of Watership Down, though are less impressed by its animation.
The BBC's new adaptation of Richard Adams's novel, to be aired in two parts this Christmas, follows the famously traumatising film version from 1978.
James McAvoy and John Boyega are among the stars lending their voices to this tale of rabbits looking for a new home.
The Telegraph praised the series for its "exceptionally strong" cast and for being "much less gory" than the film.
"The filmmakers have been clear that they want audiences to focus on the story rather than hide behind the sofa," wrote Anita Singh.
Yet she found fault with the series' "blank-eyed and stilted" rabbits, saying they "appear to have escaped from a decade-old computer game."
Metro's reviewer said the new version is "still as traumatising as the first animation" while "lacking the same warmth."
Critic Sarah Deen also found fault with the CG visuals, saying "the bright eyed and bushy-tailed bunch are robotic and dead behind the eyes".
"Thankfully the A-list voice talent add personality to this famously downbeat drama," she continues, going on to praise Sir Ben Kingsley's "genuinely terrifying" General Woundwort.
In contrast, The Independent's Ed Power says the new version "isn't scary enough" and is "spectacularly ho-hum - less tooth and claw than shrug and head-shake".
"Nobody involved seems to have paused to consider if, commercial imperative aside, there was a good reason for re-making Watership Down," he goes on.
The new version of Adams's 1972 novel, a co-production between the BBC and Netflix, comes to screens two years on from the British author's death.
Ever since its publication, readers have speculated whether the story's intrepid rabbits are meant to represent political or religious figures.
Speaking to the Radio Times, however, the late author's daughters have insisted their father only meant his book to be "a story about rabbits".
"Over the years the family has seen off theory after theory about the 'true' message of Watership Down," his daughter Rosamond told the magazine.
"It shows that people really connect with the story, they really think hard about it, but it cut no ice with Dad."
Watership Down will be shown on BBC One on 22 and 23 December.
Follow us on Facebook, on Twitter @BBCNewsEnts, or on Instagram at bbcnewsents. If you have a story suggestion email entertainment.news@bbc.co.uk,