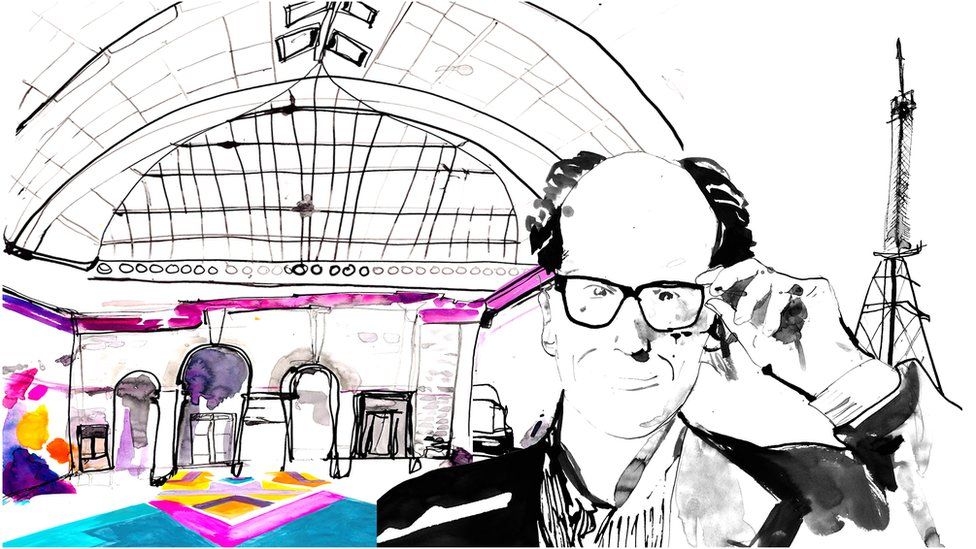 "The Gents toilets are up the stairs, the Ladies are on the ground floor," said Emma Dagnes, deputy chief executive of Alexandra Palace, before adding, "that's what you get when you put women in charge of a project."
The project in question is the very expensively (approximately £10 million) refurbished Alexandra Palace Theatre in North London, which reopens today having been hidden from public view for around 80 years.
I say refurbished, but it's not exactly all shiny and new. There are gaping holes in the walls, unfinished plasterwork everywhere, and an overriding sense of very faded glory.
Frankly, I've seen A-list celebrities forced to fly economy to LA who have looked less knackered and distressed.
If this was a normal renovation job the "snagging"' list would be longer than a Bruce Springsteen gig, but it is not.
The objective was not to bring yet another standard theatre to the market - London already has lots of those. The aim was to put into the public realm a unique space that is as dramatic as the shows it will house.
The marketing blurb describes it as being "preserved in a beautiful state of arrested decay and frozen in time," which sounds like hyperbole but actually isn't. If you've got even the slightest inclination toward the romantic you will be taken away with the "new" Alexandra Palace Theatre.
It isn't so much like stepping back in time as walking into a novel.
The theatre's extraordinary past oozes from those unfinished walls and bare floorboards. You can instantly imagine what it must have been like back in the 1880s packed with 3,000 raucous Victorians, enjoying popular entertainments that promised "genuine fun without vulgarity."
Great impresarios such as Fred Karno, who worked with the likes of Charlie Chaplin and Stan Laurel, brought shows to "Ally Pally" offering, "Comedians, Pantomimists, Vocalists, and Charming Ladies…"
Archie Pitt - husband of Gracie Fields - acquired the lease of the theatre between the wars so his wife could develop her shows before taking them on tour.
And when Pitt left, in came the BBC with its history-making transmissions, broadcast from 2 November 1936 with presenters such as Elizabeth Cowell announcing to the handful of people who had a TV set: "This is direct television from Alexandra Palace."
The BBC's plans to use the theatre as a third studio were kiboshed by World War Two. Instead, its transmitters were deployed in an undercover operation to jam the radio signals used for locating targets by German bomber pilots.
Meanwhile, the theatre became home to Belgian refugees just as it had in World War One. That is, before the government passed the Aliens Restriction Act (1914) decreeing that German, Austrian and Hungarian men living in the UK were "enemy aliens", and those aged between 17 and 55 years old were to be interned.
Approximately 3,000 of those rounded up were held at Alexandra Palace with the theatre used as a chapel (it also had a spell as a hospital, as evidenced by the vials of 103-year-old Tetanus antitoxic serum discovered buried in the auditorium walls).
The BBC returned to broadcasting at the Palace after World War Two, at which point the theatre disappeared from public view and was used rather less glamorously as a props store. And then, once the Beeb moved out, it slowly but surely fell into dereliction.
And that's how it still feels now after its expensive face lift.
It wears its troubled past on the ghostly remains of once gilded walls, and in the nooks and crannies where the ancient wiring is still clearly visible. The suspended lath and plaster ceiling hangs high above looking like a terrible accident about to happen.
The whole distressed jeans look, is just that: a look. It's authentic and all that, but behind the outward appearance of decay is some very expensive 21st Century engineering and design. The entire floor has been lifted, reinforced, repositioned, and then re-laid. That ominous floating ceiling has been thoroughly overhauled, with steel structures replacing the rotten old wooden pieces.
New flexible seating has been installed, while the unusually set-back balcony has been remodelled to ensure uninterrupted sightlines.
In short, Alexandra Palace Theatre is shabby chic taken to an entirely new level.
I can't think of another auditorium that has quite the same sense of voluminous space between stage and audience.
There is an aircraft hangar-like quality to it - you can imagine clouds forming in the upper atmosphere above the proscenium arch. And yet it has a sense of warmth and intimacy that you find in a much smaller venue. Emma Dagnes and her team have done an excellent job (caveat: I'm not a civil engineer and am assuming from what I have been told that everything has been completed to the highest of standards).
There is one small problem, though.
And that is the theatre's past.
We have established it has a rich and varied history, but it is worth noting that it has never really succeeded as a theatre. Many good men and women have come to Ally Pally and given it their best shot and been beaten.
It opened to much fanfare but soon the audiences tailed off as the lure of the West End proved too intoxicating for the locals. By 1906 it had been turned into a cinema.
But a lot has changed in the 80 years the theatre has been mothballed, not least London's population and its residents' insatiable appetite for live events.
It should be OK, but theatre folk are a superstitious lot - and that blighted past the building so assertively promotes could yet come back to haunt it. Let's hope not - it is wonderful to see such a splendid theatre up and running and serving the public once more.