Rita Moreno returns to West Side Story, in new role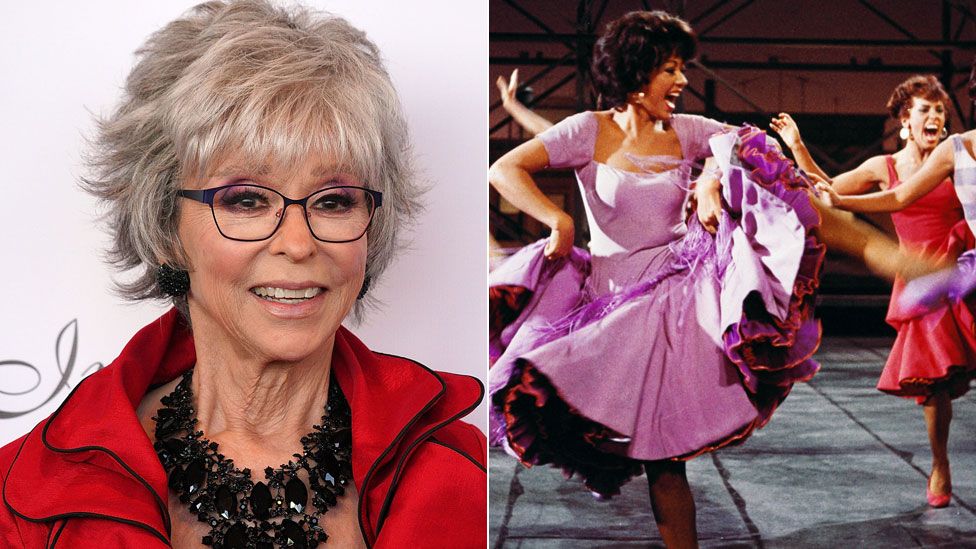 Rita Moreno is to return to West Side Story almost 60 years after appearing in the original film version.
The 86-year-old, who won an Oscar for playing Anita in the 1961 film, will take up a role newly created for her in Steven Spielberg's adaptation.
Moreno will also serve as an executive producer on the film, set to begin shooting next summer.
"Never in my wildest dreams did I see myself revisiting this seminal work," the actress told Deadline.
"And to be asked by Steven Spielberg to participate is simply thrilling! Then to work together with the brilliant playwright, Tony Kushner - what a glorious stew! I am tingling!"
The actress, originally from Puerto Rico, is one of the few people to have gained EGOT status - meaning she has been awarded with an Emmy, Grammy, Oscar and Tony.
She'll play the role of Valentina, which is based on the original character Doc - the owner of the corner store in which lead character Tony works.
West Side Story will see Oscar-winning director Spielberg turn his hand to a musical for the first time in his career.
However, his take on the musical about rival street gangs in '50s New York is not expected to be an exact retelling of the 1961 film.
"From our earliest discussions, we wanted to include Rita Moreno in our production," Spielberg said.
"Her Anita is one of the greatest musical performances ever filmed, and a personal favourite of mine.
"We created an original role for her, and we feel beyond fortunate that Rita will bring her extraordinary gifts as an actress, as well as her deep understanding of West Side Story to this production as an executive producer."
Baby Driver star Ansel Elgort will play Tony, whom Richard Beymer portrayed in Robert Wise's film.