Matthew Wright says The Wright Stuff gave him PTSD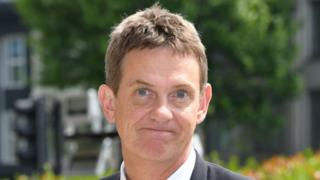 Matthew Wright has revealed the stress of presenting his long-running Channel 5 show left him with symptoms of post-traumatic stress disorder (PTSD).
Speaking to The Sun, the broadcaster said he was recently told by a doctor that his sleepless nights were a sign he had the anxiety disorder.
Wright presented The Wright Stuff for 18 years before leaving in June.
"If I hadn't got out, or left when I did, I don't know what kind of state I'd be in today," he said.
"If I had carried on I do think it would have impacted me and my family."
Wright said that initially, he "thought maybe it's just because I'm used to waking up early in the morning, but the doctor said 'no, it is a sign of post-traumatic stress'".
The TV presenter said he had suffered a number of setbacks during his time on the show, among them the collapse of his first marriage and the death of his nephew.
Yet he said doing his daily morning show had been "quite therapeutic" as it was better than "sitting at home feeling beaten by things".
The situation changed, he said, when The Wright Stuff was taken over by ITN, which he claimed had difficulty "meeting the standards he was used to".
"That put loads more pressure on me and it started to impact my mental health," he said. "I am still suffering to some degree the consequences of that."
Jeremy Vine now hosts the programme formerly known as The Wright Stuff, which ITN took over in 2017.
BBC News has invited ITN to respond to Wright's comments.
Wright is not the only celebrity to claim to have suffered from or be diagnosed with PTSD, a condition which the NHS says is "caused by very stressful, frightening or distressing events."
Fellow broadcaster Richard Bacon recently revealed he experienced PTSD when he revisited the hospital where he was put in a medical coma after being taken ill on a flight.
Actress Keira Knightley is another to say she was diagnosed with the disorder as she struggled to cope with her sudden rise to fame.
"Any situation that a person finds traumatic can cause PTSD," the NHS states on its website, saying those afflicted "may have problems sleeping."
According to one medical expert, though, the term is often used in circumstances where different terminology might be more appropriate.
"Although a rigorous work schedule may induce stress and anxiety and sleepless nights, it wouldn't normally be typical of PTSD," said consultant clinical psychologist Dr Brock Chisholm.
"I do not wish to comment on any particular person and have no knowledge of Matthew Wright," he said.
"A rigorous work schedule can induce stress and burnout, which are debilitating things themselves but not the same as PTSD."
Dr Chisholm, a co-founder of the charity Trauma Treatment International, expressed a concern that "people are widely identifying as having PTSD when they probably don't".
"They may be very stressed and have all kinds of equally impactful stress conditions, but it's often a term that's used when it doesn't actually apply," he told the BBC.
Follow us on Facebook, on Twitter @BBCNewsEnts, or on Instagram at bbcnewsents. If you have a story suggestion email entertainment.news@bbc.co.uk.