Little Mix rate seven years of photos: 'I had a massive spot!'
By Mark Savage
BBC Music reporter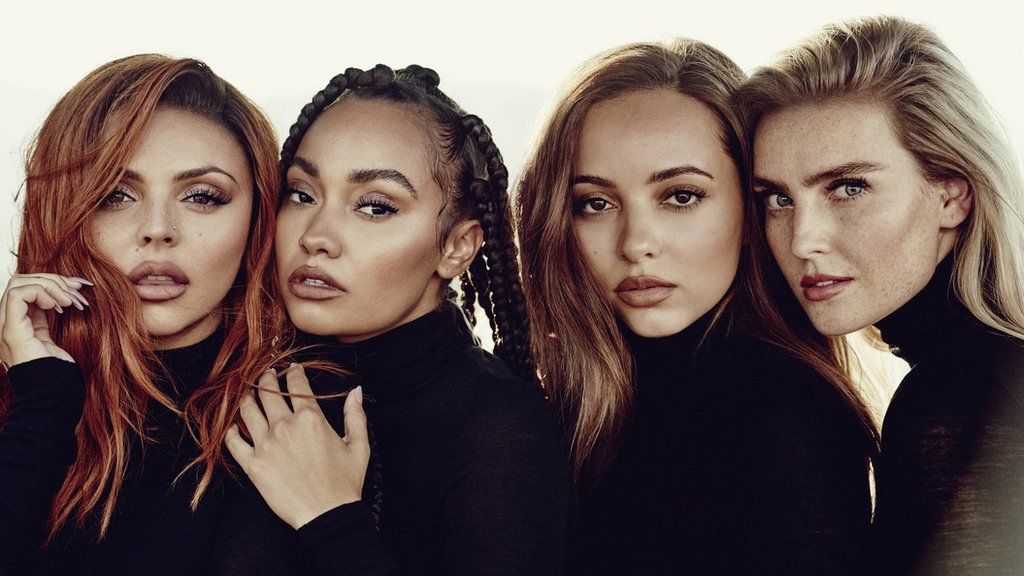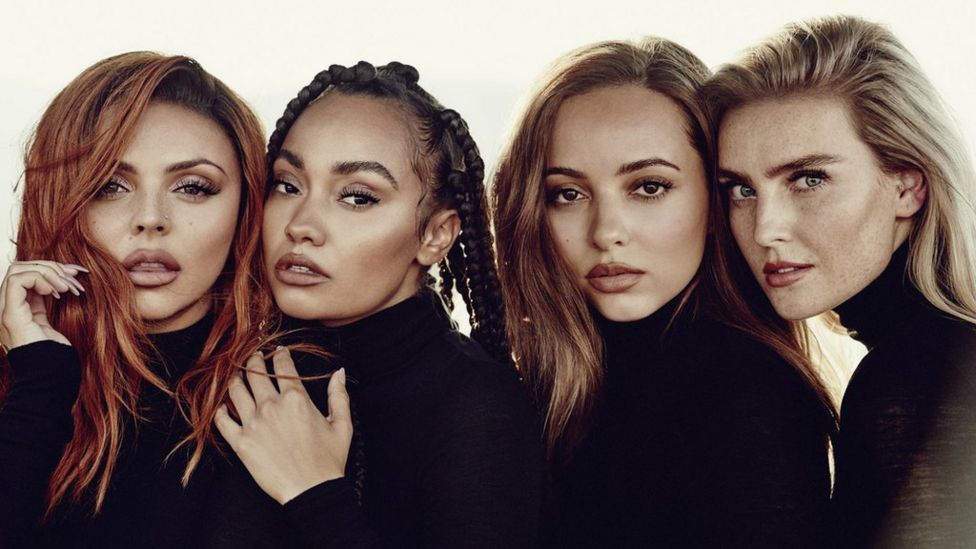 Seven years is an eternity in pop.
By all rights, Little Mix should have descended into bitter acrimony by now - going on "hiatus", shaving their hair, releasing whiffy solo projects and propping up ITV2 comedy shows.
Instead, they're crushing it. Each of their four albums has outsold the last, with 2016's Glory Days going triple platinum in the UK alone. This summer, they staged their first stadium tour, putting them in the same league as Arctic Monkeys and Ed Sheeran.
And, unlike a lot of pop groups, they're the ones setting the agenda. Their latest album, LM5, is fiercer than its predecessors, tackling topics like gender equality, body positivity and the tabloid press (the Daily Mail comes in for a pounding) over some of the hardest beats they've assembled yet.
"We're not scared to talk about things that, before, we'd have thought, 'Is it OK to say this?'," says Perrie Edwards. "We're just letting rip."
As if to underline their independence, the band separated from Simon Cowell's record label days before the album came out, reportedly over disagreements about their musical direction.
They're under strict instructions not to discuss it when we meet - but if the split caused any stress, it doesn't show. Perrie is wolfing down a carton of fries; while her band-mate Leigh-Anne Pinnock is pining for a cup of tea (it arrives mid-interview, much to her relief).
So how did Little Mix end up here? We asked the band to look back at a scrapbook of their first seven years; to reflect on the highs, and lows, of pop stardom.
Winning The X Factor - December 2011
Leigh-Anne: I want to start by saying that, for some reason, my extensions don't match my hair.
Jesy: That's genuine shock on our faces. There was a girl band curse on X Factor so we would psyche ourselves up for going home every single Sunday - but we were never in the bottom two. Every week, we were like, "This is mental".
Promoting their debut single - December 2011
Leigh-Anne: That was winners' week. I remember when we won, we literally had 20 minutes with our mums, then we were whisked away to a hotel. Up at 3am the next morning and we haven't stopped since.
Perrie: When I see that I think how proud I was to be in HMV in South Shields [where she grew up] signing a CD.
Did you move all the Little Mix CDs to the front of the racks?
Perrie: I still do that now! If I go into any shop, I put our CDs right in front of everyone else's. Scatter them all around. I love it.
Caught by the paparazzi - December 2011
Jesy: This is so funny! This popped up in our WhatsApp group the other day!
Leigh-Anne: You two look like babies.
Perrie: Do you know what it is? We moved into a hotel during the X Factor live shows. Me and Jade shared a room, Jesy and Leigh-Anne shared a room, and it was just madness. I felt like when Annie goes to see Daddy Warbucks.
But this is the day we moved out - and it's a time in my life where I, obviously, didn't care what people thought of me because I'm in a onesie with my hair scruffy. I didn't understand the consequences back then. I didn't even know what the Daily Mail was. But it was actually the happiest time of my life because I didn't care. I was just living the dream.
Filming the Wings video - July 2012
Leigh-Anne: When we first started, we all had icons: So Perry had a flower, Jade had a bow-tie, Jesy had a boombox and I had a cap! I look like I'm in the Flintstones! We wanted everyone to know our identities, so we tried to push that icon thing.
Jesy: I'm not sure what we thought it was going to achieve.
Visiting Sydney - October 2012
Leigh-Anne: I remember this: I had a massive spot on my face! [Zooms in] There it is!
Perrie: This was our first time in Australia. I remember getting off the plane - and we went straight to the rooftop of the hotel to meet everyone, and I swear to you the building was swaying.
Leigh-Anne: We were so jet-lagged, we were just staggering around.
Jesy: This is cute! This is us in the studio writing the Salute album.
Perrie: We're working on the lyrics, not updating Instagram.
Touring the US - March 2014
Jesy: Oh, this is the Demi Lovato tour in America.
Leigh-Anne: For me, this stands out as the best tour of my life. I lived my life on this tour.
Perrie: I hated it. It was the first time I'd been away from home for a long period of time. Normally we'd do a week or two, but that was three months. I found it really hard.
Were you old enough to get served in bars?
Leigh-Anne: I was, but Perrie wasn't.
Perrie: Maybe that's why they had a good time and I didn't.
Jesy: That's performing on the Today Show in America, in Times Square. We had to do our own hair and make-up, because the budget was tight.
Fan portraits - August 2014
Jesy: These are so cute. I feel really proud of our fans because some fan bases are quite bitchy and nasty; and I feel like Little Mix fans just want to make everyone feel good. They want to make friends. They're so supportive. We're very lucky.
Did you ever paint pictures of your favourite pop stars?
Jesy and Leigh-Anne: Spice Girls!
Black Magic video - May 2015
Perrie: This was our biggest budget video shoot. I remember rocking up in LA and we had trailers and there were cameras everywhere. It felt like we were proper pop stars. That whole album was one of the best times of my life.
Leigh-Anne: Was it? Was that when you were… [whispers] single?
Perrie: I just felt really independent.
Jesy: They're always your best times! We always say that.
Playing a Halloween show - October 2015
Leigh-Anne: I think we looked great here.
Perrie: It's a no from me.
Is dressing up one of the best bits of being in a pop group?
Jesy: Do you know what, I love being a pop star! I'll go out shopping with my best mate James and I'll say: "Do you like this?" and he'll go, "Do you know what? Normally I'd say 'no' but you're a pop star and you can wear whatever you want!"
Jesy: Me too! Like, I went to buy a pair of shorts the other day; and he was like, "Jess, it's not summer! Oh, but screw it - you're a pop star!"
Royal Variety Performance - November 2015
Leigh-Anne [squeaky voice]: Oh wow! We met Prince Harry!
Jesy: Jade said she liked his ginger hair.
Leigh-Anne: Didn't she say, "I like your beard?"
Perrie: "I like your ginger beard".
Jesy: That performance was quite nerve-wracking.
Perrie: I remember they told us, "When you meet him, step and bow to the left, then step and bow to the right," and we really got scared in case we messed it up.
Leigh-Anne: Oh, look at us. We've done some incredible things!
Get Weird album goes platinum - January 2016
Leigh-Anne: We're very lucky because our fan base is so dedicated that they want to have a hard copy of our album. They want to own it, have it in their hands.
Perrie: And they won't just buy one. They'll buy the standard and the deluxe and the super-deluxe and one for their friends and one for their cat.
That's impressive, because a lot of your fans are quite young.
Leigh-Anne: Someone said to me the other day, "I love the fact that your ticket prices aren't ridiculous, so young fans can actually go and see you". That's really important for us.
Perrie: Our first tour, I remember going to the merch[andise] stand and thinking, "How much?" I thought it was really expensive - so every tour since then, we've brought the prices down.
Brit Awards - February 2017
Jesy: We only had two days to rehearse because we were touring America at the time.
Leigh-Anne: We were bricking it. I cannot even tell you how nervous we were and unprepared we felt.
Jesy: My mouth was like a shrivelled dry prune. I was just terrified. I remember we came out on thrones, like we were supposed to be boss bitches, and inside I was just crumbling, thinking: "If I get this move wrong, everyone will see."
Perrie: I'll never forget, I was about to go on and I said: "Jess, I can't do it. I can't go on. I'm terrified." And she went, "Listen, what would Beyonce do?" and I just sucked it all up and got out there. Then we performed and smashed it.
Jesy: YAAAAY! Pivotal moment! Our first ever Brit.
Leigh-Anne: Our only Brit.
Jesy: But the first of many.
Jesy: This was the best night of our lives, wasn't it? All our family was there and then, literally hours later, we flew on a private jet to Ariana [Grande]'s tour and performed at Madison Square Garden.
One Love Manchester - June 2017
Leigh-Anne: This was an incredible moment. It was so emotional: Everyone coming together in a moment of unity.
Perrie: Ariana - for such a small little human, she's frickin' mighty, isn't she? She took all those things she'd been through and tried to make good out of the situation. She's so inspiring.
Jesy: That's one thing I will always look back on in our career and think "we were so lucky to be a part of it". I will never forget.
Summer Hits tour - July 2018
Jesy: Oh yeah! Our first stadium tour. We absolutely loved it. I want to do this every summer.
Jesy: New era! We're much more confident. We don't feel the need to slap on the make-up as much.
Perrie: It was very natural, that shoot. Very stripped back.
Jesy: Four strong, powerful women who've got their [expletive] together and are about to take over the world.
'Strip' photoshoot - November 2018
Leigh-Anne: This picture represents how far we've come. How we embrace every little thing about ourselves: Our flaws are perfect, our insecurities are what make us different. This is a journey of self-love.
Jesy: Hopefully it'll empower anyone who doesn't feel good about themselves. We honestly think, God, it's really scary for little girls growing up now with social media. That's why it's so important for us to use a platform while we've got it to say to them: "No, look, this is normal, this is what real girls look like."
Perrie: Cellulite and stretch marks are normal.
Jesy: You are beautiful the way you are and you don't need to change for anyone.
Little Mix's new album, LM5, is out now.
Related Internet Links
The BBC is not responsible for the content of external sites.