Strictly Come Dancing: How (and why) it moves to Blackpool every year
By Ian Youngs
Entertainment & arts reporter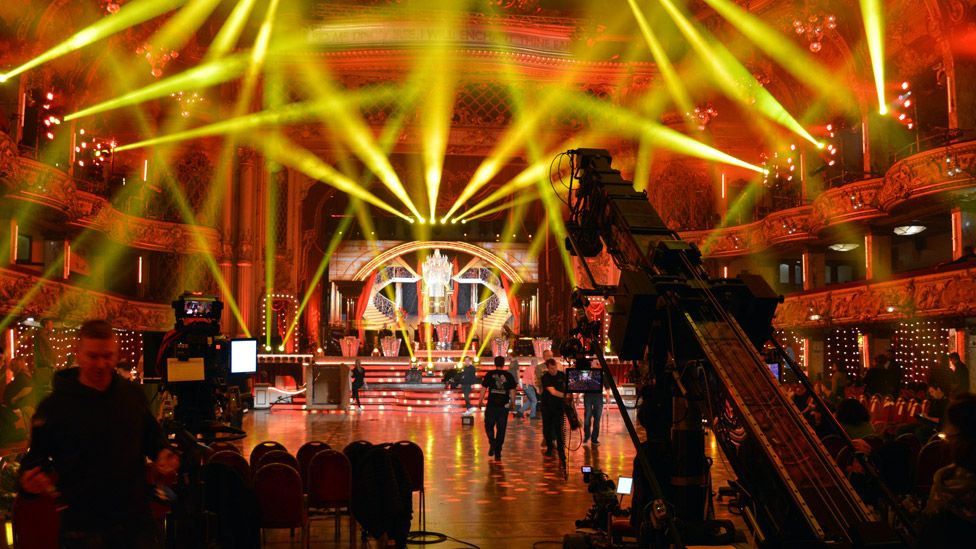 The judges get dressed in broom cupboards, the physio's treatment room is in the disabled toilet, and the props won't fit through the doors. But Strictly Come Dancing loves coming to Blackpool.
When you move Britain's biggest TV show to one of the country's most historic ballrooms, you have to make use of every available space.
"We turn broom closets into dressing rooms for our cast. They literally are tiny little broom closets," explains Strictly's line producer Kate Jones, who is in charge of all the backstage logistics.
"Which everyone loves," she adds, slightly unconvincingly. "We even use a large toilet as our physio room. So the poor physio gets to spend the whole day in the toilet. We do cover the toilets for them."
The Strictly celebs and dancers - plus members of the crew - have made the trip from Elstree Studios in Hertfordshire to Blackpool for the show's annual seaside outing this weekend.
But the ornate ballroom, which was opened in 1899, wasn't designed with the demands of television in mind.
The backstage area is a warren of cramped corridors, dark stairs and small rooms. Behind the doors, there are makeshift wardrobe rooms where costume ladies busily adjust outfits amid racks of bright clothes. Or you might find a room filled with rows of tightly-packed, brightly-lit mirrors where the stars will do their make-up and hair.
Sound equipment is stacked in one corridor, and piles of empty kit cases are in another. Hosts Claudia Winkleman and Tess Daly have the pick of the dressing rooms, but they are hardly grand (even if Claudia does have a grand piano stored in the corner of hers).
Dame Darcey Bussell seems to have drawn the short straw and is in one of the broom closets, which just about has room for a nice chair to give the illusion of luxury - but not much else.
The professionals must make do with shared dressing rooms - one for men, one for women - which will be cramped and hot come Saturday night.
And the celebrities? They don't even have dressing rooms. Presumably the wardrobe rooms and corridors will suffice. Luckily they aren't precious.
Steps star Faye Tozer says: "In Elstree we've all got our own lovely modern dressing rooms and here it's a bit makeshift, but it brings everyone together. This is the entertainment biz - we've all changed in a toilet."
Bouncy dancefloor and the smell of history
Another big difference between Elstree and Blackpool is the Tower Ballroom's sprung dancefloor. Watching the group dance rehearsals, you can see it wobble.
"You feel a bit like, 'Ooh, my belly!'" says Karen Clifton, who's partnering Casualty star Charles Venn. "We're not used to having a bouncy floor in Elstree, but that's the beauty of Blackpool."
The beauty of the Blackpool venue isn't confined to the floor.
"There's a lovely decadence to this place," says Venn. "You can see it in the architecture and the building - it feels historic.
"The seats, the walls, the smell, everything feels like you're going back in time, and I love things like that myself. I feel like I'm walking into history."
Although the ballroom itself is larger than its Elstree studio, the service lifts are very small - meaning local crew members have to carry most of the equipment up the stairs - and it doesn't have the usual big back doors, so any large props used in the dances must be built in the ballroom itself.
On Friday morning, workmen were putting the finishing touches to platforms made to look like piano keyboards, which will be used in Joe Sugg's dance, and a big wooden fish and chip booth (Pashley's Plaice) was waiting in the wings.
A fibreglass donkey was standing alone in a backstage corridor, and a giant stick of Blackpool rock lay on the ground behind the dancefloor - waiting, apparently, to be ridden by a celebrity.
"We have very small doors and we have very large props, so a lot of stuff has to be made in the ballroom because it doesn't fit through the doors," Jones says.
"The props are big because the ballroom's so big. Everything just gets enlarged when you come here."
Some items are transported from Elstree, but the judges' desk and the plush booth where Claudia chats to the dancers are actually kept in Manchester, and are brought out of storage once a year for the Blackpool special.
Despite the logistical headaches, Jones says it's worth it. "We're so proud to come up and do our show from up here each year," she says. "I personally love coming here, and I get goosebumps when I walk into that ballroom."
What is Blackpool anyway?
If you're not a ballroom dancing aficionado, you may not realise how big a deal Blackpool is as the traditional home of dancing competitions.
In the 2004 Hollywood film Shall We Dance?, starring Richard Gere and Jennifer Lopez, one of the characters, Bobbie, says with awe that Lopez's character Paulina was a Blackpool finalist.
"What's Blackpool?" asks one of the men. Bobbie rolls her eyes and explains: "Every year, all the best dancers from all over the world go to England and compete there."
Ashley Roberts - whose group The Pussycat Dolls had a song on the film soundtrack - jokes: "If J-Lo made it to Blackpool, we had to make it to Blackpool."
The town's reputation in the dance world stems from the Blackpool Dance Festival, which has been going for 98 years and takes place in the nearby Empress Ballroom. There's now even a spin-off dance festival in Shanghai - still with Blackpool in its title.
Giovanni Pernice says dancers around the world dream of coming to the resort. "Everybody knows about Blackpool," he says.
Fellow pro Pasha Kovalev competed in Blackpool before joining Strictly. "Blackpool is a Mecca for ballroom dancing," he says. "Thousands and thousands of dancers come here every year.
"Every single dancer, every year I remember growing up - you wanted to get to Blackpool at some point in your life. So when I first got here it was absolutely incredible."
How Blackpool Week became a thing
Strictly first decamped to Blackpool for the third ever episode in May 2004, and the 2005 final (when Jill Halfpenny won) was at the Tower Ballroom.
Blackpool Week became a regular thing from 2009, when Children In Need temporarily took over the Strictly studio at BBC Television Centre every November.
The show no longer needed to make way for Children In Need when TV Centre closed in 2013, but by then, "making it to Blackpool" had become an established milestone halfway through the series.
Blackpool - the Las Vegas of the north?
The town was a thriving entertainment resort in the 20th Century, with stars including Frank Sinatra and The Beatles performing there alongside the many variety acts who drew crowds for summer seasons.
But, with all the excited mentions of Blackpool in the lead-up to the annual episode, Strictly provides welcome positive PR, according to Alan Cavill, Blackpool Council's director of tourism.
"Somebody once counted the number of 'Blackpool's in a Strictly show and it was up to something like 63," he says.
Mr Cavill says there's been a concerted attempt to improve the town's overall leisure and entertainment offerings over the past decade.
And when anyone comes to visit the council, they always want to follow in the footsteps of Strictly's stars, he says.
"They might be coming to see what our housing problems are, or what our health problems are, or come to visit the hospital, or talking to us about politics.
"It doesn't matter who they are - whether they're a minister or a senior civil servant or the chairman of some company.
"They all want to go and have a look in the Tower Ballroom."