Shadowhunters: Cancelled TV show sweeps People's Choice Awards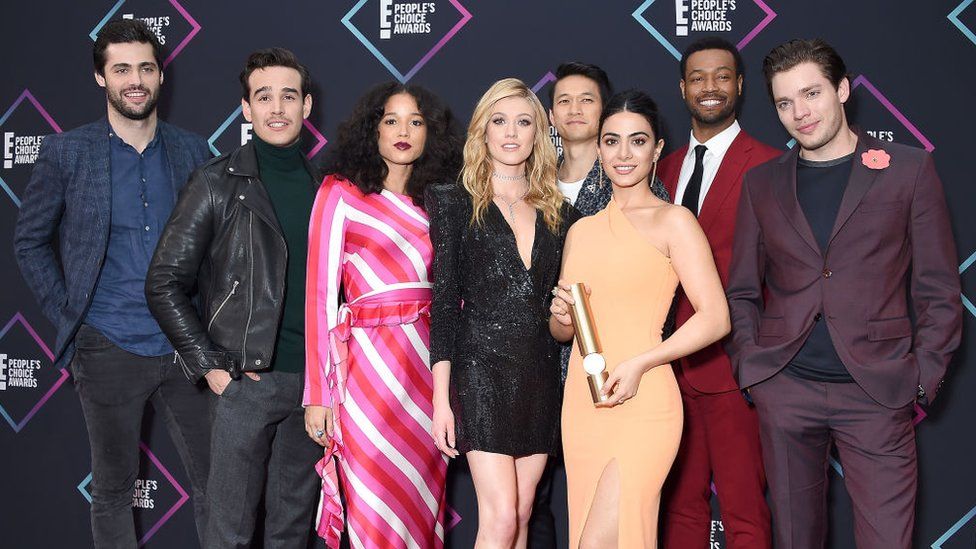 TV show Shadowhunters has won four prizes at the People's Choice Awards, despite having been cancelled in June.
The US supernatural drama series was voted the best show of 2018 and most binge-worthy show of 2018.
Katherine McNamara and Harry Shum Jr were also named best male and female TV stars at the awards, which are run by the E! network and voted for by fans.
The show is an adaptation of Cassandra Clare's Mortal Instruments novel series and is currently in its third series.
Shadowhunters' network, Freeform, announced in June that the third series of 20 episodes would be the last, but two extra episodes will air in February 2019 to conclude the show.
While it has attracted a cult following in the US, UK audiences may be less familiar with the show, which is available to binge-watch on Netflix.
The awards success led fans to renew their calls for it to carry on beyond next year.
"This award is about how passionate the Shadowhunters fandom really is. We are forever grateful, honoured, and inspired by each and every one of you," said Emeraude Toubia, one of the drama's stars.
Co-star Isaiah Mustafa praised the network and producers of the series, along with their dedicated fans, adding: "We just wanted to say thank you to the most dedicated, loving fandom out there.
"We miss you guys. We're going to see you in 2019."
Shadowhunters follows The Maze Runner actress Katherine McNamara as Clary Fray, a girl who discovers on her 19th birthday that she possesses special angelic powers that allow her to protect other humans from demons known as Shadowhunters.
Other big winners at this year's People's Choice Awards, which took place in Santa Monica, California, included Avengers: Infinity War.
It won the best movie of the year trophy, along with best action movie and best female movie star for Scarlett Johansson.
Melissa McCarthy received the inaugural People's Icon award for her film and TV work, along with the accolade of best comedy movie star for the film Life of the Party.
Victoria Beckham was presented with the Fashion Icon award, whilst Keeping Up With the Kardashians won reality show of 2018 and Khloe Kardashian won reality TV star.
Kim Kardashian used her acceptance speech to pay tribute to the emergency services dealing with wildfires and a mass shooting in California.
Big winners in the music category were K-pop band BTS, who won four awards - group of 2018, song and music video of 2018 for their song Idol and social media stars of 2018.
Nicki Minaj won two awards for female artist and best album of 2018 for Queen.