Kitty O'Neil: Wonder Woman stuntwoman dies at 72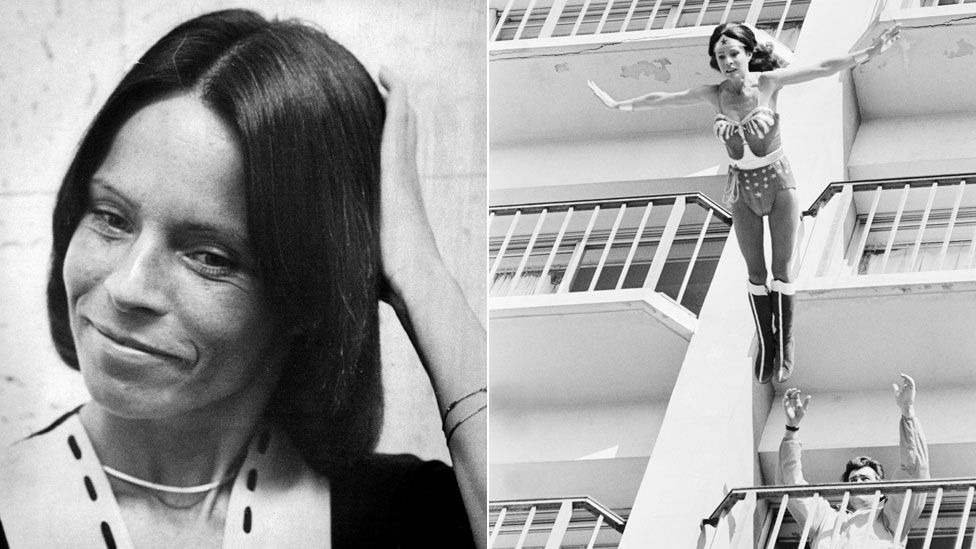 Kitty O'Neil, a stuntwoman who was Lynda Carter's stunt double on 1970s TV series Wonder Woman, has died in South Dakota at the age of 72.
O'Neil, who lost her hearing when she was five months old, also doubled for Lindsay Wagner on The Bionic Woman.
Her other credits included Smokey and the Bandit II and The Blues Brothers.
O'Neil's success as a stuntwoman led her into the world of speed racing and she set a land-speed record for women in 1976 - which still stands today.
She got into the record books by travelling at an average of 512 mph in a rocket-powered vehicle called The Motivator.
O'Neil's success was such she spawned her own Barbie doll. She was also the first woman to join the Hollywood stunt agency Stunts Unlimited.
Stockard Channing played her in a 1979 TV movie called Silent Victory: The Kitty O'Neil Story, with O'Neil herself playing her stunt double.
O'Neil's career was not without mishap. While filming a TV show in 1978, she flipped a rocket-powered Corvette while trying to set a quarter-mile speed record in the Mojave Desert.
After retiring in the 1980s, she moved to Eureka, South Dakota, where she died of pneumonia on Friday.
In a 2015 interview, she said it had "felt good" to be one of Hollywood's stuntwomen, and that she was "not afraid of anything".