Jack White 'disappointed' after gig venue tells gay fans to stop kissing
By Lucy Todd
BBC Music reporter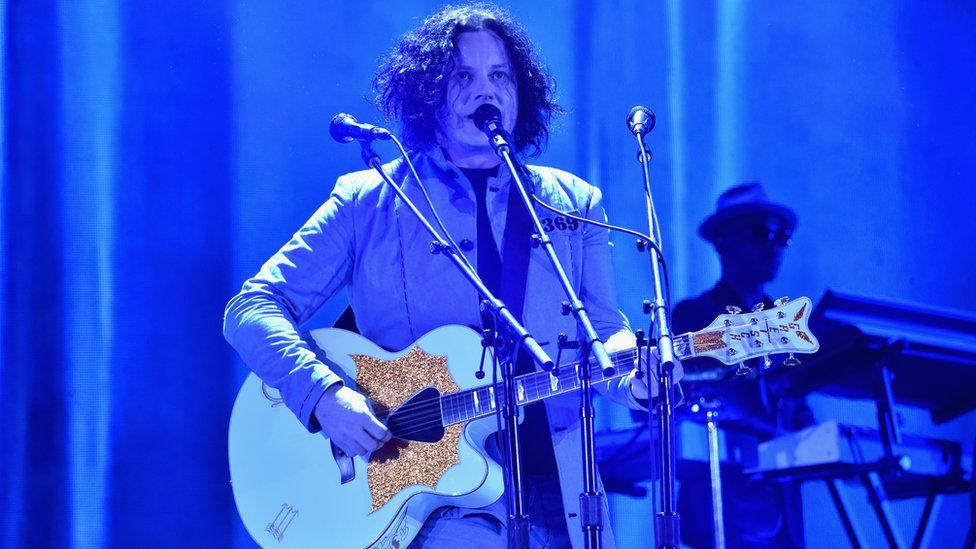 White Stripes star Jack White has said he's "disappointed" that two female fans were prevented from kissing by an usher at a recent concert in Canada.
In a Facebook post, Allyson MacIvor told how a staff member at Rogers Place in Edmonton stepped in when she kissed a female friend during Friday's gig.
He also posted a photo of two girls kissing at a Beatles gig in 1964.
"The news that two women were stopped from kissing during my show in Edmonton really disappointed me," the star wrote, adding that he dedicated his song Love Interruption to the pair at his next show in Calgary.
MacIvor recounted how she kissed her friend as White played her favourite song, Seven Nation Army, which was "a fun moment on a beautiful night".
But she said they were "immediately interrupted" by a young member of staff.
In her post, the fan claimed the worker pulled her aside and shook her finger disapprovingly, telling MacIvor "That's not allowed here," because it was "inappropriate sexual behaviour".
The women were told by the usher: "If you have a problem with that you can speak to my manager." They were led to the office, where they received an apology.
MacIvor said she was upset that "we still live in a world where I have to watch my back as a 'gay' woman".
A spokesperson for the Oilers Entertainment Group, which owns Rogers Place, told The Edmonton Star that the arena was conducting "a thorough review of the situation".
The statement said: "This incident does not align with our values and we take a zero tolerance approach to any form of discrimination. We unequivocally welcome and support all members of the LGBTQ community."