Billie Marten: Why nobody's looking at the teenage star
By Lucy Todd
BBC Music reporter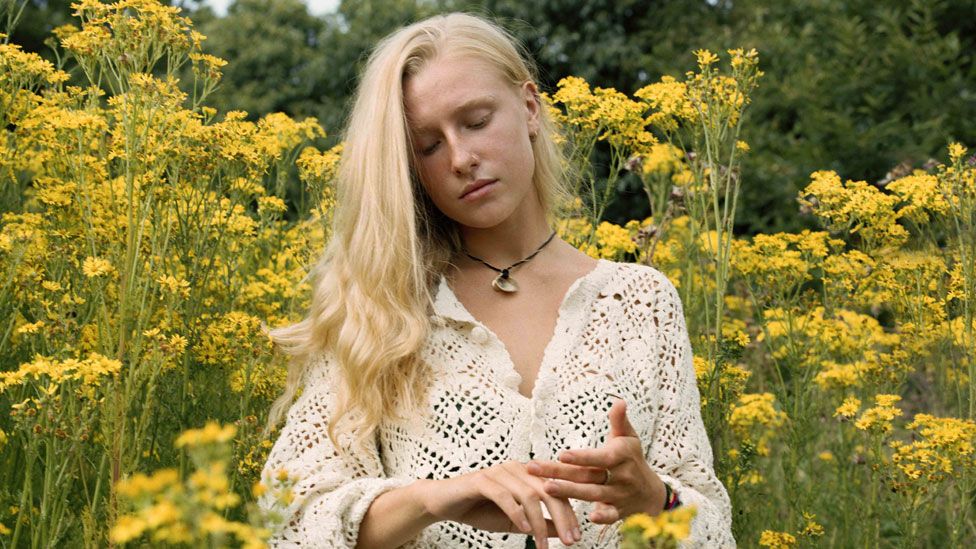 Billie Marten doesn't seem to wear her cloak of youth lightly.
"I'm 19 years old - it's the worst thing about me," she says when asked her age.
Expanding on this, she says: "I guess it's just the reaction when you say you haven't even hit your 20s yet.
"Most people's perceptions of you immediately change because they know you've not been on this planet very long. There's a tendency to say, 'Oh, she's just a girl and she doesn't know what she's doing.'"
On the contrary for this teenager, who released her first EP having just turned 15, with her first album following two years later.
She's now releasing more material - with a second album on the way - full of the lessons a life of touring, couch-surfing in London, and working in a charity shop has taught her.
'I hate being a bag lady'
"The first album was more about how endearing and how exciting everything was and how I just LOVE London," recalls Marten, who hails from near Ripon in North Yorkshire.
"This one is a bit more frank, the songs are a lot simpler. It's more of an insular album," says the songwriter.
This perhaps reflects what she describes as the "disruptive" experience of staying in other people's houses - on spare beds and sofas - and never having a place of her own. "Like a stray puppy," she adds.
"I hate being a bag lady - and I'm always that person. Carrying guitars and carrying bags. And it makes me quite anxious.
"So just to have one key and one bed to come to has been really good for me," she says, having recently rented her own place in east London.
It's significant, however, that when asked where she is happiest she says: "Home." And then clarifies that she means with her parents in Yorkshire.
The singer admits she suffers from seasonal affective disorder (SAD) - a type of depression that is often linked to shorter autumn and winter days. And says she is more affected by the condition living in the city.
"I hate when the snow goes black - that's a really horrible thing for me. I hate it. Winter in the city is so much worse for me. Winter in the countryside is slightly better.
"In the city everybody's still grafting and working, heads down, and there's no communal love," she says.
"When I go home we're all miserable but we're all in it together, whereas here you're left on your own a lot. The Tube sucks and it's always dark. It's harder."
Her latest release, Blue Sea Red Sea, was written by Marten on a wintry day, after having just moved to London.
'I was completely miserable'
The song, in Marten's signature lyrical, folksy style, sounds like someone trying to convince themselves - and everyone else - that they are perfectly fine, thank you very much: "I'm a fish in a blue sea, and I like it/I don't, don't need you to love me," run the lyrics - set to an upbeat tempo.
But later lines -"This snow is falling heavy/Wish my mother would come and get me" - somewhat give away the lie.
"I was working in this pub and was completely miserable," the singer remembers. "So I decided to sit and write the happiest, simplest pop song I could."
Marten says music isn't always key to getting herself out of a dip though: "I will turn to baking or something quite homely and sentimental for me. Or walking is a huge help. I'll just walk for two to three hours and get lost.
"Your attitude to everything changes - to other people. You get very bitter, very resentful of people's lives if they're not affected by it - which isn't a nice trait to have.
"Most mental illnesses do that. They isolate you - rather than make you want to accept other people's love or your own love."
So rather than turn inwards, Marten has turned outwards. Few teenagers - and even fewer artists in the music industry volunteer once a week at a charity shop.
"I quit the pub because that was just ruining my life," she says. "And that day I walked past Crisis in Finsbury Park. They've got a really good charity shop there and there was just this little sign in the window that said, 'We really need volunteers'."
The singer says the volunteer work there is "fulfilling" and it's clear she is inspired by what she finds at the shop - but also that she uses it as a therapy of sorts.
"I like the idea of walking into this communal haven. There's just this huge ethos of hard work and giving.
"Most of the volunteers have such busy lives. Some of the volunteers have three or four kids and they have to sort childcare just so they can do this for four hours a day. There isn't a bad soul in that building - it's brilliant."
'Nobody's looking at you'
Perhaps it's some of these experiences that have helped Marten come to terms with her youth.
"My youth?" she asks. "It's fading," she says with a laugh. "I do feel a lot more tired than I should, that's for sure.
"I'm slowly learning to care less. I envy a lot of people who have no self-doubt or don't analyse anything.
"But my motto is: Nobody's looking at you," she says echoing the lyrics of her previous single, Bird. "When I did my first gigs, my dad used to say that to me and said if no-one shows up, it's fine.
"It's a general sense of just do your thing. I say it to myself all the time: Nobody's looking at you and don't think too much about it.