Joe McFadden: 'Strictly has taken over my life'
By Rebecca Thomas
Arts and entertainment reporter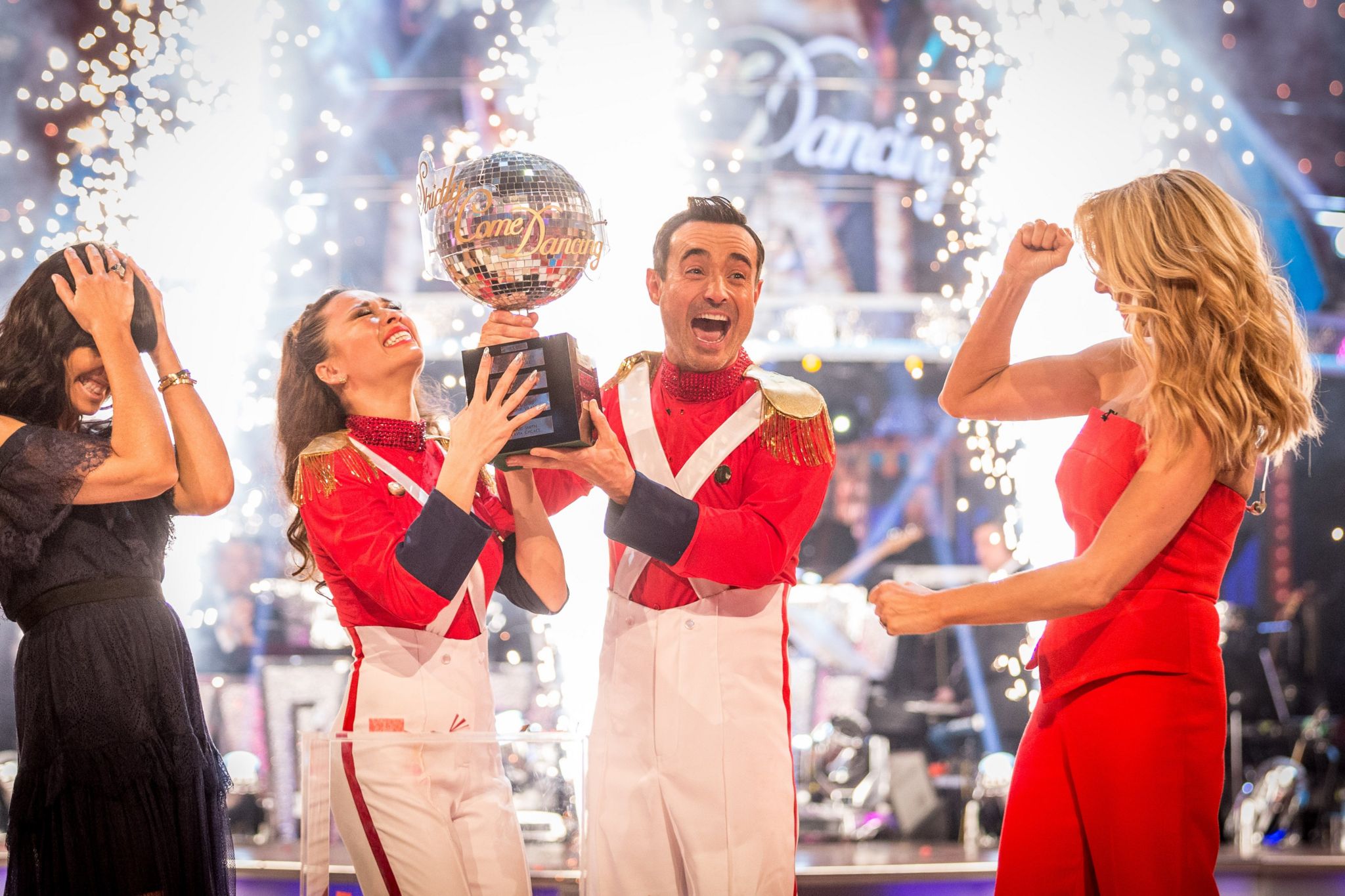 As this year's series of Strictly Come Dancing hotfoots its way towards crowning its winner, reigning champ Joe McFadden professes to not feeling too glum about giving up the glitterball.
On the contrary, all smiles and full of beans, Joe says he's still basking in the glory of his and partner Katya Jones's win.
"Life's been so good!" exclaims the affable ex-Holby City star. "Strictly has taken over my life.
"Since going on the tour and cruise (an annual Mediterranean trip on which they hold Strictly evenings), I've been to loads of parties, invited to lots of events and the best theatre shows.
"But I'm not sad it's coming to an end, it's the natural order of things. Let someone else get all the attention now."
He's avidly watching the new series on catch-up with a bacon sandwich as his Sunday treat. And looking down at him from the bookcase is his miniature glitterball trophy. He's also still good friends with the professional dancers, who he sees regularly at celebrity bashes.
Joe sighs when asked his feelings about the controversy - but he maintains a smile.
"I don't want to add fuel to the fire or get embroiled in it," he says apologetically. "It's their lives and it's really none of my business. If you condone it you're condemned and if you're judgmental you're condemned. There's no way of winning.
"Katya does a great job. It's a shame that has been overshadowed. But so much of what is reported about the dance partners is total nonsense.
"The press is waiting for you slip up, put a foot wrong. Luckily I'm not one for doing anything outrageous. But Strictly is the biggest show on TV. People get so involved in it and certain kinds of papers know that any headline with Strictly in the title will get lots of readers."
He's chatting to BBC News in a fashionable members' club in London's Soho. Free entry came as another post-Strictly perk.
And Joe's Twitter and Instagram pages give testament to a butterfly schedule of basically just having fun.
Yet the invitations offering fantastic acting work have been less forthcoming. The few approaches Joe's had over the last year just "have not been right", he says.
"Admittedly, Strictly didn't have the massive impact on my career that I thought it might," he adds. "Maybe it's one of those slow-burners. And in five years' time, I'll see it's made a difference.
"But then, dancing on an entertainment show is so far removed from acting, why should it have had a massive effect?"
Now, however, he's primed to get back in the saddle with a touring stage adaptation of a 2015 novel by the best-selling crime author Peter James.
The House on Cold Hill is the fourth James book to be adapted for the stage. It's a supernatural thriller about a seemingly perfect couple and their teenage daughter. They move into the home of their dreams - only to find things soon begin to unravel and go unnervingly wrong.
Joe plays successful entrepreneur Ollie with ex-EastEnders star Rita "Roxy Mitchell" Simons as his super-efficient wife Caro.
Further soap suds come in the shape of Charlie Clements, once Bradley in EastEnders, and Persephone Swales-Dawson, previously of Hollyoaks.
Some cynics might suggest the play is just a rescue vehicle for killed-off soap stars. To Joe, such an attitude is "nonsense".
"Audiences want to see faces they recognise," he stresses. "When people aren't spending so much on going to the theatre, you need to entice them in any way you can.
"And soaps are proper acting. It's gruelling, relentless work, the actors are very skilled."
For Joe, the tour next year will mark an opportunity to reboot his theatre skills. He last appeared on stage in his pre-Holby days in the Torch Song Trilogy at South London's Menier theatre.
It was the strength of that performance that earned him the role of Raffaelo "Raf" Di Lucca in Holby, which he held for four years.
"Theatre is great for an actor, it's just you and the audience and you have to pull it out of the bag and entertain," he says. "It's going to be terrifying but at least I'll see if the wheels are still turning."
The play's spooky element was also a big draw, says Joe, a self-confessed thrill seeker and horror film fan (he was off to see Halloween later that day).
But when it comes to white-knuckle terror, no experience tops Strictly, he says.
"Nothing can prepare you for the stress - physical and emotional. But it makes you realise we're capable of so much more than we think.
"And it was brilliant, not just the winning. Even finding the ability to do the dances to any kind of good standard gives a real sense of accomplishment."
Maybe his success had something to do with his remedy for dealing with anxiety and exhaustion: power naps. He even has his own special triangular Thai fold-up bed in his dressing rooms.
"I love my naps. I can sleep at a drop of hat and it really perplexed Katya because I would do it even just before going out to perform. I'd have around three or four a day. On Holby I'd wolf down my lunch so I could get 40 minutes of sleep a day."
A year on, Joe hasn't kept up his dancing and a failed audition for a musical could, he says, have been down to being a "slow learner".
And he definitely won't dance at parties.
"People now watch my moves and I don't want to embarrass myself and have them thinking, 'Why is he so rubbish?'."
The play tour will take him around the country for four months. But it's getting back on TV that's Joe's long-term goal - but not in another reality show, he says.
"The great thing about TV is the number of people you can reach. And there is some really great drama around at the moment, like The Cry and The Bodyguard.
"I don't want to jump into another long-running thing. It was good to have the door firmly closed on Holby. It's such a nice gig that it would be just too tempting to say, 'Oh, I'll just go back,'"
Right now, he'll carry on making the most of his dying moments as Strictly champ.
"I don't want to be that guy who turns up at everything," he says. "But in a few weeks I'll stop being invited and have to go back to paying for myself."
The House on Cold Hill begins its UK tour in January 2019.