Spice Girls reunion tour: Will it be the same without Victoria Beckham?
By Annabel Rackham
Entertainment reporter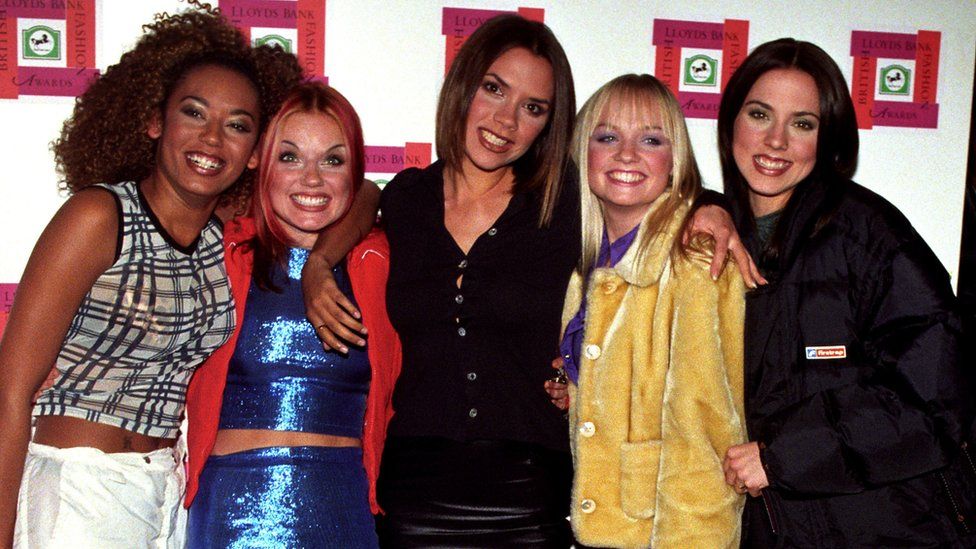 It's the news every Spice Girls fan has been waiting for - the girls are going back on tour, 23 years after they first spiced up our lives.
But Baby, Ginger, Scary and Sporty will be without their fifth member - Posh.
Victoria Beckham has declined to take part, meaning the band comes a four piece, and not for the first time.
Geri Horner originally left the band in 1998, and the rest of the girls performed together until their split in 2000.
The band all returned to the stage for a 10-year reunion tour back in 2007 and last performed together at the closing ceremony of the London 2012 Olympic Games.
So will it be the same without all five Spices in action? We called on some superfans to get their opinions.
'Disappointing with four'
Holly Shorthall is a huge fan from Dublin and says Posh not being included is "disappointing in two ways".
"The first - the fact that Victoria has decided against partaking in the tour, and the second being that the other four girls have decided to go ahead without her," she says.
"The Spice Girls, to me, were never The Spice Girls when there were only four of them, and although Victoria Beckham will always be my favourite of the five, I would feel the exact same if Emma, Geri or either of the two Mels weren't included on the bill."
Michelle Dignan is now a travel presenter on BBC Radio 5Live, but back in the 90s was part of a Spice Girls tribute band with her school friends (she performed as both Geri and Mel B - impressive).
"I'm gutted [Victoria] isn't included but not surprised," she says. "Out of all of them, she really doesn't need the career boost!
"She has a very well-respected [fashion] brand - maybe she is worried that might be damaged by doing something 'cheesy'.
"I'm very surprised that they are going ahead anyway as I think these things always work better when all members are involved."
The band will embark on a six-date stadium tour across the UK next summer - stopping off in cities including Manchester, Sunderland and London.
'I'll go - but it won't feel complete'
Holly is certainly on board to see them after missing out in the past.
"I think I probably will [go and see them], but it genuinely won't feel complete - and I would say that no matter who was missing.
"They kicked off their first tour as a five-piece in Dublin in 1998, when I was nine years old.
"Tickets sold out fairly quickly and as my parents had four kids under 11 then, it just wasn't something that was possible at the time.
"When all five did the comeback tour together in 2008, they didn't do any Irish dates as, if I recall correctly, our main arena venue was being renovated."
For Michelle, she's on the fence about whether she will go and see the band on this tour, having seen them "loads in the 90s".
She says: "Geri left just before one of the concerts I had tickets for in the 90s and I still went, but it wasn't the same.
"I went to watch them on their reunion tour 10 years ago - when Posh was included. I was so, so excited but then felt a bit 'meh' as I left the arena.
"The constant shouts of 'girl power' really worked in the 90s and songs like Wannabe were just brilliant - but it all felt a bit dated.
"Having said that, I sung Stop on karaoke at my wedding and it was one of my favourite parts of the day!"
And perhaps the best analogy from Michelle about the upcoming tour?
"When I was at primary school I used to love that sponge dessert with pink custard.
"I'm sure if I had it now, then I'd think it was rubbish! I'm worried the Spice Girls are a bit like pink custard!"