Sam Fender: 'I don't identify as millennial'
By Lucy Todd
BBC Music reporter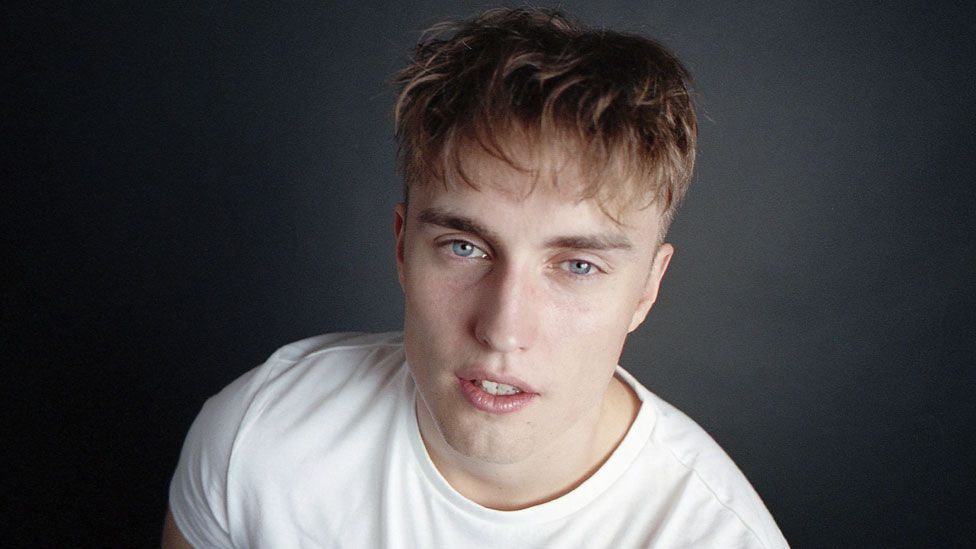 Sam Fender has thoughts... and he's not afraid to share them.
And don't get him started on Ed Sheeran.
"I admire what he's done - the fact that he's sold out Wembley with acoustic guitars. I just find his music incredibly beige.
"I don't trust songs that can be played at a kid's party and a club at the same time. I just don't think it's right," the North Shields songwriter says, getting into his stride.
"There's something reptilian about that."
Jamie Oliver comes in for similar treatment from the singer, who recently appeared on Later... with Jools Holland and has had two hottest records of the week on Annie Mac's Radio 1 show.
"Jamie Oliver says £10 for a meal for two people is a cheap meal - that's a lie, it's not cheap.
"Imagine trying to feed a family of six - that's like ridiculous amounts of money. And then imagine living on jobseekers!"
'Hopelessly addicted to Instagram'
The 23-year-old singer doesn't seem to have much truck with his generation either. His song Poundshop Kardashians from his new EP refers to "beautiful people devoid of emotion".
"I don't identify with them," he says, before musing further on his fellow millennials. "I feel like we get a bad rep, but also at the same time I'm like [god] we're pretty stupid, like," he says in his Tyneside lilt.
He concedes that perhaps it's not that the current host of young adults are necessarily more stupid than their forebears: "I just think we've been given more devices to show off our stupidity.
"We're just more exposed - social media really exposes people because your everyday life is shown and you realise we're in this vanity trap.
"We're stuck on Instagram, and everyone's guilty of it. Everyone's completely obsessed with themselves," he says, clarifying that he includes himself in that bracket.
"I'm hopelessly addicted to Instagram," he says candidly. "To the dopamine hits of when one post gets more likes than the others. I'm aware of it, so try and make a conscious effort to cut down."
To little avail, it would seem, since after a year touring and appearing on the festival circuit his profile is on the rise - meaning his habit of personally answering messages from fans is starting to get out of hand.
"I'm going to have to stop answering fans eventually, because it's just getting too much," he says. "It used to only be a little bit of time a day, but now it's taking up the whole day. It's nuts."
Part of the attraction to Fender is the honest and vulnerable nature of his music. His haunting voice relates issues not covered by other songwriters - male suicide in Dead Boys, for example. Or the fear of never getting out of your home town in Leave Fast.
Some of his music has the tendency to paint a bleak picture of his home city of Newcastle, with lyrics like: "Leave fast or stay forever."
"I think honesty is an important thing when writing a song. If you can't sing it with conviction, then no-one else is going to believe it.
"I love my hometown but Leave Fast is the way I felt when I was 17, 18 - it's that fear that I'd never be able to do something else.
"Now that I am doing something else and my job is my music, I feel differently... I just knew that, for what I wanted to do, the industry isn't here, so I had to go."
But as it turns out he never did have to leave.
Fender was discovered in a local bar, where he was pulling pints. His future manager, Owen Davies, walked in worse for wear after celebrating the Brit award win of his artist, Ben Howard.
"My bar manager recognised him and said: 'Get your guitar out and go and play in the corner of the room.'
"I was getting wronged (being told off) by other people for playing guitar, but then he came over and asked me if I had any originals, so I started playing him some of my stuff. And he took my number that night..."
'Guitar bands are rubbish'
But Fender has no loyalty to his genre of music, saying it's not where it's happening in the industry right now.
"Half the guitar bands are [rubbish], man. I think the best stuff that's going on right now is in the hip-hop world, in the rap world, in grime and in pop. The majority of guitar bands suck. Like proper suck," he adds.
"With half of the indie bands out there I feel like it's just a regurgitation. It's like they're not talking about anything.
"I think the only reason people think I'm remotely interesting is because I'm talking about something slightly different, that's all."
Those to have Fender's hard-earned good opinion seem few and far between and the one he singles out to be deserving of respect is perhaps surprising for someone of his background.
"An example of an international pop star who I think is class, is Beyonce. Love On Top is one of the most intense pop tunes ever," he adds.
"I would love to write the music for a hip-hop track because I love writing beats," he says. "I'd love to do that for a rapper, but I'm never going to get up on the mic and start rapping. I'm not going to make a tit out of myself.
"That's Ed Sheeran's job."
Sam Fender's EP Dead Boys is out on 20 November.