Alternative Miss World contest - the night where bizarre is beautiful
By Vincent Dowd
Arts reporter, BBC News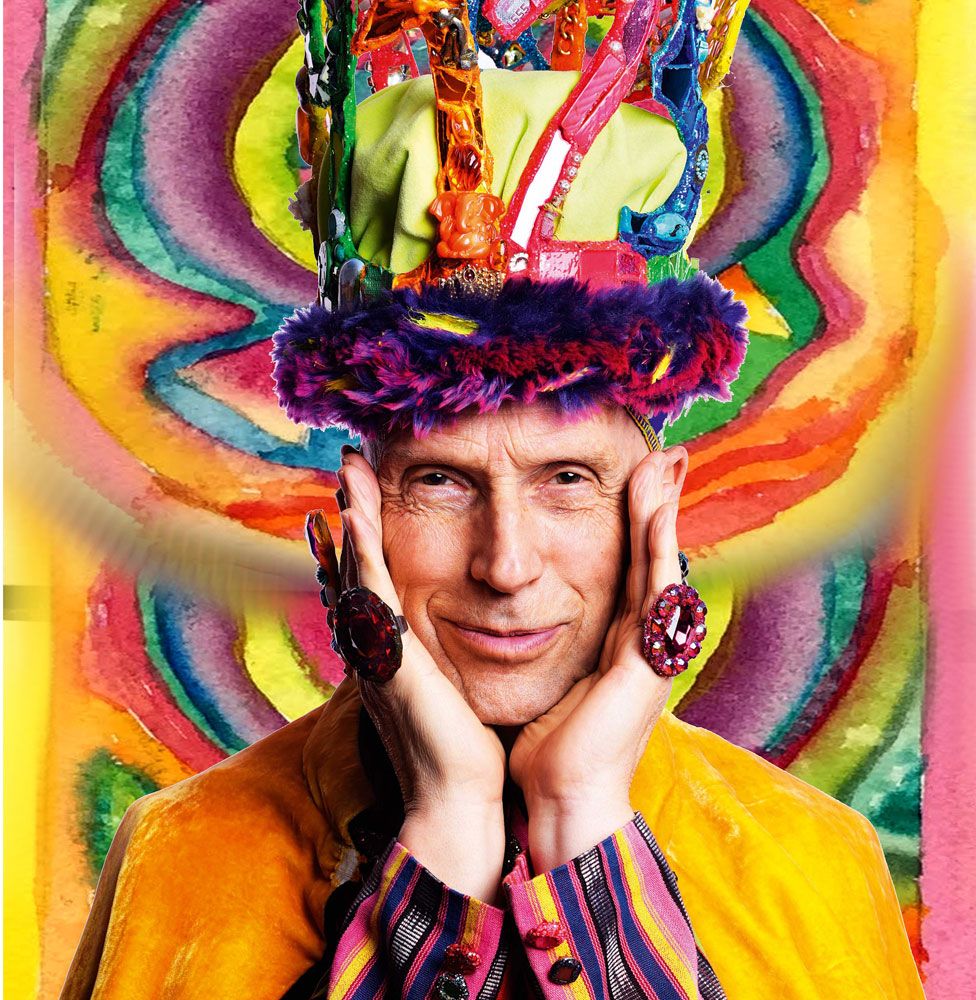 It's outing number 14 this weekend for Andrew Logan's unclassifiable extravaganza the Alternative Miss World contest. The first event in 1972 was at his flat in London. This weekend it returns to the stage at Shakespeare's Globe theatre.
The contest is a bizarre combination of an extremely rude, very camp Christmas panto and a pansexual beauty pageant with wildly improbable contestants. And there's definitely no rehearsal.
Only a few days before this year's Alternative Miss World, Logan seems relaxed about what may happen on stage. "The judges are always crucial and this time we've got really good ones, including Jarvis Cocker and Grayson Perry... or at least I think they said they'll do it.
"To be honest what happens on the night often comes as a surprise even to me. I've very little idea who most of the contestants will appear as."
The first Alternative Miss World contest was held in Downham Road, north London, and it's been running every few years since then. These days Logan lives in the quiet surroundings of Berriew in Mid Wales with architect Michael Davis, his partner of 46 years.
"We couldn't possibly do a show annually," Logan says, "But every few years I have the energy to do another. We start the planning a year out and the first thing I do is construct the winner's crown."
This year's theme is Psychedelic Peace. Like most of the earlier shows it will be filmed - Davis is excited about bringing in a 360-degree camera for the first time.
Though nothing is guaranteed, the audience at the Globe - tickets sold out long ago - can expect to see contestants in daywear, swimwear and evening wear as used to be familiar in TV beauty shows. Ironically Logan's creation has continued while traditional beauty pageants have largely disappeared.
Asked to explain what his concept was in 1972, Logan says he was throwing a party. "I had no idea I would still be doing it 46 years later. At the time Miss World was a huge thing on television and we were partly a pastiche of that. The second one was in 1973 and after that it was more irregular."
Logan's not entirely happy with the description drag show. "And certainly not if that just means men dressing up as women. Over the years we've been more ambitious than that. Of course contestants do dress magnificently but we put no limitations on how they do it."
Winners have included Miss Holland Park Walk (1973) and Miss Gale Force Wind (1991). But in the best British tradition, the show is less about winning and more about taking part.
Celebrities who've attended or been judges include David Hockney, Derek Jarman, Koo Stark, Rula Lenska and Julian Clary.
Logan says he wants his legacy to be joy. "That's what originally brought us to Berriew. I had a dream of opening a museum here of costumes made for the contest - I knew it would be a place visitors would leave with a smile on their face.
"So we acquired some old squash courts for the museum and it's open every summer. Then a couple of years ago Michael and I moved out from London and we live by the River Rhiw."
Logan trained as an architect. He now calls himself a sculptor but accepts he's best known for his creation of the Alternative Miss World event. "But in its way it's a dynamic sculpture and it's always been a huge celebration of life."
Logan thinks that since 1972 the event has remained much as it was but that society has changed around it. "When we first did it, it was only a few years since gay sex had been made legal. Our competition has always been judged on poise, personality and originality - I call it a surreal art event [and] all-round family entertainment."
Logan doesn't like the suggestion the event is less edgy that it was but adds: "The fact we're now at Shakespeare's Globe means there's definitely no fire involved."
Though he's earned a footnote in gay cultural history he says the contest has never been a wholly gay event. "Yes there have been utterly wonderful and unforgettable gay people in it. But we've never been proscriptive at all: it's open to everyone regardless of gender or their sexual nature. That's always been central to what we do."
To Logan what matters is the inclusivity of those on stage and of the 1,500 people who'll be watching.
"What we look forward to each time," he says "is an atmosphere of creative confusion and chaos."
Related Internet Links
The BBC is not responsible for the content of external sites.