Doctor Who: Biggest first episode for new Doctor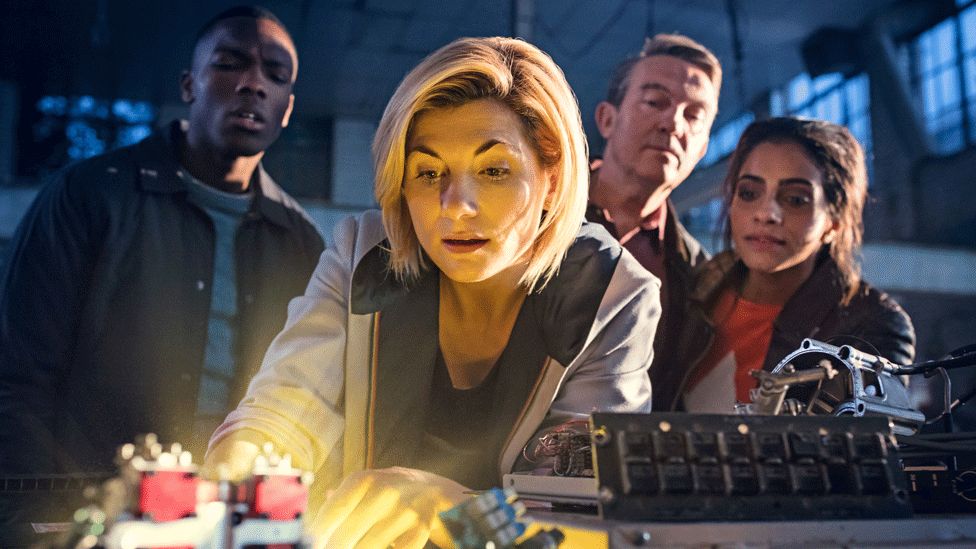 Jodie Whittaker attracted a record audience for a new Doctor in the first episode of the new series of Doctor Who.
The episode was watched by 10.9 million viewers, which makes it the highest Doctor Who series opener since the show was relaunched in 2005.
The consolidated figures from ratings body Barb includes the number of people watching on devices as well as TV.
Barb only began counting ratings for phones, PCs and tablets last month.
The previous highest series launch episode for the drama was in 2005 with Christopher Eccleston, which attracted 10.8 million.
That number obviously didn't include device figures.
Showrunner Chris Chibnall said: "On behalf of the entire Doctor Who team, a huge thank you to viewers for taking Jodie's Doctor and her new friends into their hearts, in such huge numbers.
"It's a thrill being deluged with pictures of families snuggled up together, kids (and adults) hiding behind sofas and seeing all the extraordinary creative artwork inspired by the show. The journey of the 13th Doctor is only just beginning. Next stop: Alabama 1955."
Whittaker is the first female to play the Doctor and was first seen hurtling out of the burning Tardis in the Christmas special before debuting in her first full episode earlier this month.
The second episode, which saw the Doctor and her new companions marooned on a desert planet with two aliens, aired on Sunday.
Alan Cumming, Chris Noth, Mark Addy, Julie Hesmondhalgh and Lee Mack are all set to guest star in the current series.
Whittaker is the 13th Doctor overall and the current series is the 11th since the show's 2005 reboot.