Strictly Come Dancing: Seann and Katya return to dancefloor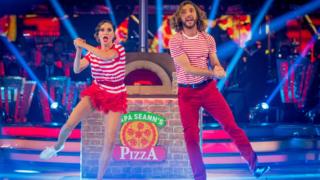 It was "all about the dancing" as Seann Walsh and Katya Jones returned to Strictly Come Dancing for their first time since they were pictured kissing.
The pair were photographed on the birthday of Walsh's now ex-girlfriend.
But there was no direct reference to the controversy on Saturday's show, which saw a warm crowd reaction for their Charleston - and a score of 28.
"Strictly", "Seann" and "Katya" were the top three Twitter trends in the UK as the dance was broadcast.
Presenters Tess Daly and Claudia Winkleman referred to the drama indirectly at the top of the show.
"For the last seven days, our couples have been eating, sleeping and breathing dance," began Daly.
"Apart from that, I'd say it's been a quiet week," Winkleman joked, before Daly added: "Other than the odd headline."
'Dance of Shame'
Introducing what was the show's penultimate act, Daly continued: "It's been quite a week, but tonight it's all about the dancing."
Walsh and Jones danced the Charleston to Bills by LunchMoney Lewis.
Craig Revel Horwood awarded the pair six points, Dame Darcey Bussell and Bruno Tonioli each gave them seven, while head judge Shirley Ballas awarded them an eight.
But former Strictly professional James Jordan said he thought the pair had been "overmarked" to protect them from elimination.
One viewer suggested the show had failed to address the elephant in the room by not referring to the kiss.
The publication of the photos in a Sunday newspaper of the pair kissing led Walsh's girlfriend to end their relationship.
Walsh and Jones both subsequently tweeted apologies.
The judges discussed the situation on The Jonathan Ross Show on ITV on Saturday.
"My take was keep them in the show, make them do the dance of shame, if you like," said Horwood.
"It's really important that if this does happen to you, you face up to it and apologise but get on with the job and show people what you're made of.
"Show people, 'OK, this is what I did, I've been employed to do this job, I'm going get on with it and do it professionally.'"
Asked if the kiss was likely to stop the public voting for Jones and Walsh, head judge Shirley Ballas said: "I would like to think that it's purely down to what they see on a Saturday evening."