Strictly Come Dancing: Who's been hit by the curse?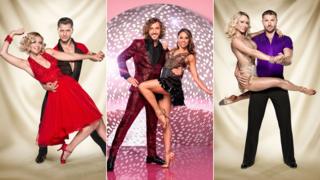 With dances such as the steamy tango or sensual samba, the professional dancers and their celebrity partners get up close and personal on Strictly Come Dancing.
And over the years, it's been claimed the BBC One show has been the cause of several relationship break-ups or scandals - which has become known as the "Strictly curse".
Comedian Seann Walsh and his married dance partner Katya Jones are the latest to be caught up in the drama.
They apologised after photos emerged showing them kissing each other in the street during a night out - which they say was a "drunken mistake".
So who else has been struck by the Strictly curse?
Natasha Kaplinsky and Brendan Cole
Natasha was paired with Brendan during the 2004 series of the show - the first that paired professional dancers and celebrities - and became the couple that sparked the famous "Strictly curse" nickname.
Brendan split from his fiancee Camilla Dallerup during the show as rumours circulated that he was getting close to Natasha.
The newsreader has always insisted there was no romantic relationship between her and her dancing partner.
"There was chemistry, of course, and I certainly fell in love with dancing, but I did not fall in love with Brendan," she said at the time.
Brendan previously admitted there was "chemistry" between the pair - but also denied they had an affair.
Joe Calzaghe and Kristina Rihanoff
Boxer Joe Calzaghe split with his girlfriend of five years, Jo-Emma Larvin, shortly after signing up for the 2009 series of Strictly.
Jo-Emma later revealed the couple broke up during Joe's first week of Strictly training with his dance partner Kristina Rihanoff.
Joe and Kristina ended up getting together and dated for four years before splitting up in 2013 - blaming their hectic work schedules.
Kristina went on to find love with another Strictly celeb...
Ben Cohen and Kristina Rihanoff
World Cup-winning rugby union star Ben Cohen was partnered with Kristina Rihanoff for the 2013 series of Strictly.
At the time, he was married to wife Abby Blayney, with whom he had two daughters.
In 2014, a spokesman for the couple announced they had split but insisted there was "no third-party involved".
A year later, Ben and Kristina publicly revealed they were dating.
Speaking to the Daily Mirror in 2015, Kristina defended the romance.
"He left his wife a year ago. Recently we started dating but we're allowed to see each other as two single people," she said.
The couple are still together and have a daughter.
Matt Di Angelo and Flavia Cacace
Professional dancer Flavia Cacace was in a long-term relationship with fellow dancer Vincent Simone when series five of Strictly started in 2007.
She was partnered with ex-EastEnders actor Matt Di Angelo and not long into the series it was revealed she and Vincent had split up.
Matt and Flavia ended the series as runners-up and soon after Strictly finished they started dating. The relationship lasted three years.
In 2012, Matt told the Daily Mail the focus on the love triangle between him, Flavia and Vincent was a "pretty crazy time".
"But in reality, there wasn't much drama. There was never a raised voice, and often the three of us would be sitting down having a cup of tea together."
Flavia went on to date another soap actor, Jimi Mistry - with whom she was partnered on Strictly in 2010. She and the former Coronation Street star have since married.
Rachel Riley and Pasha Kovalev
Countdown star Rachel Riley split with her husband of a year just a few months after appearing on Strictly in 2013.
A year later she confirmed she was dating her dance partner Pasha Kovalev - although she said their romance only started after the show ended.
"On Strictly, you form a close bond with your partner, but there was nothing romantic when Pasha and I were dancing. It was just dancing."
Speaking to the Daily Mail's Event magazine in January, Rachel said she doesn't believe in the Strictly curse.
Instead she said the show "serves as a magnifying glass that shows up pre-existing fault lines."
The couple are still together.
Georgia May Foote and Giovanni Pernice
Actress Georgia May Foote was dating fellow Corrie actor Sean Ward when she took part in the 13th series of Strictly.
She was partnered with Giovanni Pernice and many viewers remarked on their chemistry during the 2015 show.
Georgia split with Sean in December, just shortly after the Strictly final.
A few weeks later Georgia and Giovanni confirmed they were dating. They split up in August 2016.
Is the curse real?
Dance psychologist Dr Peter Lovatt says he believes there are several scientific reasons to explain why the Strictly curse can strike.
"The first is social bonding," he said. "Shared movement brings people together.
"Even when you have a baby and bounce it in time or out of time with other people, when you bounce it in time the child will afterwards show more pro-social behaviour to those other people.
"In Strictly, you have this shared movement day after day after day."
He said another reason may be down to the mood changes that dancing can cause.
"Different types of dance changes people's moods," said Dr Lovatt, who leads the Dance Psychology Lab at the University of Hertfordshire.
"What's happening in these couples, there's a synchronisation in their mood changes. This will make them feel like a single entity. Their emotions are going up and down together, the same emotional rollercoaster."
The intimacy of the ballroom and Latin dances also means that changes in a woman's menstrual cycle can also be felt by their partner, Dr Lovatt adds.
Through dance, you can have "intimate knowledge of other person's state of fertility", he said.
And another reason may be because couples form an "in group and out group" mentality after dancing together week after week.
"The couples are bonded so tightly that they form an in group and the other judges and couples are an out group.
"Their names are up on a screen together and you see the professional partners defending their celebrities when criticism comes which helps to form this group."