Radio 2 DJ Mark Radcliffe to take break for cancer treatment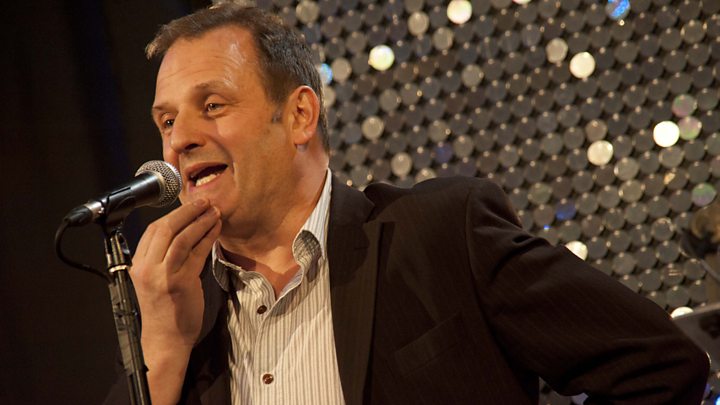 DJ Mark Radcliffe is to take time off from his BBC Radio 2 and 6 Music shows to have treatment for cancer.
He told listeners about his diagnosis during The Folk Show on Wednesday.
"I'm sad to say that I've got some cancerous tongue and lymph node issues," the 60-year-old said.
The presenter said he hopes to be back on air in the New Year, "or sooner, if I feel well enough". He added: "It's all been caught very early and so everything should be fine."
Radcliffe co-hosted his 6 Music show with Stuart Maconie on Thursday as usual, before taking his break.
He also shared the news on his Twitter account on Wednesday.
A BBC spokesman said: "Everyone at Radio 2 and 6 Music wishes Mark well and we look forward to welcoming him back when he's ready."
Ricky Ross will present the Radio 2 Folk Show for the next few weeks.
Fellow presenters on the station were quick to tweet their well wishes to Radcliffe.
"Hey get well soon Mark! Look forward to your full recovery," wrote Simon Mayo, while Claudia Winkleman said: "Sending so much love."
Ken Bruce added: "So sorry to hear this. Hope you're back in action very soon."
Radcliffe began his BBC career in 1983, and presented on both 5 Live and Radio 1 before he moved to Radio 2 in 2004.
While at Radio 1, he hosted the breakfast show as one half of duo Marc and Lard alongside Marc Riley.
Facts about tongue cancer
It can either affect the oral tongue, or the base of the tongue.
Symptoms include:
A persistent red or white patch
Pain when swallowing
Unexplained bleeding
A sore throat that does not go away
A numbness in the mouth
These symptoms could also arise from a less serious condition.
According to Cancer Research UK, smoking, alcohol and infection with the HPV virus can increase a person's risk of contracting tongue cancer.
Treatment in its early stages includes surgery to remove the cancer, and potentially a procedure to remove lymph nodes in a patient's neck.
Radiotherapy and chemotherapy can also be used in both early and advanced stages of the disease.
More information on mouth cancer is available on the NHS website.