Katrina McHugh: Pop charts... as you've never seen them before
By Lucy Todd
Entertainment reporter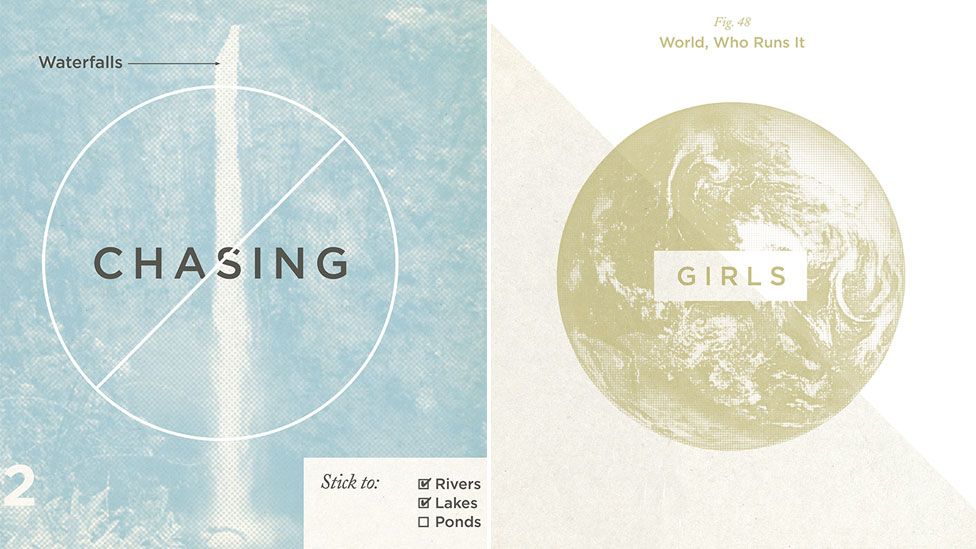 Take some of music's best known lyrics, combine them with a retro-inspired aesthetic, sprinkle in some humour and finally add a pinch of enigma.
The results are the intriguing pieces of art by San Francisco-based graphic designer Katrina McHugh.
The 37-year-old takes songs referencing nature from artists as diverse as Otis Redding and Snoop Dogg, and has illustrated them as infographics.
"It's incredible how much nature is in music, when you're listening out for it," McHugh tells BBC News. "I think people like tying an emotion or something non-physical to a real, physical property.
"I love the idea of how nature is a constant and how, even after 500 years, people can still connect to the same idea."
McHugh came up with the idea of drawing diagrams to accompany song lyrics, when she took up the The 100 Day Project - which challenges people to create a piece of art every day for 100 days - and posted the results on Instagram.
She says she's been surprised by the response she's had to her work. She expected the project to conclude after a small local exhibition. However, a book agent approached her and things snowballed.
McHugh says she's had people get in touch with her from 40 different countries. "I thought that the fact it's in English, and that they're quite like riddles would narrow the number of people who would be interested, but it's just been huge.
"One of the original motivations for the project was to connect with people - both through music and nature - so it feels great that I've had such a response."
Perhaps this can be put down to some of her art's key ingredients: the familiarity of well-loved songs; the humour that peppers her work; as well as the sense of reward the viewer gets on working out the riddle of which song the diagram refers to.
The Daily Telegraph's Alice Vincent says such illustrations have become increasingly popular over the past 15 years.
"You know how a song makes you feel, and you may know all the lyrics to a song," Vincent says, "but what she's doing is fulfilling a need people find difficult to do themselves - which is visualising music. And she's done it in a very clean and beautiful way.
"McHugh's art picks up on the current trends for utilitarian design and for the use of educational material, which has an innate whimsy about it," adds Vincent.
"She's not the first to do it, but I can totally see why this would appeal. It's very charming."
McHugh says the pieces that seem to have resonated the most are the more emotionally poignant.
"Strange Fruit, by Billie Holliday - there's definitely no humour in that one. And Chasing Waterfalls by TLC is popular. Everyone knows it but when you listen to it, it's actually quite a sad song."
She's Like The Wind is another favourite. "A few weeks ago I heard from Stacy Widelitz, who composed the Dirty Dancing film score, and who wrote the song with Patrick Swayze. He told me he thought my art was amazing and said he thought Patrick (Swayze) would think it a fitting tribute. That was such a great moment."
When deciding the theme for her 100 days, McHugh says she looked through old notebooks for inspiration: "I looked at what I'd been doodling and they were full of flowers; and my camera was filled with lots of photos of nature.
"I thought about the most inspiring moments of my day and they always seem to come when I'm listening to music - so I decided to focus on creating a visual exploration of natural metaphors in songs."
McHugh's work takes on a distinct style, reminiscent of old science textbooks or journals. Think Venn diagrams, graphs with cryptically-labelled axes, and detailed drawings in greyscale.
"Around the same time, I inherited my grandfather's encyclopaedias," she explains. "Looking at the imagery in there, they were all of a specific style from the 1950s, which I really loved and have tried to emulate in my work.
"When I designed each piece I took cues from the songs themselves. Some of them came out feeling really poetic, but then others were just silly. (Justin Timberlake's) Rock Your Body is definitely done in a humorous way, but each one was individual and happened in its own way."
"The one I'm most proud of is Strange Fruit. It has a slightly different subject matter." (The song is about the historical lynching of black people in the southern states of the US).
"It felt like I was sharing ideas and felt like I was sharing a bit of myself - particularly with people in my network who are slightly more conservative.
"On a more light-hearted note - Tom Petty's Wildflowers is very simple, but is one of my favourites and is one of the ones on my own wall."
You may also be interested in: