Morecambe and Wise choreographer Ernest Maxin dies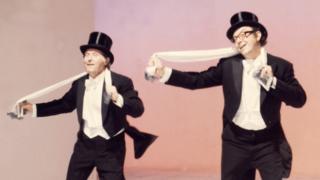 Ernest Maxin, one of the great talents behind the success on BBC television of Morecambe and Wise, has died at the age of 95
Maxin choreographed most of the comic duo's best loved musical moments and later took over as their producer.
His lasting claim to fame will be as the man who staged most of Morecambe and Wise's popular TV dance scenes.
He staged Shirley Bassey singing Smoke Gets in Your Eyes, with Eric and Ernie as two hapless stagehands beside her.
Cliff Richard's dance number with Morecambe and Wise as white-clad US sailors revealed Maxin's love of old Hollywood musicals.
And when Maxin took over from John Ammonds as overall producer of Morecambe and Wise, the BBC were prevailed upon to throw resources at the dance numbers as never before.
He choreographed the tribute to Singin' in the Rain, which no TV company could probably afford now. He was also in charge of the much-repeated classic in which Morecambe and Wise prepare breakfast to a soundtrack of David Rose's The Stripper.
Maxin's version of Rodgers and Hammerstein's There's Nothing Like a Dame featured some of the biggest TV names of the 1970s. For the time it was a superb act of tape-editing and it remains a classic.
When the duo moved to Thames TV, Maxin stayed at the BBC to produce Les Dawson before finally retiring. He'd been at the top of showbusiness for decades - in an extraordinary variety of roles.
In fact, well before he produced Eric and Ernie, he was already a top BBC TV light entertainment figure.
West End musical
He produced programmes with the likes of singer Kathy Kirby and comedians such as Charlie Drake and Dick Emery.
Ernest Cohen was born in east London in 1923. When he was six, his father changed the family name to Maxin.
He started out as a dancer at the famous Windmill theatre in Soho. After the war he toured with Arthur Askey in the musical The Love Racket. But increasingly he shifted towards TV production, for ITV and then, from 1963, at the BBC.
Unusually, Maxin retained a career aside from broadcasting, too. He had his own orchestra which in the 1950s and 1960s recorded easy listening albums.
He suffered probably his worst flop in 1980 as creator of the West End musical Barnardo, which aimed to be another Oliver but definitely wasn't. The critics weren't kind.
Ultimately, Maxin's natural home was entertainment TV. He produced hundreds of TV shows but he always managed to retain a specialism as a choreographer.
Follow us on Facebook, on Twitter @BBCNewsEnts, or on Instagram at bbcnewsents. If you have a story suggestion email entertainment.news@bbc.co.uk.