Burberry's Riccardo Tisci shows off first collection at LFW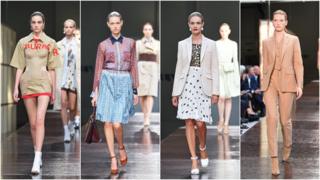 Italian designer Riccardo Tisci was best known for breaking the fashion boundaries during his 12 years at Givenchy, which is why his first collection at Burberry came as a bit of a shock.
The new creative director took over from Christopher Bailey earlier in the year and showcased his first designs for the brand on Monday.
The audience was treated to muted beige hues, elegant pleated skirts and pussy-bow blouses during the Spring/ Summer 2019 preview.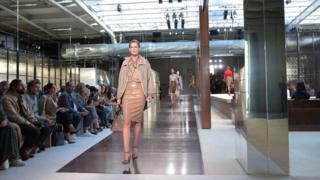 Of course, in true Tisci style, a twist came at the end as a more seductive vibe was brought in with zipped mini skirts, metal trims on the classic Burberry anoraks and chunky shoes.
The Telegraph's Lisa Armstrong called the collection "sweeping in its ambition" and pointed to Tisci's love of British fashion helping shape the collection so well.
"He's fascinated by British extremes of conservatism and anarchy, freedom and repression, but smart enough to move beyond the clichés and to recognise that today's consumers are consistent only in their inconsistency," she said.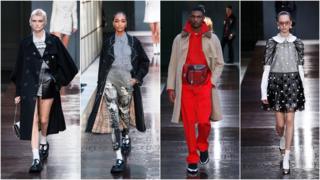 After the show, Tisci told the Guardian the reason behind choosing such classic tailoring for his first show: "Burberry is such a big part of British style. It is like the flag of England."
"I was the first one to do streetwear on the catwalk - and now I think fashion has got too street."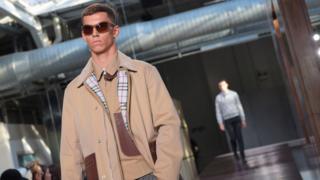 Tisci had big shoes to fill taking over from Christopher Bailey, whose association with the British fashion house went back 17 years.
The 44-year-old's takeover could have been a lot more shocking had he ditched two Burberry signature pieces - the trench coat and check print, but both featured heavily with their own individual twist.
The Evening Standard's Sabrina Carder approved of this reinvention and said "Tisci has definitely shaken things up at one of Britain's best-loved brands."
"As well as changing the iconic nova check, Tisci also introduced pieces in his new striking white, orange and beige Burberry logo," she said.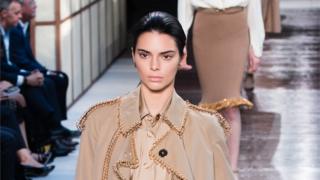 The show was not without its celebrity influence either - Tisci is a well known friend of the Kardashians, with Kim and husband Kanye West frequently spotted in their designs during his time at Givenchy.
Perhaps it was this connection that helped get model Kendall Jenner on board in her only autumn fashion week appearance globally.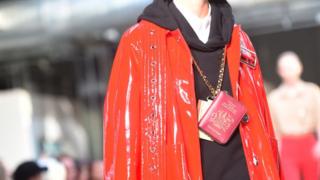 However, rather different to previous Burberry shows was the lack of familiar faces on the front row.
Elle's Faran Krentcil noted: "One of the clearest signs of the new regime at Burberry was evident not on the runway, but in the front row.
"Christopher Bailey's Burberry shows were packed with celebrities. But there were no visible celebs on the front row of Tisci's debut collection".
She said there was a celebrity element in his styling though, adding: "Tisci is famous for styling Kim Kardashian as a modern sex goddess - now he's doing it for London It Girls",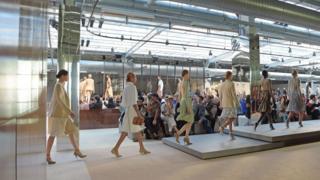 There was also an element of damage control after the brand was criticised in July for burning £28.6m of stock in 2017 to protect its image.
Burberry later announced in September that this practice would end, as would the use of real fur in collections.
It was also important for Tisci to capture the consumer element of Burberry, which has been selling collections as soon as the catwalk show is over since 2016.
Sales figures will certainly be something to watch in the new, more instant world of catwalk to closet.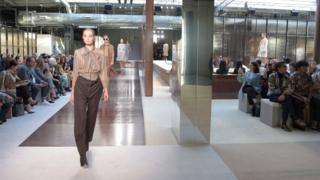 GQ's Style Director Teo Van Den Broeke was keen to point out how much of a risk Burberry was taking with "design superstar" and Instagram supremo Tisci, after taking a chance on a relatively unknown Bailey.
"Tisci proved not only that star power such as his still has a great deal of value to add, but also that even the most fearsome gattopardo (leopard) can change its spots.
"Tisci's collection for Burberry was an immersive, all-encompassing display not only of his immense talent as a designer, but also of his extraordinary ability to combine the identity of the brand for which he works, with his own, very specific aesthetic."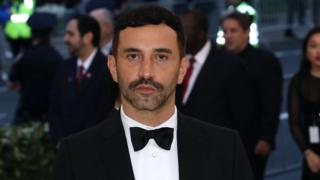 Tisci said after the show: "I was thinking a lot about journeys as I started putting together my first Burberry collection."
"From my personal journey back to London 20 years after I showed my graduate collection here, to how far I have come.
"I was also inspired by how much London - the city that made me dream to become a designer - has evolved.
"This show is a celebration of the cultures, the traditions and the codes of this historic fashion house and of the eclecticism that makes up the beautifully diverse United Kingdom."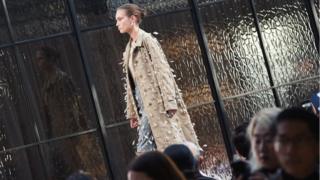 Burberry had teased there would be a classic logo overhaul before the show, with Tisci himself previewing the new logo on his Instagram page with a new t-shirt.
During the show, the interlocking Thomas Burberry initials made their real debut, marking the first logo overhaul in over 20 years.
Vogue's Sarah Mower noted the need to ditch a more conservative past: "It's been 20 years or more since Burberry was only concerned with serving the safe tastes of the British middle classes, and Tisci has been hired as a top-flight fashion titan whose tastes and skills are internationalist," she said.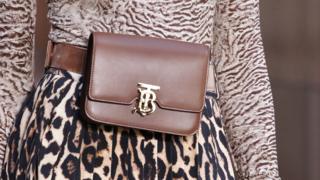 Tisci showcased over 100 looks, combining both the women and men's collections.
A number of well known models walked the catwalk at a former mail sorting office in South London, including Natalia Vodianova, Jourdan Dunn and Marco Pickett.
---
Follow us on Facebook, on Twitter @BBCNewsEnts, or on Instagram at bbcnewsents. If you have a story suggestion email entertainment.news@bbc.co.uk.