Maniac: Mixed reviews for Emma Stone's Netflix show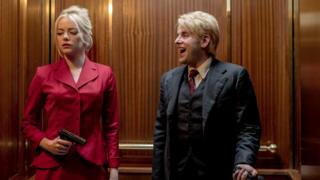 Netflix's sci-fi dark comedy Maniac, starring Emma Stone and Jonah Hill, has had a mixed reception from critics.
The series, released next week, follows Stone and Hill's characters as they take part in a drug trial.
Entertainment Weekly's Darren French called it "as much fun as getting your head examined".
He said: "The story-splitting nature of Maniac gives the stars the rare opportunity to give several bad performances in one project.
"Hill defaults his face into a sadface emoji; it's the kind of serious actor performance comedians used to give before everyone assumed comedians were serious.
"Stone goes the opposite route, fully committing to disparate personalities, Old Hollywood Glam, matriarchal white trash, superspy cool."
However, Variety's Daniel D'Addario said the drama "takes its place among the year's best TV".
He called the performances of Stone and Hill "career highs", adding: "The beautifully made "Maniac" plunges viewers into a fictional world that's both divergent from our own and instantly recognisable - and then reinvents itself several times over, skittering across time, space and genre to tell a story of connection that feels urgent and deeply, painfully human."
"As a trial of something new, "Maniac" passes every test.
"Its eagerness to expose unexpected angles is its great gift."
Allison Keene at Collider was cautiously complimentary, calling the vision of the show "messy" but said "it can be beautiful in its details".
"The script is uneven, but when it lands it does so with panache. The way that Japanese influences permeate everything in the lab (and outside of it) is very unique to a sci-fi story like this, as are the aforementioned analogue details."
She concluded that enjoyment of the show may come down to personal preference.
"It leaves the series as a rambling journey that some will find charming and others frustrating.
'Peculiar, original series'
"Both are correct, so ultimately your enjoyment of the series may come down to your tolerance for it when it meanders and loses all its energy and seems to have completely lost the plot."
Indie Wire's Ben Travers had conflicting thoughts about the show.
"Maniac is a peculiar, original series in almost every way.
"Intimate to the point of feeling very small, yet stuffed with more grand existential ideas than it can ultimately coalesce."
He also pointed to the writing and directing of Patrick Somerville and Cary Joji Fukunaga, and said their "kaleidoscopic vision comes to life in fits and starts.
"The many tonal shifts aren't always well-finessed, but the star-studded, wildly ambitious miniseries serves up enough brilliant flourishes to leave a mark."
Follow us on Facebook, on Twitter @BBCNewsEnts, or on Instagram at bbcnewsents. If you have a story suggestion email entertainment.news@bbc.co.uk.