Maniac: The new James Bond director's experimental Netflix drama
By Emma Saunders
Entertainment reporter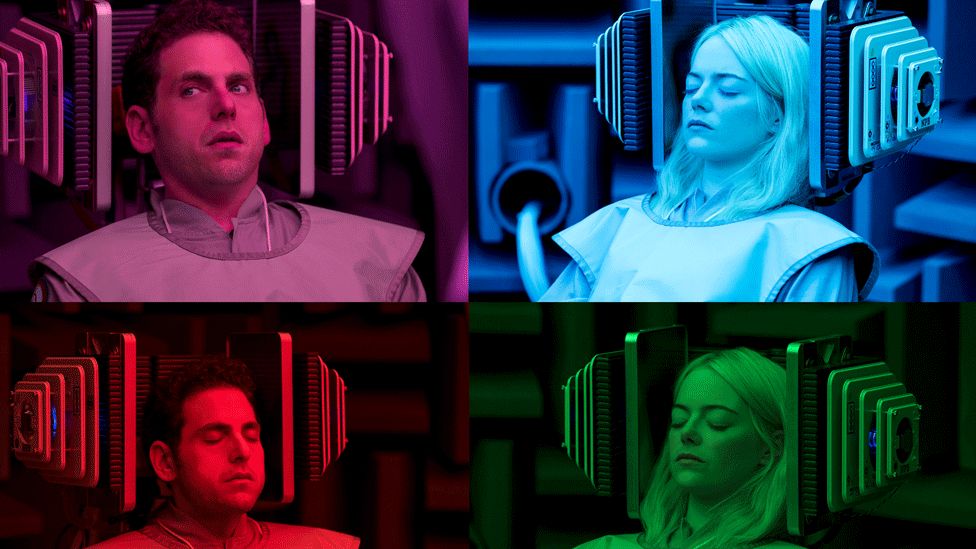 If you like to unwind with a formulaic drama that you can half-watch while scrolling through Instagram - and still be able to keep up with the plot - Maniac is probably not for you.
Boasting a Hollywood A-list cast led by Emma Stone, Jonah Hill and Justin Theroux, the experimental Netflix series dropped on Friday.
And if Maniac is anything to go by, Bond fans are in for one hell of a ride.
The series is a kaleidoscope mash-up of sci-fi and dark comic dystopia set inside the lab of a drugs trial for a group of pills that aims to eradicate all traces of its volunteers' past trauma.
Here's all you need to know about the ambitious new drama.
1. It's one big rollercoaster
Stone and Hill play two outsiders who take part in a drugs trial testing the ultimate "happy pill" - a three-step drug programme. The combination of drugs is intended to remove traumatic memories from the brain, leaving the patient re-born and joyful. Bye, bye therapy.
Hill's character Owen is from a successful, wealthy New York family but with a history of mental illness, he's the archetypal black sheep.
Stone plays Annie, a loner who is already addicted to one of the drugs on the trial thanks to the black market - drug A is a self-sabotaging pill which forces the user to re-live the worst moments of their life. Estranged from her family, Annie finds a strange comfort in frequently going back to a tragic incident she shared with her sister five years ago "because it means she gets to spend time with her".
But these damaged souls aren't the only characters the pair inhabit as they experience computer-generated surreal dreams while under the influence of the drugs. Among those are a half-elf, a Gold Coast con artist and a couple living in a trailer.
"I loved getting to go into all these different people even though it was a little challenging, exhausting and confusing but that's the nature of the show," Stone says.
"Because all the characters represent an aspect of Annie's personality, it's almost simpler than I thought. Or maybe that's just my limited range of talent!"
2. Friends reunited - Jonah and Emma get back together
Emma was VERY pleased to be back on screen with her old mate, Jonah. Especially in the scenes where he's dressed like a hick.
"Superbad [in which she starred alongside Hill in 2007] was my first movie so it was really cool to look over at him again, especially when he was Bruce with the mullet!
"We've also had a friendship in the meantime, so it was nice to be with my buddy."
In fact, it was Stone who got her old mate on board.
Fukunaga, who was announced as the new Bond director on Thursday, explains: "She talked about that her and Jonah reuniting, so I said: 'Let's Facetime him right now.'
"He came over, we said, 'We don't know what the show's going to be about but we're going to shoot in New York, it's going to be crazy. And he said, 'Cool, I'm in.' Then we had to figure out what the hell the show was!"
3. It marks another leap from big to small screen
While Theroux has HBO's TV drama The Leftovers and NBC's Parks and Recreations on his recent CV, alongside various film roles, Stone and Hill are making a distinctive leap from film to television.
It's a road well travelled in recent years, with the likes of Nicole Kidman, Reese Witherspoon, Winona Ryder, Billy Bob Thornton and Anthony Hopkins making the move.
"I was like: 'If Nicole's done it, I'm doing it!" says Stone.
But she is keen to point out that she didn't consciously choose to do TV.
"I just thought it was exciting to explore these people over that length of time. It wasn't a career decision so to speak."
And of course she started off in television, with small roles in shows such as Lucky Louie and Malcolm in the Middle.
4. There's a virtual reality sex scene
Theroux plays Dr Mantleray, who runs the clinical trial, a character the actor simply describes as "an odd man". His first appearance in the show is, erm, quite an eye-opener. The scene opens with the doctor having virtual sex with a computer game character. Wearing little other than, literally, a sex machine around his waist.
Theroux says: "It's the best entrance I've ever had. It's... hilarious. I really liked doing it, it's so stupid. It was the fun prop of the day. It took two days of shooting, I insisted we really get it right!"
5. There's no such thing as normal
"It's not a show about mental illness. It's hilarious we think this particular absurd pill is going to completely rewire people and make them feel better again," says Theroux.
"The thing that is most beneficial to them [the trial participants] isn't the tablet or the lab setting, it's them connecting as human beings and talking about it."
"I hope in general... we understand that there is no normal.
"If you need a pill to help balance the way your chemistry works, fine, if you need to go to therapy, fine.
"It's about human connection - if we can reach out to each other... I need that. I need to know that in terms of what I've gone through. Everybody's got their own version of what's going on internally [Stone has spoken openly about handling her anxiety]. I'm glad more people talk about it, the struggles we have."
6. Cary Fukunaga gives his actors 'free rein'
Theroux explains that his character "wasn't that fleshed out on the page" to start with.
"I came in late into the process, we got to try and invent him a little bit, the look and the tone of the character. He's in this bizarre bubble of neuroses at the lab.
"Cary was very good at letting me go very far with the character and then pulling him back. I really loved that.
Fukunaga adds: "I let Jonah be what Jonah wanted to be, obviously with some guidance, and the same with Emma. Justin came in with his interpretation of Dr Mantleray, I didn't rein him in."
Sounds like the next 007 is in for a treat then.
7. The challenge of portraying mental health
"Patrick and I both felt strongly that setting the show in a mental hospital would not be the right choice," says Fukunaga.
"We wanted to be compassionate to mental illness and not make that the butt of the joke.
"Patrick's father's a neurologist and his wife's a therapist. So he already lives in that world and for me, this is about having compassion for the characters, part of destigmatising [mental illness]."
Somerville adds: "We wanted to be sensitive and make a story that people who have gone through that could sit down and watch and say, 'Hey, that's me.'"
Fukunaga concludes: "We want people to walk away with something. It's not just pure entertainment."
Related Internet Links
The BBC is not responsible for the content of external sites.