Aretha Franklin: Stars pay tribute to 'the Queen of our souls'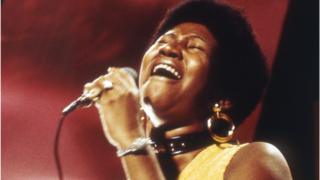 Stars from across the musical spectrum, from Adele and Diana Ross to Sir Paul McCartney and Liam Gallagher, have paid homage to soul singer Aretha Franklin following her death at the age of 76.
Ross praised her "wonderful golden spirit", while Sir Paul described the singer as "the Queen of our souls".
Former Beatle Sir Paul McCartney wrote on Twitter: "Let's all take a moment to give thanks for the beautiful life of Aretha Franklin, the Queen of our souls, who inspired us all for many, many years.
"She will be missed but the memory of her greatness as a musician and a fine human being will live with us forever."
In a heartfelt Instagram message, Adele wrote: "I can't remember a day of my life without Aretha Franklin's voice and music filling up my heart with so much joy and sadness.
"Absolutely heartbroken she's gone, what a woman. Thank you for everything, the melodies and the movements."
Mariah Carey shared a number of photographs of her performing with Franklin and described her as an inspiration, mentor and friend.
In a series of tweets, Sir Elton John said her death was "a blow for everybody who loves real music: music from the heart, the soul and the church."
He said she was "one of my favourite pianists", as well as a great singer.
Former US president Barack Obama tweeted: "Aretha helped define the American experience.
"In her voice, we could feel our history, all of it and in every shade - our power and our pain, our darkness and our light, our quest for redemption and our hard-won respect. May the Queen of Soul rest in eternal peace."
President Donald Trump also paid tribute, writing: "The Queen of Soul, Aretha Franklin, is dead. She was a great woman, with a wonderful gift from God, her voice. She will be missed!"
Television presenter Oprah called her Queen, and said she would be missed and actress Whoopi Goldberg described her as "one of a kind".
Motown legend Smokey Robinson wrote: "This morning my longest friend in this world went home to be with our Father. I will miss her so much but I know she's at peace. #QueenOfSoul."
Quincy Jones said he "treasured every moment" he spent working with Franklin.
"From working in the recording studio, to performing on the steps of the Lincoln Memorial, or simply hanging in the kitchen, I will miss her dearly."
Her influence on younger singers was clear from the tributes, with Christina Aguilera describing her as "such a timeless inspiration to me and so many others".
"The ultimate queen, thank you for the gift of your voice, music and unshakeable soul," she wrote.
Britney Spears said "your legacy and music will forever inspire us and future generations", while Destiny's Child star Kelly Rowland wrote that it was "truly a sad day".
Celine Dion added that Franklin was "the most soulful and inspirational singer of our time".
Annie Lennox, who duetted with Franklin on The Eurythmics' 1985 hit Sisters Are Doin' It For Themselves, posted a message on Instagram saying Aretha "was simply peerless".
"She has reigned supreme. and will always be held in the highest firmament of stars as the most exceptional vocalist, performer and recording artist the world has ever been privileged to witness," Lennox wrote.
"Superlatives are often used to describe astonishing artists, but in my view even superlatives seem insufficient. Everyone who loved Aretha will be saying little prayers of gratitude, appreciation and respect for the musical life force that enriched our lives. Her voice will soar on forever..."
Sir Mick Jagger told the Press Association: "She was so inspiring and wherever you were she always brought you to church."
Tony Bennett posted a photo of himself on stage with Aretha on his 85th birthday and said she "will be missed by the world".
The Beach Boys' Brian Wilson described her as "one of the greatest and most emotional singers" whose music was "timeless".
Sir Tom Jones said she "lifted our hearts with your incomparable gifts", and Sir Rod Stewart wrote: "Always loved you, always will."
Bette Midler described the Queen of Soul as "a musical lighthouse, guiding and inspiring with every note".
Barbra Streisand posted a photo of herself with Aretha taken in 2012 on Instagram and wrote: "It's difficult to conceive of a world without her. Not only was she a uniquely brilliant singer, but her commitment to civil rights made an indelible impact on the world."
Singer Alexander O'Neal told BBC News: "It meant a lot to me coming from the barriers that we had to overcome for race and everything else during that era, a time when she was such a success and became such a rock icon, a real icon. She was such a huge influence on my career."
Former Black Eyed Peas singer Fergie wrote: "RESPECT. Her legendary voice came straight from God. Now her soul is with Him. Thank you Aretha."
Hamilton musical star Lin-Manuel Miranda tweeted: "We will be listening to your music forever".
British pop star Paloma Faith wrote on Instagram: "Dearest Aretha, thank you for giving us all your gift, thank you for being the queen of soul and forever in our memories."
Pop star Zara Larsson revealed she was a childhood fan and hailed Aretha as "an irreplaceable legend".
Soul star John Legend and former Oasis frontman Liam Gallagher were among the others to add their voices to the tributes.
Follow us on Facebook, on Twitter @BBCNewsEnts, or on Instagram at bbcnewsents. If you have a story suggestion email entertainment.news@bbc.co.uk.