Radio 1's Greg James on breakfast and battling Taylor Swift fans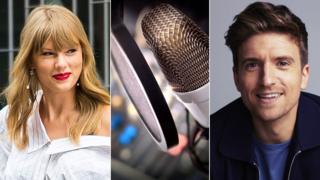 Greg James feels well prepared for the higher profile that comes with hosting the Radio 1 breakfast show. Thanks, in part, to some angry Taylor Swift fans.
From Monday, your morning routine might be a little different.
The argument with your snooze button and the double-shot latte order will broadly remain the same, but if you're one of Radio 1's five million breakfast listeners, there will be a new voice keeping you company.
Greg is moving to mornings after six years of presenting the station's drivetime programme.
It's a show on which the 32-year-old has developed a loyal following, thanks to his relaxed style, popular features and celebrity guests.
"So basically, I wanted to throw that all up in the air and ruin it," he laughs as he speaks to BBC News.
"No, what I wanted to do is take that and see what we could do next with it. I want the breakfast show to be busy, reactive, spontaneous and about the world, about the day.
"Inform people about what's going on, but also have my take on a showbiz story, as opposed to just doing a showbiz story."
He adds: "I get to do my dream job... but with that there's a responsibility. The show is going to be funny and silly - but I am taking it seriously. And I don't want to waste licence fees."
Perhaps one of the things that has best prepared him for breakfast is the wrath of Taylor Swift fans.
During an interview with the star just after she came off stage at Radio 1's Biggest Weekend earlier this year, Greg suggested she perhaps might want to take a shower after such an energetic stage routine.
Of course, telling one of the world's most famous singers she might need a shower could be taken as a bit cheeky - but Swift was fine about it.
Her fans were not. The inevitable Twitter backlash followed.
"Over the years I've become a lot better at rationalising things like that, whether it's a snarky review, article, tweet - I process it in my brain, but 20 minutes later I'm fine," Greg says.
"And with the Taylor Swift thing, it was a few days before we announced the breakfast show change, and I thought, 'I've got to get used to this sort of thing'.
"And I was like, 'Am I fine with it? I'm fine with it'. I find it funny. I think it's about enjoying the whole thing."
But pressure on Greg is high.
A radio station's breakfast show has an entirely different identity to other shows on the network.
Generally, they have to be pacey and informative - acting as a flagship programme which encourages listeners to stick with the station through the day.
The Radio 1 breakfast show, which lasts three-and-a-half hours, therefore has to quickly grab and maintain a listener's attention for however long they dip in.
"On the drivetime show, we'd tend to put our main bit of content at 5:15 because that's when the peak audience was," Greg explains.
"But with breakfast, the audience is so transient - people are waking up, leaving the house, the next batch of people wake up, they go off - it's like a conveyor belt of waking up and going off to your day.
"So if people get to listen for 20 minutes, I want each 20 minutes to have something different going on."
Aside from the format change, one thing which is going to be very different about Greg's breakfast show is the newsreader.
The on-air chemistry that Greg has developed with Chris Smith - forever to be known as "Chris Smith with the news" - began when they joked around together during Greg's days presenting Radio 1's early show from 4am each day between 2007 and 2009.
Their partnership has been an integral part of the drivetime show's appeal for nearly a decade and they have even worked together on a series of children's books.
Most listeners assumed Chris would follow Greg to breakfast, but last week the newsreader announced he was leaving the airwaves altogether to work behind the scenes at Newsbeat.
"We've had an amazing 10 years on Radio 1 together, and this new show, I just wanted it to be a whole new chapter," Greg says.
"Me and him now are this writing duo, and we've talked about the whole presenter/newsreader relationship, and if we're rethinking the whole show, we wanted to have a real change.
"We're very good friends, it was a conversation we didn't think we were going to have, and then we did, and it all just sort of unravelled from there, and it all made sense."
Instead, Roisin Hastie will be reading the news on breakfast - who, Greg says, has "got lots of radio credentials, a great voice, and we think she's going to do a great job".
The new breakfast show will air from Monday to Thursday - an idea which came not from Chris Evans in the 1990s, but from Radio 1 management.
Earlier this year, the station announced its weekday DJs would go down from hosting five shows a week to four, to allow the weekend schedule to expand by a day - running from Friday to Sunday.
"I think when they broke the news to me they were expecting resistance," laughs Greg, who was still presenting drivetime when the change was announced.
At the time, the Friday edition of his show doubled up as the Official Chart - a programme which has now been taken over by Scott Mills.
"I was really pleased, because I was sort of done with the chart, to be quite honest with you," Greg says. "I really enjoyed my stint on it, but I really enjoy doing stuff alongside the music.
"We've got a lot of good presenters on the station who are on at weekends - Alice [Levine] is one of the most sensational talents, and to put her on the Friday breakfast show is a great statement of confidence from Radio 1."
Greg's own route to mornings has seen him present early breakfast, afternoons, drivetime and now finally breakfast - something he says has allowed him time to hone his craft.
"[Cover presenter] Jordan North's been knocking around Radio 1 for about four years and hasn't had a break - you just need, and the management need, to make sure there's time for those people to develop," he says.
"If I hadn't had time to develop over 10 years, I wouldn't be able to do the breakfast show now."
BBC Radio 1's breakfast show with Greg James launches on Monday 20 August from 06:30 BST.