A Northern Soul director Sean McAllister defies film censors over 15 rating
By Ian Youngs
Arts & entertainment reporter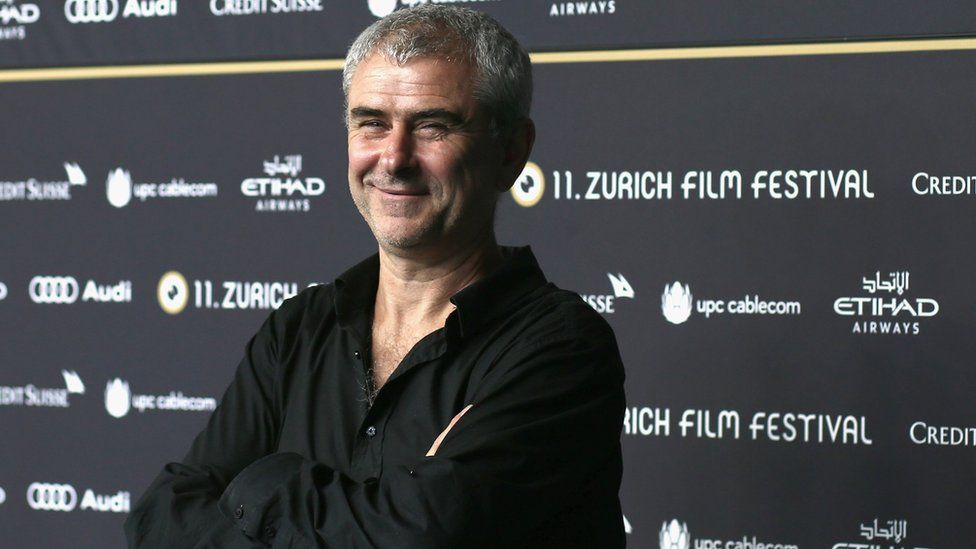 A director is defying film censors by letting under-15s watch his documentary for free in protest at its 15 rating.
Sean McAllister is angry that the British Board of Film Classification (BBFC) has made A Northern Soul a 15.
The film follows Steve, who struggles to make ends meet as he tries to take his hip-hop bus to children in Hull.
The BBFC said it was a 15 because there were too many swear words for a 12A, but McAllister said it had been judged on its "raw depiction of poverty".
In response he's giving under-15s free tickets to screenings in Hull this week.
"An honest depiction of our times has somehow been censored, because the guy is far from offensive, he's far from aggressive in any way at all," the director told BBC News.
"He's an inspiration of hope, a gleam of light in dark times for kids who have very little."
In the film, Steve Arnott attempts to balance working in a warehouse with taking his Beats Bus to disadvantaged communities during Hull's year as UK City of Culture in 2017.
The BBFC said it includes "around 20 uses of strong language and therefore exceeds by some margin anything we have ever permitted at 12A".
But McAllister, who was nominated for a Bafta for his last film, A Syrian Love Story, argues that Steve's language is "credible and real" and "culturally embedded within how he speaks".
The director had hoped to give free screenings in schools and community centres around the country.
"The whole point of this film was to outreach to poorer communities to give hope where there hasn't been hope for years because of austerity cuts," he said.
"Stamping a 15 just really limits that and takes all of that potential out of the film.
"My bigger objection is there's a feeling of a misunderstanding of the north, and how awfully class-based a society we are that there's someone in the ivory towers making judgements on how people are and how people speak.
"I really think it's the raw depiction of poverty that people find offensive. I think there's some depiction of raw, unrepentant poverty that they can't take on board, and I think it's down to that."
The film can be screened to under-15s in Hull because councillors there gave it a 12A rating before the BBFC decided on its rating, and the council's decision overrides that of the national authority.
The BBFC's guidelines say 12A films may include strong language, "depending on the manner in which it is used, who is using the language, its frequency within the work as a whole and any special contextual justification".
In a statement, the BBFC said its usual policy for a 12A was "to accept up to four uses of strong language (by which we mean the 'f' word) in films of normal feature length".
McAllister pointed to other examples, like The King's Speech, which includes a swear-filled scene and which was passed as a 12.
The director's decision to give tickets to under-15s mirrors a similar move in the US, where the makers of Eighth Grade put on free screenings for all ages after it was given an R rating.
Eighth Grade is an acclaimed comedy-drama written and directed by Bo Burnham about a girl in eighth grade, the school year for children aged 13 or 14.
The US Classification and Rating Administration gave it an R rating - which stands for Restricted and means under-17s must be accompanied by an adult - "for language and some sexual material".
Related Internet Links
The BBC is not responsible for the content of external sites.