Lauren Laverne to present 6 Music breakfast show
By Mark Savage
BBC Music reporter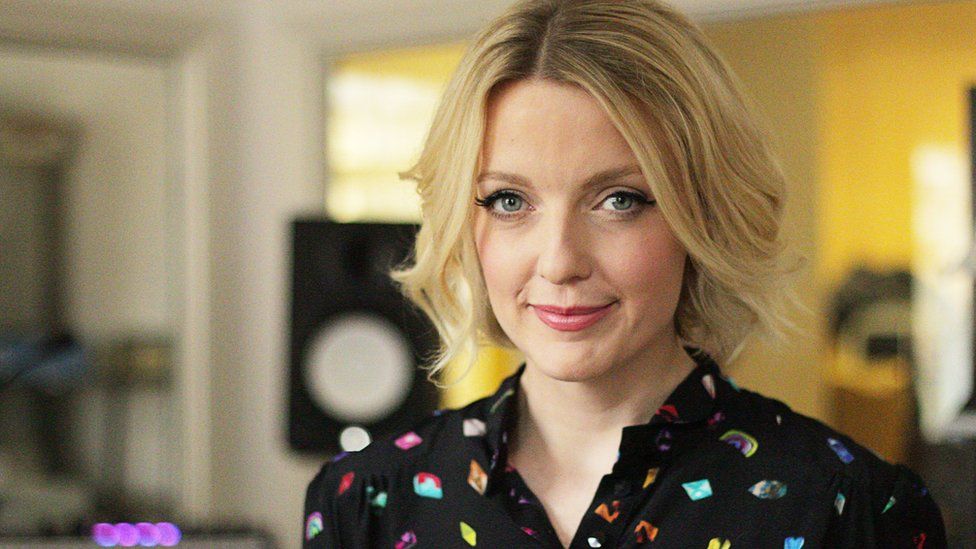 Lauren Laverne is to replace Shaun Keaveny on BBC 6 Music's breakfast show, it has been announced.
The presenter, formerly a singer in the Britpop band Kenickie, will make the move in January 2019, the station said.
"Some news guys, breakfast means breakfast," said Laverne in a tweet announcing the shake-up.
Keaveny and his co-presenter Matt Everitt will move to the afternoon, taking the slot currently occupied by Mark Radcliffe and Stuart Maconie.
In turn, they will move to weekend breakfast, while Mary Anne Hobbs gets promoted to weekday mid-mornings.
Laverne is one of the most popular presenters on the digital-only station, drawing 1.06 million daily listeners, only slightly behind Keaveny's audience of 1.07 million.
The star, who currently earns between £230,000 - £239,999 per year, also presents Late Night Woman's Hour on Radio 4 and anchors the BBC's coverage of Glastonbury, as well as running The Pool - a lifestyle website aimed at women.
When she moves to breakfast, she'll get an extra half-hour in bed compared to her predecessor, with the new programme starting at 7:30am.
"I'm so excited about our new show," she said in a statement.
"Whatever the day brings for our listeners we intend to get them ready for it with a fantastic selection of music and guests who have something worth hearing to say. I can't wait to get started!"
Keaveny has presented 6 Music's breakfast show for the last 11 years, weathering the turbulent period where the BBC tried to shut the station down.
The decision prompted a wave of unprecedented listener protest, with support from star names such as David Bowie and Mark Ronson, as well as its own presenters.
Since receiving a reprieve in 2010, the alternative music station has gone from strength to strength, recently posting record listening figures of 2.5 million per week.
Keaveny's dour and self-deprecating humour provides a welcome antidote to the shouty busy-ness of other breakfast shows, delivering him a loyal audience who fuel features such as "middle-aged shout outs" and "small claims court" - where listeners recall minor encounters with minor celebrities at, say, a motorway service station lavatory.
He's always maintained that his show has an hour-long "dead zone" while listeners commute to work or take their kids to school, rendering them unable to tune in to the digital-only station.
In a statement announcing his departure, Keaveny paid tribute to his "wonderful listeners", but couldn't disguise his relief at leaving the early starts behind.
"Breakfast radio has reduced me to the kind of person that cries at traffic lights and remonstrates with shopping trolleys, so I give joyful thanks for the opportunity to take my show into the afternoons and sleep past 5.13am.
"There I'll try my best to eventually build a show that's a worthy successor to the legacy of Mark and Stuart, two of my genuinely favourite broadcasters."