Ray BLK's hard-hitting Run Run video addresses London's crime wave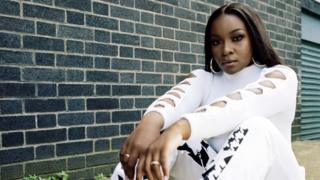 It's been a while since we've heard from Ray BLK, the South London soul singer who won the BBC's Sound of 2017 last year.
But now she's back with Run Run, a hard-hitting single that delivers a personal perspective on the rise in knife and gun violence in London.
Ray said the song was inspired by "real-life events I have experienced".
"I wanted to reach out to people who maybe feel like the issue doesn't concern them," she told BBC Radio 1.
"A lot of the time you see it on the TV, on the news, and it feels so detached from you that you can't really empathise.
"I want there to be more of a conversation about this, and how we can help, and how we can make a change, and for people to see that this isn't just numbers of people who are dying... This is real children."
Warning: The following video contains scenes some people may find upsetting.
In a tweet preceding the song's release she added: "These communities affected by crime and poverty need more attention and assistance from the government to create change."
The song is accompanied by a powerful video that provides an insight into the cycle of poverty and crime in the inner-city.
Directed by Tom Green (Misfits, Monsters: Dark Continent) it follows a teenage boy as he tries to escape the ever-present threat of violence and death.
At one point, he is seen climbing a staircase littered with victims' bodies, before a police officer in riot gear tackles him to the ground, as Ray sings: "Run, run if you wanna see the sun / We don't wanna lose another one."
London is experiencing an upsurge in serious violent crime, particularly among teenagers and young men, with 54 fatal stabbings so far this year.
There has been a parallel surge in Manchester and Birmingham.
Despite extensive media coverage, however, violent crime has not yet reached the levels seen in the mid-2000s.
Ray BLK said Run Run was inspired by two events: The first was a robbery that took place at her home in Catford, South London "while my mum was still in the house".
The second was when "I saw a gun for the first time at a party".
"Those two incidents stuck with me," she told Radio 1's Annie Mac, who premiered the song on Wednesday night.
She added that making the video had been an "emotional experience".
"The scenarios became so real and at some points hard to watch and listen to, there were tears on set."
However, she stressed the song was ultimately meant to be empowering.
"I wrote the song as a reminder to everyone listening, not to become a product of their environment. They have the choice to better themselves and rise above their struggles.
"I want my fans to know that there's a big world out there with many opportunities and to believe in themselves."
Ray BLK, who was the first unsigned artist to win the BBC's Sound Of list, recently won a recording contract with Island Records.
Her debut album, Empress, is due out in September.
Follow us on Facebook, on Twitter @BBCNewsEnts, or on Instagram at bbcnewsents. If you have a story suggestion email entertainment.news@bbc.co.uk.