Netflix's Insatiable: Was the backlash justified?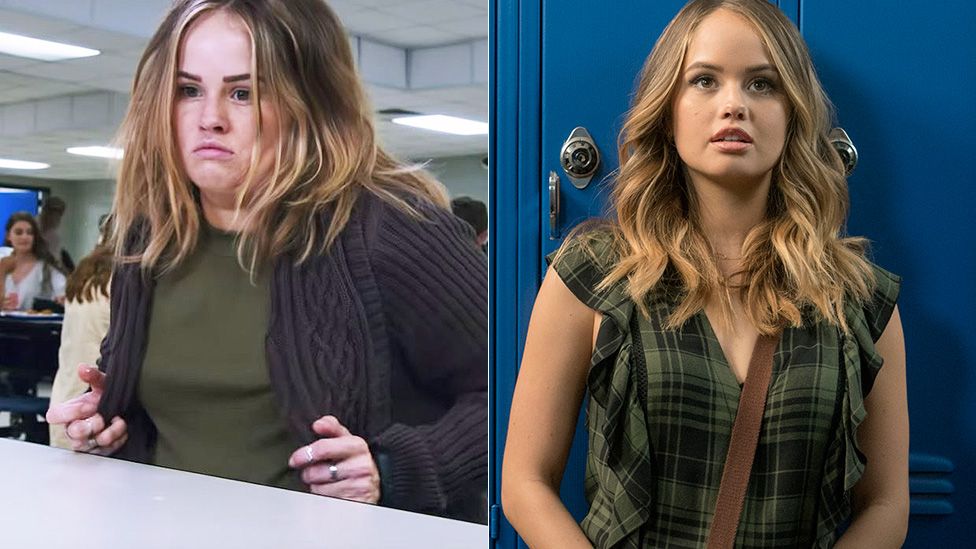 The trailer of new comedy series Insatiable sparked outrage last month, with social media users claiming it sent a bad message about body image.
The premise of the series sees unpopular and overweight schoolgirl, Patty, seeking revenge on bullies after returning to school from the summer holidays with a new (thinner) body.
But the footage in the trailer has been seen by some as "fat-shaming".
The show - which is available on Netflix from Friday - has also been accused of reinforcing views that girls and women need to be thin in order to succeed in life.
But, now that critics have had a chance to actually watch the series, is the backlash justified?
Writing in The Guardian, Arielle Bernstein said: "It's quick-paced plot and the fact that it doesn't take itself too seriously.
"Its worst aspect though, and one that I view to be an irredeemable one, is the fact that it pretends that any of its messages are intended to help teenagers navigate a cruel world or feel better about themselves.
"In reality, Insatiable isn't skewering the ridiculous expectations placed on teen girls; it's merely reiterating them."
However, writing in The Independent, Lucy Dixon said: "There's nothing wrong with Insatiable.
"You'll be hard pushed to find a fat character coming out of Hollywood that isn't either a virtue-signalling token or purely there for the comedy potential.
"And what about shows closer to home like Love Island? The recent series wasn't exactly bursting with chub, was it?"
She also has no issue with Debby Ryan donning a fat suit: "Would they have preferred Ryan pile on the pounds and then lose them again, in the style of Charlize Theron or Renee Zellwegger?" she asked.
"Would that have the made the story more palatable? Or perhaps they would have preferred an already fat actor get the job and then go on an epic weight-loss regime?"
Business Insider's Carrie Wittmer said Insatiable is "just as upsetting as its trailer".
"The show intends to criticise society's standards of beauty in a satirical way, but gets completely lost amongst its intentionally and sensationally offensive content and characters.
"Insatiable uses dated cliches. It pits all of its female characters against each other, makes jokes about statutory rape and molestation, and is filled with a cast of thin women."
BuzzFeed Australia's editor-at-large, Jenna Guillaume, called the series "a fat-shaming dumpster fire", adding that she "hated every second".
Guillaume said she feels "sad that it's 2018 and fat people are still treated as less than human, as something monstrous, as the villains in our own stories".
Insatiable is also problematic for myriad other reasons, according to Guillaume: "For starters, there's the way Patty loses weight - she's punched in the face, and has to have her jaw wired shut, resulting in a three-month liquid diet. Because that's a really positive message to be sending to vulnerable teens.
Guillaume added that if Insatiable's true intent was to try to deconstruct the myth that thinness equals happiness a "much more subversive and interesting way to [do it] would be to tell the story of a girl who - get this - stays fat and is also happy".
Writing in Variety, Caroline Framke said: "After watching all 12 episodes of Insatiable's debut season, I can safely and confidently report that the show is much weirder than advertised - and, in many instances, much worse.
"Insatiable tries extremely hard to throw edgy jokes at the wall, hoping that they will turn the show into a sharp satire of how our society shuns the weak - or something.
"But despite some late-breaking attempts to right the ship, neither the show's punchlines nor its characters are sharp enough to transcend their clichéd foundations."
The Daily Beast's Kevin Fallon called Insatiable "a harsh example of the best intentions yielding the worst results".
He added: "Insatiable is unforgivably inelegant as satire... It fails not only to land its purportedly progressive message about body image and weight, but also its storylines tackling sexuality, sexual agency, classism, race, and transgender acceptance."
But through all this, Insatiable's creator and executive producer, Lauren Gussis, has defended the series saying: "This show is a cautionary tale about how damaging it can be to believe the outsides are more important - to judge without going deeper. Please give the show a chance."