Friends is the UK's most popular subscription streaming show
By Ian Youngs
Arts & entertainment reporter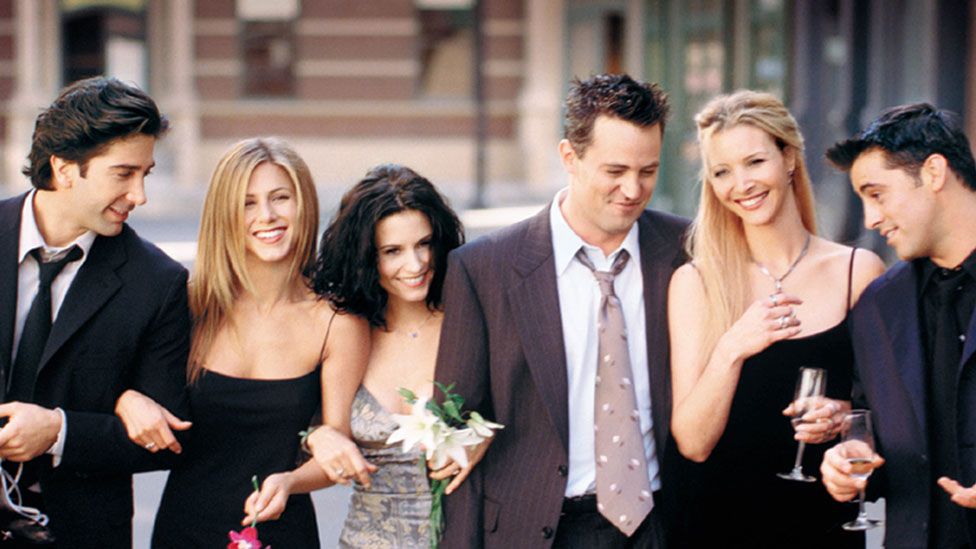 It's been 14 years since Friends ended, but we love Ross, Rachel, Monica, Joey, Chandler and Phoebe as much as always.
The sitcom has beaten recent releases to top a list of the UK's most popular shows on paid-for streaming services.
Netflix UK added Friends in January and twice as many episodes were streamed in the first three months of 2018 than its nearest rival, Amazon's The Grand Tour.
Services like Netflix and Amazon don't publish viewer figures, but this data has been released by TV watchdog Ofcom.
The list in Ofcom's Media Nations report, based on a survey of 2,500 viewers, ranks the most-watched programmes on subscription streaming services.
Although Netflix is pumping huge sums into its original programming - spending about $6.8bn (£5.3bn) this year alone - a show that ran from 1994-2004 has come out on top.
The popularity of Friends probably has something to do with many fans binge viewing after 234 episodes were added to Netflix UK at the start of the year.
Netflix, Amazon Prime Video & Now TV, January-March 2018. Source: GfK/Ofcom
While many Friends fans were delighted when it arrived on Netflix UK, it sparked a debate after some people found parts of the humour were now unpalatable.
"The homophobia is staggering - the punchline of every joke about Ross is that his ex-wife is a lesbian, as if that's some failing of his and that it's hilarious that she's a lesbian," she said.
"The sexism's pretty rampant as well... [and] it's the whitest show in the whole world." She did acknowledge, however, that "she did sort of love it".
There is still huge interest in the show, and Jennifer Aniston, who played Rachel, recently said she .
As well as being on Netflix, the show is broadcast on Comedy Central daily in the UK.
The channel has also enjoyed success with FriendsFest - a live touring event where fans can walk into recreations of Central Perk and the characters' apartments. Tickets have sold out in four of the six cities it is visiting this summer.
We went to FriendsFest in Manchester to ask fans why the show still appeals.
Sue Kemp, 48, from Liverpool, has been watching since the first episode, and daughter Rose, 21, is now a big fan too.
"Even my younger daughter watches it as well and she's 15, and she finds it just as funny as I do and I'm nearly 50," Sue says.
"It's good fun, it's light-hearted, it makes you feel good. You can easily watch two or three episodes a night. Come in from work, cook the tea, put Friends on."
Rose has been bingeing on the show since it appeared on Netflix at the start of the year. "I've watched it start to finish twice. Maybe three times," she says.
Should it ever return? "I'd love to see a sequel," she says. "Even just a movie catching up with them where they are now. Did Ross and Rachel ever really get together and live together? Did Monica and Chandler last?"
For sisters Cara Templeman (left, in the recreated Central Perk) and Jamie Sutcliffe, from Halifax, watching the show reminds them of when they were growing up.
"The jokes are still funny now. We were probably 10 or 11 when we first watched it," says Cara, 29.
Jamie, 27, adds: "A lot of the jokes probably went over our heads when we first watched it but now you watch it back and you find new things funny that you didn't find funny the first time."
Her sister continues: "It's not offensive or anything like that is it? Sometimes you watch old programmes and you think, ooh, that wouldn't work now. There's not much in it like that."
Jamie says she recently watched all the episodes again to educate her husband. "When it came on Netflix. I was like, 'Right, start to finish, we're watching it.' So we did, and he got into it.
"It only took us just over a month. I've just finished my PhD so I needed some wind-down time!"
Husband and wife Ben and Sarah Sloan, from Bolton (pictured in replicas of Joey and Chandler's chairs) can relate to different things as they've got older.
"Chandler's sarcasm and the stuff Ross gets himself into - I see myself getting into those situations sometimes," says Ben, 34.
Sarah, 33, adds: "I've read a lot lately about how it doesn't appeal to millennials, but we are millennials, I think. I love it just as much now as I did when I was younger, but now I see different things that I find funny.
"Now we're married and have kids there are other things we appreciate. As we've got older and they've got older we can understand the stresses and things, and how it's brought to a humorous light."
The couple mainly watch on Comedy Central. "There's been this period in the last few years where it's always on the telly when you turn it on," Sarah says.
Related Internet Links
The BBC is not responsible for the content of external sites.